All sorts of happiness and tents: Paul's ART STUFF 259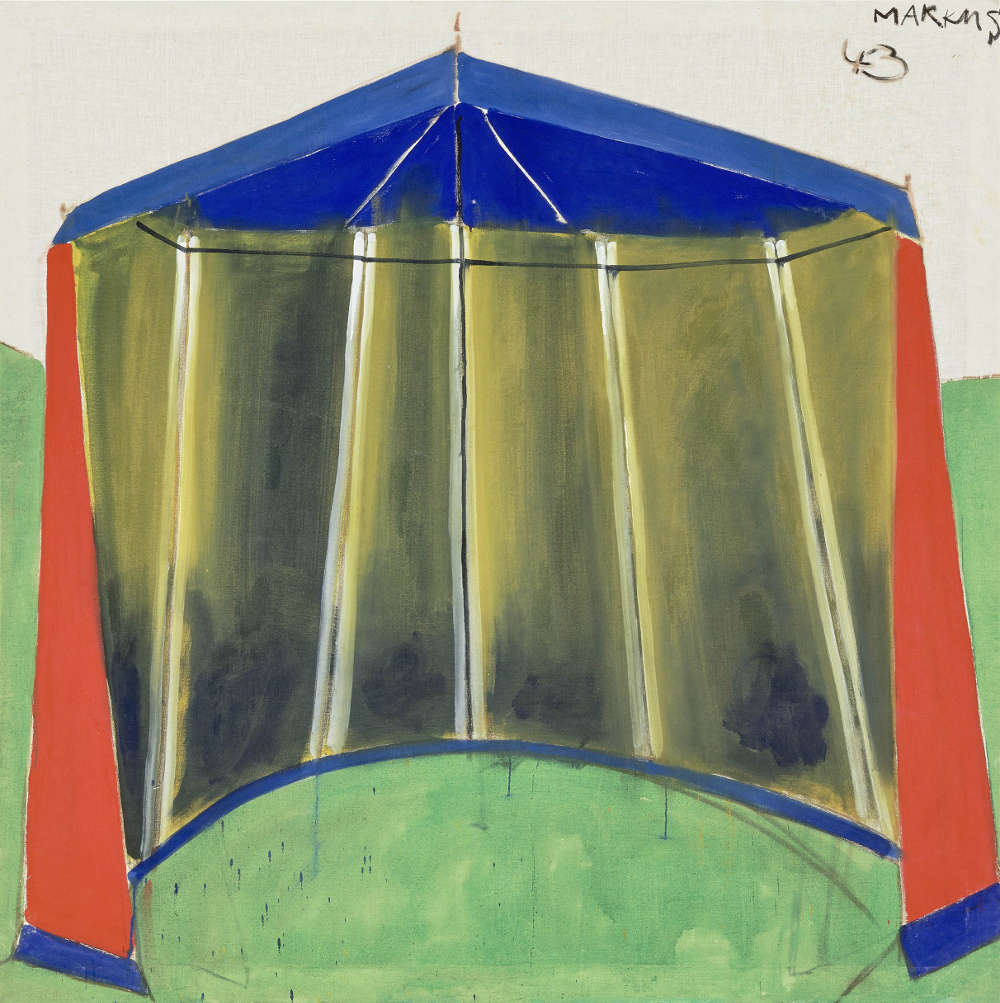 If you want fascinating early work in a two floor show by an established German painter – complete with umlaut – you have, surprisingly, two current choices: Markus Lüpertz (born 1941) at Michael Werner* or Werner Büttner (born 1954) at Marlborough**. The Lüpertz is purer: both floors feature 'Tent Paintings', made when he was 24. They're based on the camping section images in a department store catalogue (most are numbered: not for the year, nor to sequence the group, but simply copying the page number). They look equally towards pop and abstract expressionism; they combine tent, photograph and paint in a neat three-way conversation; the probability that the tents were themselves canvas sets up a pun of sorts; and they avoid the more pompous territory on which Lüpertz later pitched his tent. If Lüpertz is conciously painterly, Werner Büttner's works from the 1980s are decidedly rough. I asked him how he arrived at the style: he attributed it to a combination of being self-taught, and in a hurry to get out of the studio and back to the bar! The approach works for the corrosive subject matter characteristic of the 'Junge Wilde' of the time: Büttner, Martin Kippenberger and Albert Oehlen. Marlborough have a full floor of early work a plus a second of paintings from 2014-17, making for a 30 year ascent between floors. Later Büttner applies the paint more thinly and colourfully, and has himself turned to art history in some cases: parodies of Guston and Koons maintain the spiky humour which seems to unite his work.
* Tent Paintings 1965, to 6 July
** Plenty of Room for all Sorts of Happiness, to 23 June
Art writer and curator Paul Carey-Kent sees a lot of shows: we asked him to jot down whatever came into his head
Magritte's Use of Speech: Paul's ART STUFF 259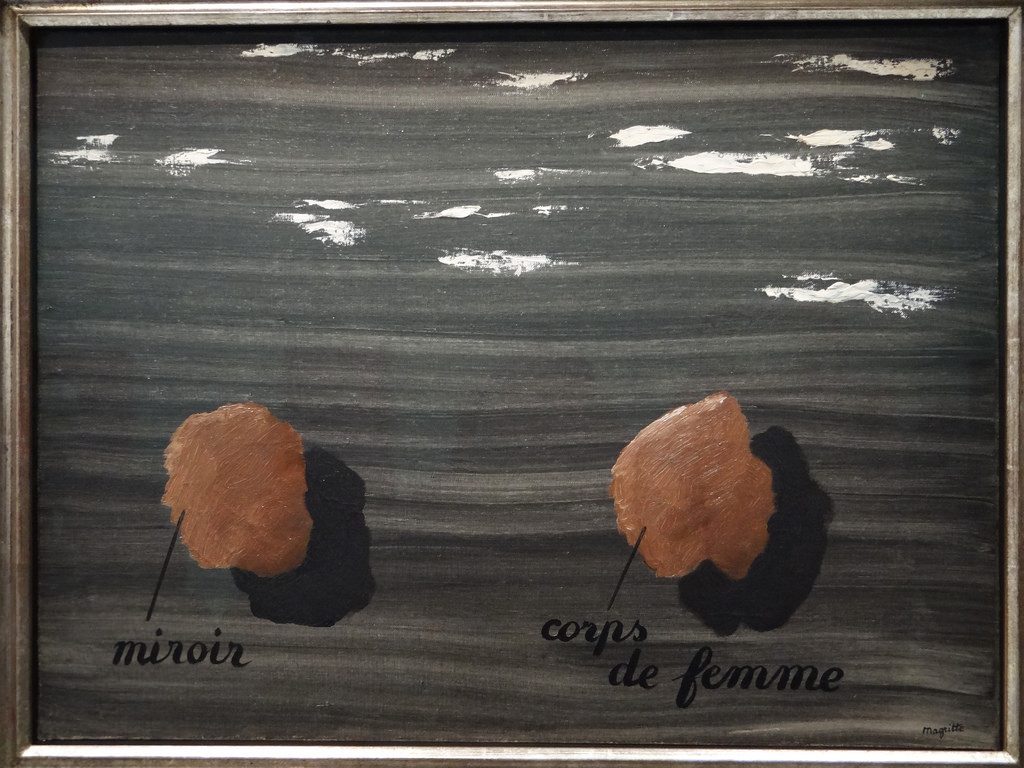 René Magritte: 'L'usage de la parole', 1928
Luxembourg & Dayan recently invited Magritte expert Sarah Whitfield and leading conceptual artist Joseph Kosuth to discuss the gallery's excellent presentation* of the 'word pictures' which Magritte made in Paris in the late 20's. Kosuth, a Magritte fan, recounted how he'd once responded to the claim that Magritte wasn't a painter of Baselitz's quality by saying that, even if that were so, he was a great artist, whereas Baselitz is a mediocre one. Whitfield emphasised that Magritte read poetry and philosophy far more than he looked at the art of his peers, and linked the precision of his style of painting to his life preferences – for example, he wouldn't drink at a bar unless the bottles were correctly arranged behind the counter! 'The Use of Speech' is typical in exposing the arbitrariness of the connection between sign and meaning, and setting up an interaction between words and pictures which generates new metaphorical potential – even though Magritte, said Whitfield, hated metaphor. Whitfield and Kosuth talked about 'The Use of Speech' as depicting a landscape of rocks and wispy clouds. The claim that one rock is a mirror and the other the body of a woman knocks away certainty in order to counter what Magritte saw as the hierarchical imposition of language on us. Indeed, he appropriates the format of a children's reading primer, an explicit assertion of the authority to be resisted. That said, the image looks to me just as much like smears of paint on an old desk. And, of course, we know that it really is just paint on canvas. The waters get deeper…

* René Magritte (Or: The Rule of Metaphor), 27 Feb – 26 May, 2018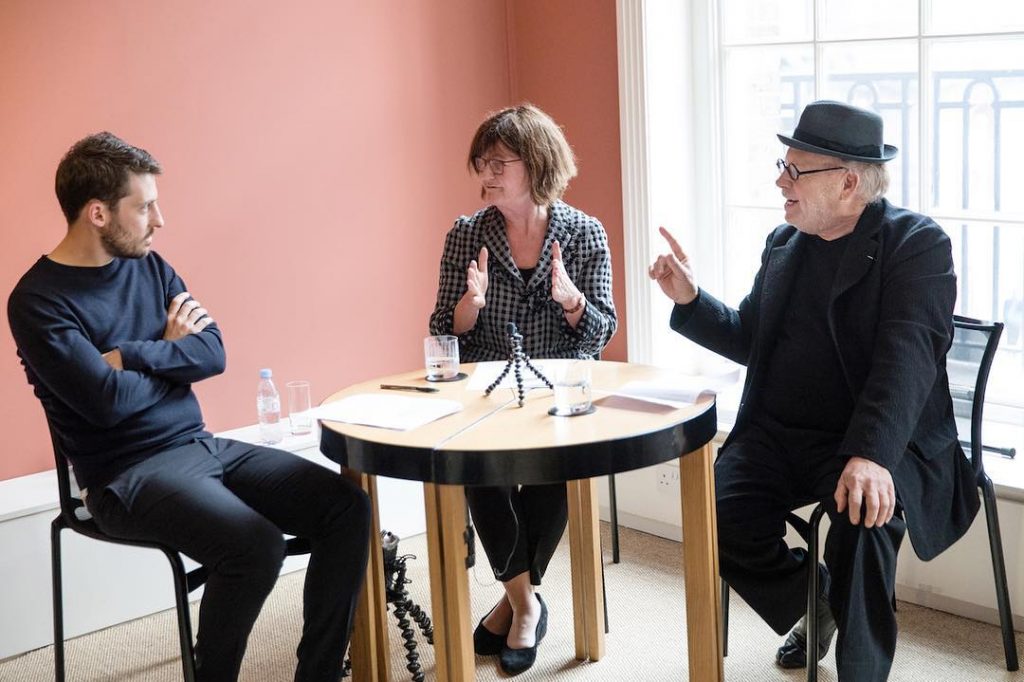 Luxembourg & Dayan's Yuval Etgar with Sarah Whitfield and Joseph Kosuth
Art writer and curator Paul Carey-Kent sees a lot of shows: we asked him to jot down whatever came into his head
No Sweat? Paul's ART STUFF 259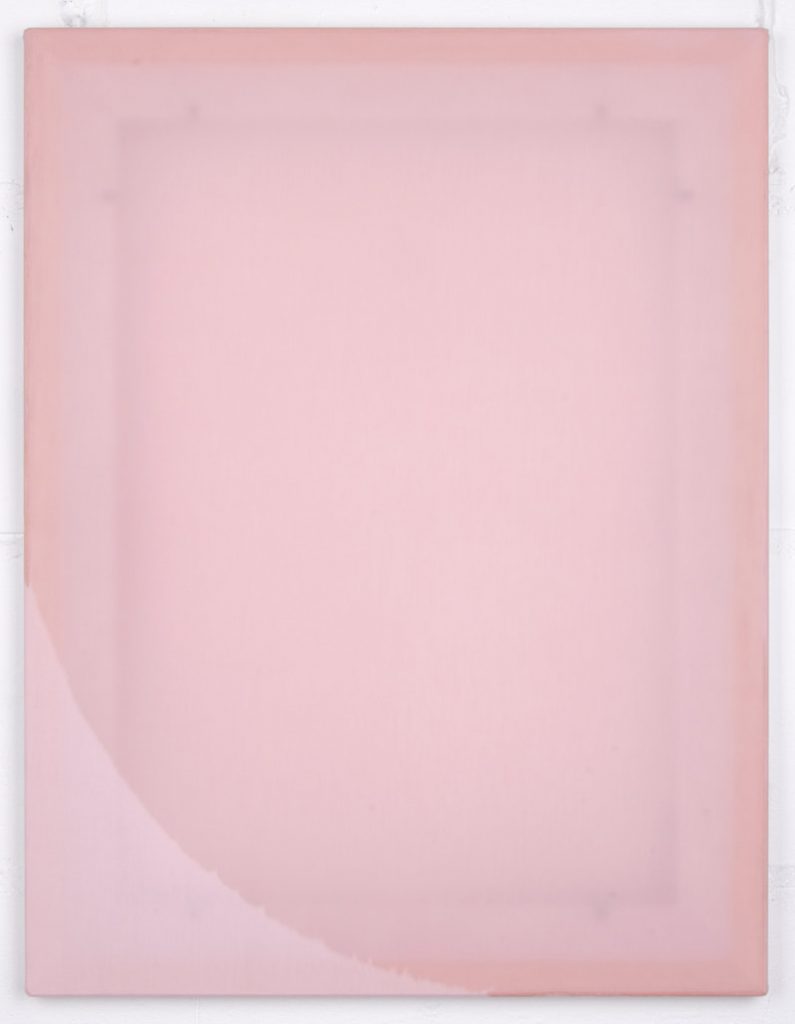 Alex Farrar, 'Crepuscular (sweat painting)', 2017 – jersey cotton, silicone, aluminium stretcher bars. Courtesy the artist + Dürst Britt & Mayhew, The Hague
Summer is close! Before you know it we'll have the RA Summer Show (the 250th, running 12 June – 19 Aug,), Wimbledon (2-15 July) and the PROMS (13 July – 8 Sept). I've already seen some art matched to hot weather. At the Copperfield Gallery (to 23 June) the 'half mocking, half nostalgic British Summer Time distils the allure and revulsion of that particularly British sea side summer experience'. Centred round a swimming pool (of carpet, not water, courtesy littlewhitehead) it includes several of young Dutch-based English artist Alex Farrar's seductively repulsive 'sweat paintings', which riff on minimalist traditions by applying silicone to a T-shirt in order to imitate the look of both an embarrassingly soaked top and certain abstract paintings. Luckily there is no smell, and the same can be said of the Anouk Kruithof photographs included in the excellent but otherwise not particularly seasonal show 'Concealer', curated by Tom Lovelace for the Peckham 24 festival last weekend. The wide-ranging Mexico City based Dutch artist makes a parallel abstracting move. She invited 25 people to do an extensive work-out in a gallery in Copenhagen in order to take photographs which cite stress, rather than heat, as the cause of sweaty armpits – which she perceives as aesthetic scars of nervousness and discomfort. Have a cool summer…
Anouk Kruithof: 'Sweat-stress (armpit right/yellow)', 2015 – Ultrachrome print with diasec, 40 x 60 cm
Art writer and curator Paul Carey-Kent sees a lot of shows: we asked him to jot down whatever came into his head
The Auction as Show: Paul's ART STUFF 258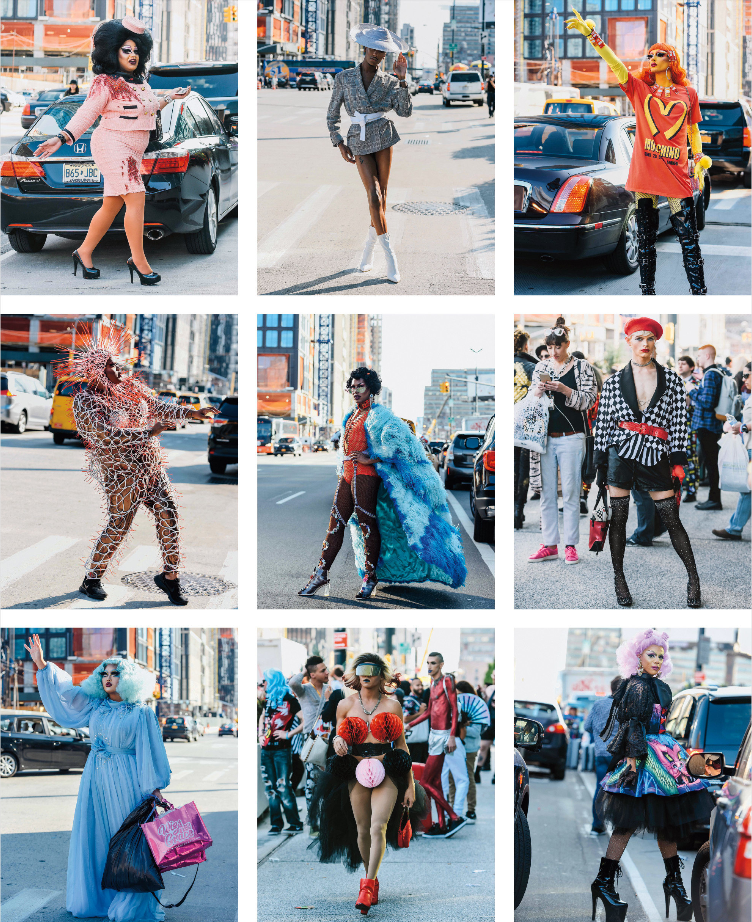 Tommy Ton: 'Werk! Qweens', 2017

Unsurprisingly, the leading auction houses are all selling photographic work to coincide with Photo London (18-21 May). By way of a warm-up, I looked at them as exhibits rather than as potential purchases. Do they make for a good visit?
Sotheby's: 72 photos. Some interesting images, but plenty of over-familiar choices. No discernible curatorial input, feels like whatever they happened to have available. No wall texts with work, no catalogue texts either. Coffee £2.50. *
Christie's: 121 photos, including some fascinating surprises. Particularly good on Mapplethorpe, Penn, Ruff and Sugimoto. Loosely grouped by theme (eg fashion, animals). No wall texts with work. Catalogue entries generally adequate online, but hard copies had run out. Coffee free. ***
Phillips: c 250 photos split across three coherent and thoughtfully presented exhibitions: a general selection with strong groupings, notably of female Japanese photographers; the collection of Michel and Sally Strauss; and Polaroids from the Piero Bisazza Collection. All with rather insightful wall texts on many works and in catalogue. Coffee free. *****
In short, I thoroughly recommend a tour of Phillips, plus Christie's if you have time. I've illustrated three lots of interest: Canadian new era street photographer Tommy Ton's nine image grid of characters taken outside a drag convention in New York (Phillips: est £20-30,000); Robert Mapplethorpe's cunningly blurred Polaroid of Patti Smith (Phillips: est £10-15,000); and Laurie Simmons' water ballet styling of none other than Cindy Sherman – who also appears, now I think of it, in Robert Longo's iconic photos for his 'Men in the Cities' series – even aside from her own work, she's done well as a model! (Christie's: est £3-5,000).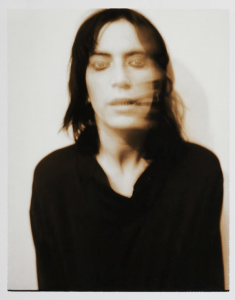 Robert Mapplethorpe: 'Untitled (Patti Smith)' – 1973-1975
Laurie Simmons: 'Swimming Women, Water Ballet (Cindy Sherman)', 1980
Art writer and curator Paul Carey-Kent sees a lot of shows: we asked him to jot down whatever came into his head
Richter in Southampton: Paul's ART STUFF 257
Installation view of Richter tapestries: photo Nigel Green
Gerhard Richter is the most expensive and famous living painter, so it is quite a coup for Southampton's John Hansard Gallery to reopen with a major show of his work (in conjunction with Artist Rooms, to 18 August). The displays – personally approved by the artist – look great in the gallery's relocated and expanded spaces. And it demonstrates the variety of Richter's work that this is achieved with none of the blurred photorealism for which he first found fame, and only one example of the squeegee-dragged abstractions which are such darlings of the art market (record over £30m). Instead, there are tapestries made by multiplying reflected versions of paintings; close-up photographs of the surface of paintings; mirror-like reflective works; overpainted self-portraits; various grey paintings; photographic facsimiles of the iconic series of 48 Portraits presented in the German Pavilion at the Venice Biennale in 1972 – so returning them to their photographic origins in encyclopaedias; and a spectacular installation of '4900 Colours', 2007. That has 195 panels each with a 5×5 block of colours in a towering space which conjures an impact comparable to Richter's stained glass window at Cologne Cathedral (also 2007), which has 11,500 squares of glass in 72 different colours. Much of this relates to Richter's exploration of the relationships between painting and photography, and only a very small proportion of the work features brush on canvas. Moreover, Southampton City Gallery has a touring version (to 3 Sept) of George Shaw's 'My Back to Nature', originally shown at the National Gallery. Add the current good weather, and a trip to Southampton can be warmly recommended. Indeed, it's handy that I live there…
Installation view of Richter's '4,900 colours': photo Nigel Green
Thingness, Thoe and Patina:
Paul's ART STUFF 256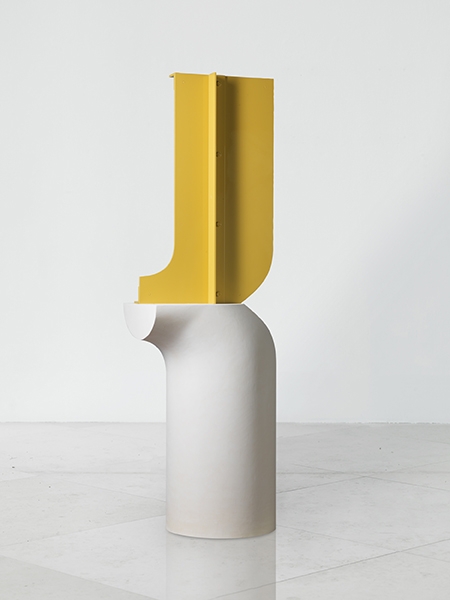 William Tucker: 'Subject & Shadow', 1962/2017
William Tucker's retrospective covering 65 years (Pangolin Gallery to 2 June) impresses with three bodies of work which feel quite distinct: 1960's geometric objects; 1970's tubular forms, and, from the 1990's on, the often-massive 'lumps which are more than lumps' – often hands or torsos. The artist categorises these as 'things' rather than 'objects', less connected with utility, more with 'the weighty serious presence' of the 'unavoidably physical'. Tucker tends to link them to ancient history or classical myths – Thoe, for example, was a Greek sea nymph. They give the impression that they are still undergoing their formation. Tucker, now 83, has also taken the unusual decision to revise the oldest work into a new version which makes it the newest: subject and shadow are now stacked as an unexpected vertical whereas they were previously on the level. Add powerful charcoal drawings, and this may be the best show by a sculptor currently on view in London. 'Subject & Shadow' is fiberglass and painted steel, but for some reason I also noticed the variations in colour of the bronzes, i.e. beyond 'original bronze' and the Verdigris which turns it green if exposed to the elements (or pissed on, as requested of Rodin's assistants for bronzes stored outside). In fact, the foundry attached to the gallery is expert in the application of various chemicals to produce a wide range of patina colours: black, red-brown and green are generally available, but yellow, blue and white are also possible.
William Tucker: 'Thoe', 1993
Art writer and curator Paul Carey-Kent sees a lot of shows: we asked him to jot down whatever came into his head
'Women Can Paint':
Paul's ART STUFF 255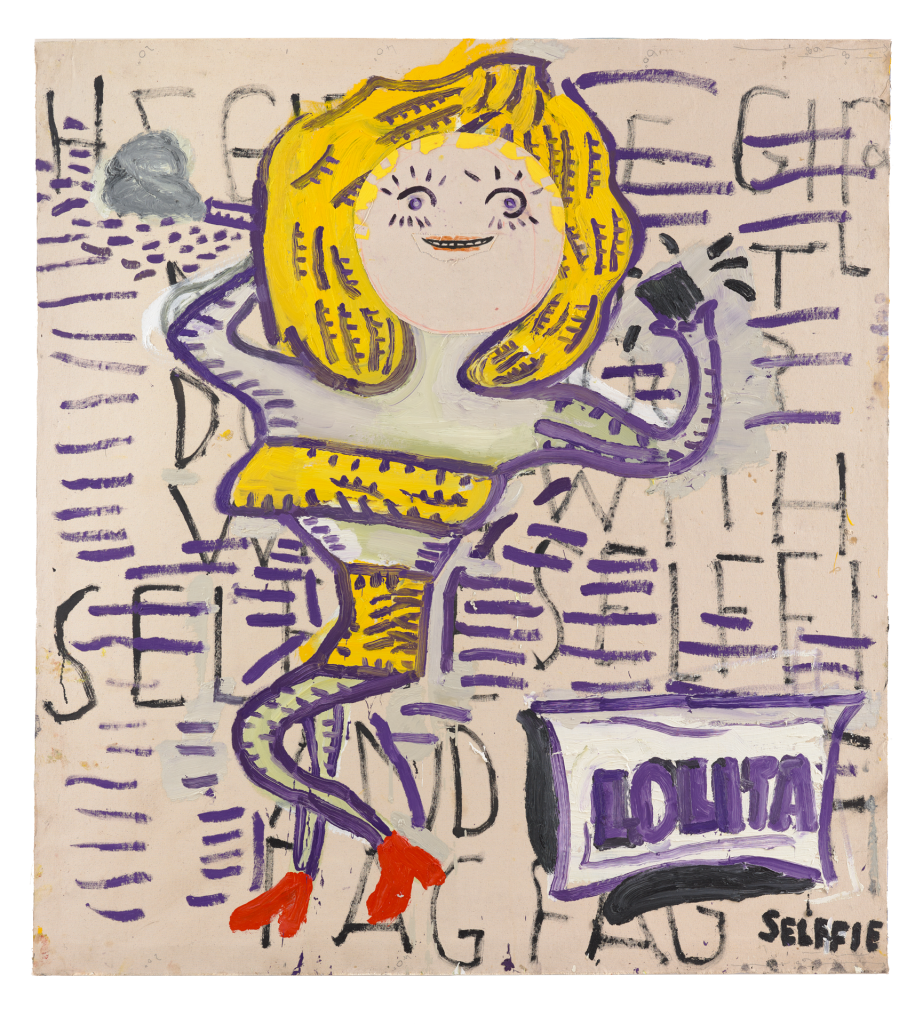 Rose Wylie: 'Lolita and Selffie', 2018 – oil on canvas, 182 x 166 cm
Well it's hardly news. But suddenly it you can't move for top shows of female painters! The point of 'Women Can't Paint' at the ASC and Turps Banana galleries is to prove that they can, contrary to Georg Baselitz's notorious barb. That said, it's curated by a man (Marcus Harvey) and his jesting reply to one artist who asked him why she wasn't included was 'because you can paint!' There's further bulk evidence at Victoria Miro's two galleries, which feature 50 abstract female painters, from famous to rising to long overlooked. Then come two outstanding solos: Beatrice Milhazes at White Cube Bermondsey and Rose Wylie over all three floors at David Zwirner. The Brazilian expands from her painterly base to include collage, sculpture, performance and an enormous tapestry – the language of which imposes some simplification on her tropically teeming circle-loving motifs. Wylie sticks to the knitting, I mean painting, but with equal vigour. There's a 10 panel, 15 meter long snake, and a lively account across several canvases of 'Lolita', her nickname for a teenager who used to wash cars 20 years ago in the street opposite her (and Roy Oxlade's) house in Kent. You can see how the memory is really present for Wiley, not just an event in the past, from Lolita's anachronistic use of an i-phone.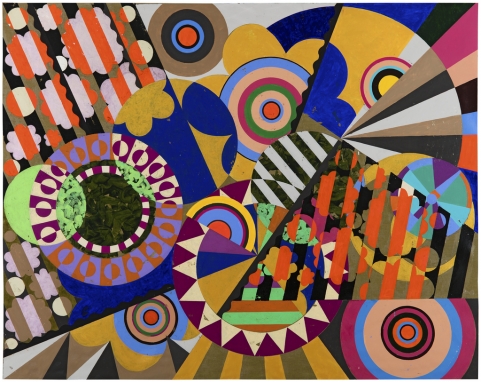 Beatrice Milhazes: 'Pó de arroz',

2017-2018 – Acrylic on canvas, 280 x 353 cm. Photo: Manuel guas
Art writer and curator Paul Carey-Kent sees a lot of shows: we asked him to jot down whatever came into his head
'Picasso's Visual Puns' :
Paul's ART STUFF 254
Pablo Picasso: Femme etendue au soleil sur la plage, 1932
Picasso isn't strongly associated with setting up ambiguity in his paintings in the same systematic way as Dali is through his 'paranoiac critical' method in which elephants become swans etc. However, a couple of motifs from the tremendous '1932' show at Tate Modern show that Picasso was capable of that, along with pretty much everything else, especially when the setting was sexual. 'The Dream' is the show's poster image, but maybe it's still possible to overlook how

Marie-Thérèse

's hands make a vagina while her upper face forms a phallic shape to suggest that her dreams are sexual and perhaps post-coital. The March 1932 series of a woman reclining on a beach is less well-known, but their images seem to hold several forms at once. An upper, angular drawing in paint makes a geometric woman ia a fairly conventional pose. The dark shape beneath could be shadow of that form. Yet we also seem to be looking up from under a woman with feet planted wide, if the ends are read as boots. There again, those undulations could show her swimming through the water, which we see from the side. Does that amount to sun-bathing, swimming, then walking down to the sea for a swim? Then there's the eye/sun pun. Of course, that's a mere bagatelle in a show which demonstrates that one year of Picasso's output can fill the Tate's unforgiving large space more convincingly than other artists' full careers – and I suspect that other years might have done just as well as 1932.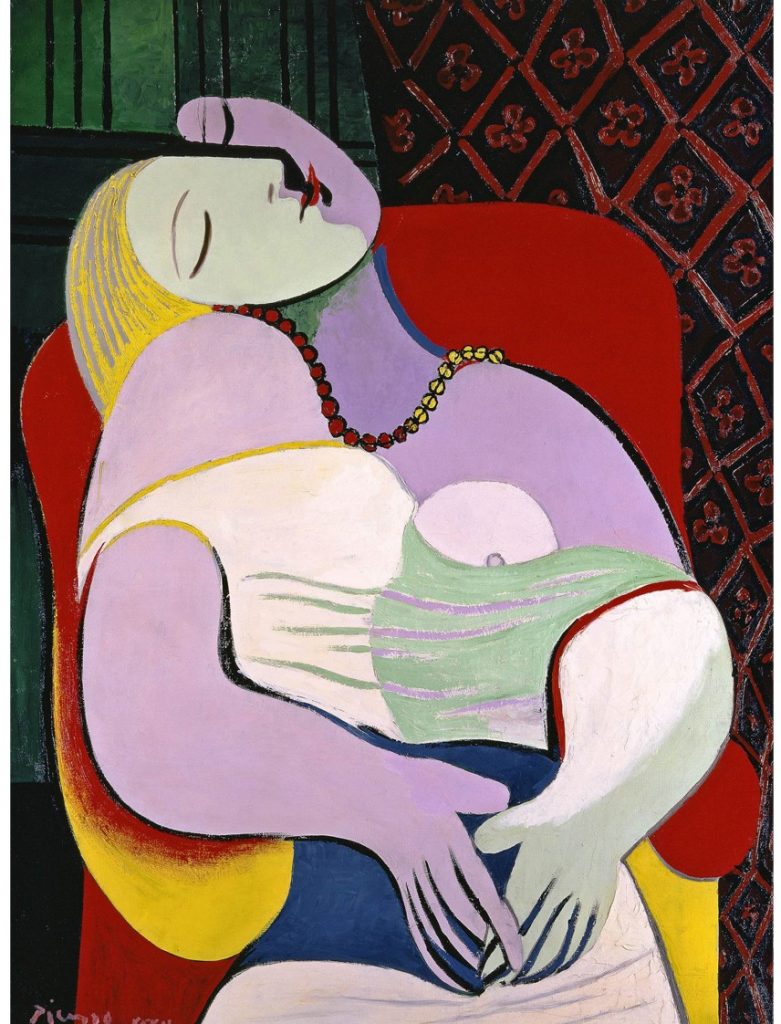 Pablo Picasso:

Le Rêve

, 1932
'Atypicalia':
Paul's ART STUFF 253
What's the value of early or atypical work by a highly marketable artist? Such work is doubtless consigned for sale in the hope that some of the repute of more characteristic work will rub off. So it is at Phillips' London auction on 11 April. Though catchily titled 'New Now', it contains plenty of 'Old Then' stuff, such as:
Robert Longo: 'V', 1983-4 – acrylic on wood with aluminium, 330 x 290 x 92 cm
This comes from Longo's 1980's series of 'Combines', which extended drawings and paintings with three-dimensional elements, before he settled on his signature style: £25-35,000 is estimated for this huge work as against the £100,000 which would be expected for a large charcoal drawing of a tiger's head.
Donald Judd: Day Bed, designed 1982, made 2003 – pine, 111.5 x 203 x 115.5 cm
True, it's well known that Judd designed furniture pretty consistent with his sculpture. That said, Judd died in 1994. So, although he didn't fabricate his own work after 1964, I can imagine waking up at night wondering to what extent – for £5,000-7,000 – you're really sleeping on a Judd. Actually, though, you can still order such furniture from the Judd Foundation at a comparable price. A sculpture, on the other hand, would set you back £1m or so.
Isa Genzken & Gerhard Richter: 'Tri-Star', 1981
Sotheby's is also selling contemporary art on 11 April, as 'curated' by celebrity chef Mark Hix. You expect to pay a lot for a Richter painting – the record is £31m – so £10-15,000 is cheap. On the other hand this is from an edition of 75 made in collaboration with his ex-wife Isa Genzken (she studied under Professor Richter at the Düsseldorf academy 1973-77, and was married to him 1982-93). It consists of grey nitro lacquer painted onto a vinyl record featuring noises made by a Tri-Star aeroplane motor.
Moss see shows at White Cube and Tate Modern:
Paul's ART STUFF 252
Pier Paolo Calzolari:'Il mio letto così come deve essere' ( 'My bed as it must be') 1968 – Brass, stabilized moss and bronze letters
Until last week, I'd have said 'moss + art (-Kate) = Andrea Büttner', as the German artist has often exhibited moss gardens, having an interest in lowly forms and how they connects to shame.'Throughout their characterization', she says,'mosses have been associated with themes of being minor, of humiliation and judgement.' But now two other favourites of mine have got in on the act. Italian Pier Paolo Calzolari is best known for using frost as a material, but you'll also find salt, flame, lead, burnt wood, neon, tobacco leaves – and moss – contributing towards an alchemically flavoured sublime at White Cube (to 12 May).The moss is described as 'stabilised', a process which sees the natural moisture replaced with a chemical solution to ensure its longevity. It's the original 50 year old moss, so that's a super-effective technique! Lee Edwards is a British artist who has a knack for focusing us on the easily overlooked (used tissues, for example) so moss is a logical subject for his intense, detailed, isolating realisation. It will be on show within a wider chance for the little-noticed to be seen: from April 6-8 a room at Tate Modern will, for the first time, be filled with art made by 135 of the four Tates' own staff. That 'Inside Job' makes sense: many art world roles are filled by artists who cannot make a living by art alone. Maybe not as unmissable as Picasso 1932, but certainly a good reason to visit that blockbuster this coming weekend.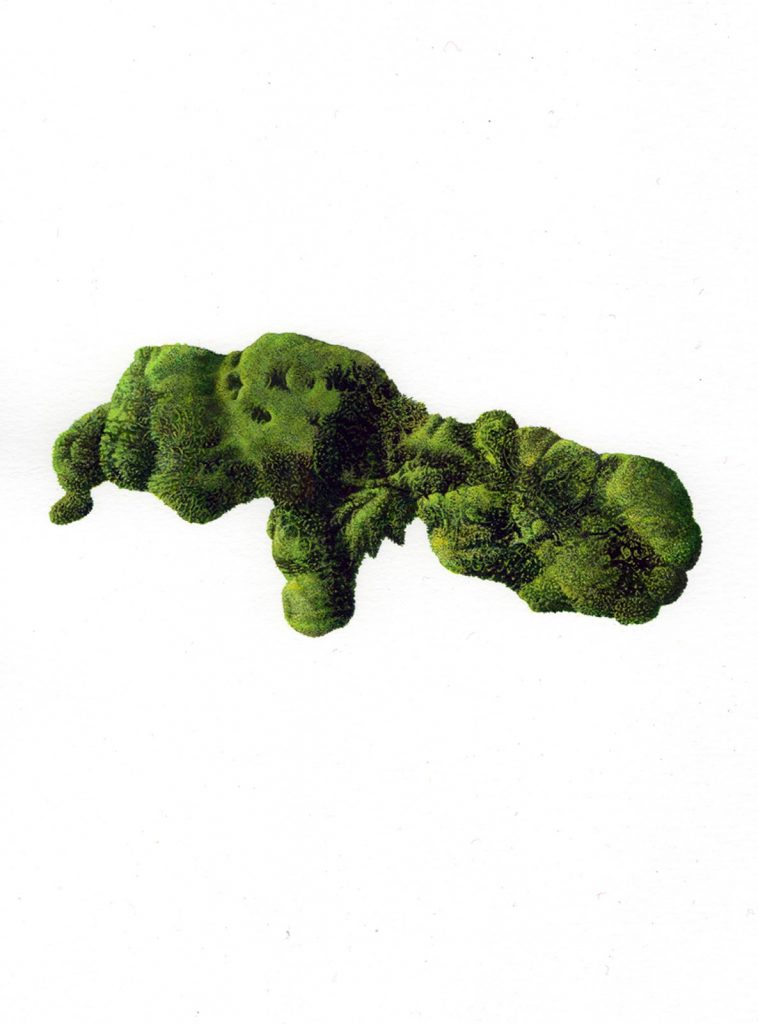 Lee Edwards: 'Moss', 2015 – acrylic on paper
Art writer Paul Carey-Kent sees a lot of shows: we asked him to jot down whatever came into his head – formerly 'on the train' but, now that he's retired from the day job, wherever he likes!
'Peckham':
Paul's ART STUFF ON A TRAIN 252
Lilah Fowler in her show 'nth nature' at Assembly Point

If Mayfair is London's main gallery hub, what comes second? A couple of years back, Fitzrovia and the East End would spring to mind. Now a case also could be made for Vauxhall or (despite The Sunday Painter moving from Peckham to Vauxhall recently), Peckham. Consider my itinerary last Saturday: (1) A crisply conceived Magali Reus solo at the South London Gallery (bonus balls: Free.Yard and the Orozco Garden, plus an extension due to open in September). (2) Lilah Fowler's back and forth between digital and material in Assembly Point's impressive space (bonus ball: performance on 13 April). (3) An interesting mix of youngish American painters at Rod Barton (including the octothorpe candidate below, Alicia Gibson's declaration that she 'only dates assholes'). (4). Luke Burton's changing room screens and paintings of hairy chests, their owners quite probably qualified to date Gibson, at Bosse & Baum. (5) The chance to have your hair cut while taking in Sue Tompkins at dkuk. Sadly, I forgot to ask dk (owner Daniel Kelly) whether chest rug trimming was available. (6) and (7) were 2 x two person face-offs at Arcadia Missa and MOCA, and (8) A fascinating mix of 'Mindscapes' at bo.lee gallery including Hannah Brown's paintings of land due to be built on by Tesco in front of a carpet shaped to plot the land at the painted scale. Add the unvisited – on this occasion Hannah Barry (between shows) and Flat Time House – and Peckham has a case…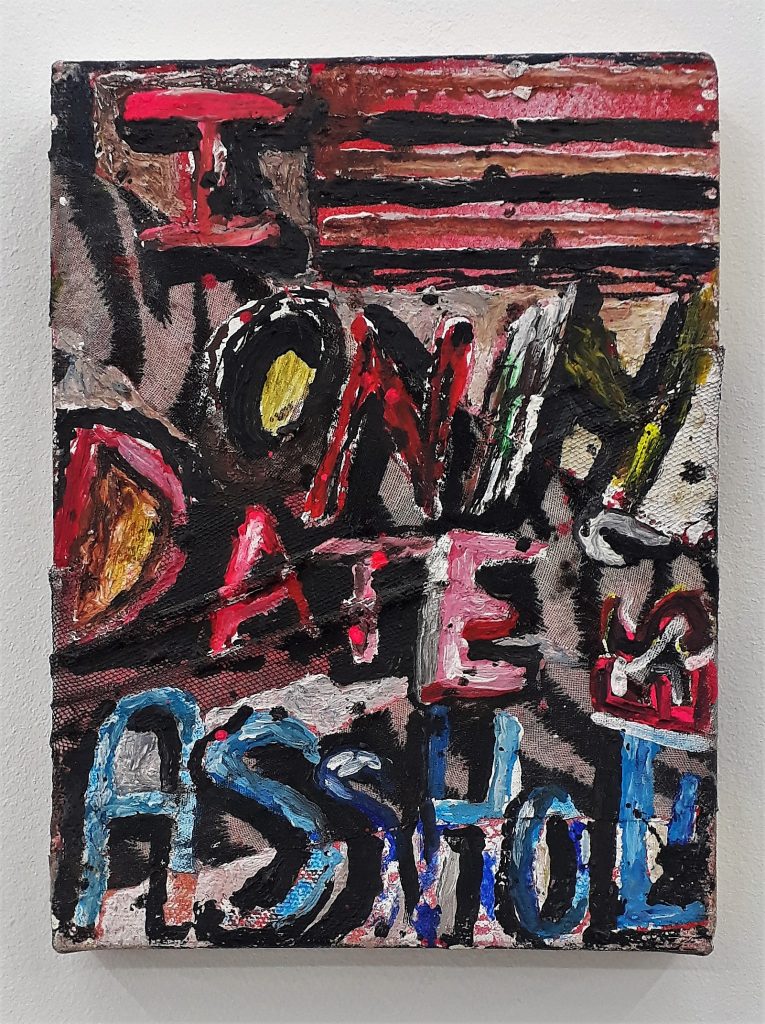 Alicia Gibson: 'I Only Date Assholes', 2014 – oil and various on panel, 20 x 15 cm
Most days art Critic Paul Carey-Kent spends hours on the train, traveling between his home in Southampton and his day job in London. Could he, we asked, jot down whatever came into his head?
'Capsizing the Gallery'
Paul's ART STUFF ON A TRAIN 251
Alexandra Bircken: 'Mammal', 2018
There is what amounts to a tradition of single work installations which radically transform the architecture of the gallery. Take Richard Wilson relocating Matt's Gallery's main window as a sculpture ('She Came in Through the Bathroom Window', 1989), Urs Fischer reducing Gavin Brown's Enterprise to a hole in the ground ('You', 2007) or Bethan Huws raising the Whitechapel Gallery's floor ('Capelgwyn', 2011). All call attention not to the removable, saleable, work of art but to the effect of the intervention on its context, and how visitors' interactions with the space are affected. Such shows are pure, simple, and potentially a bit thin – having only one work – but can resonate long term. Alexandra Bircken has found a new twist: implying that the gallery's architecture has capsized. Her intervention (to 13 May) re-imagines the vaulted ceiling of Studio Voltaire as a cavernous, upturned ship's hull. She has commissioned boat builders to make three bowed beams carved from a single oak tree to echo the arches of the ceiling. As the title Mammal suggests, it is also seems as if we have been eaten, and find ourselves within the ribcage of a giant carnivore – consistent with Bircken's usual interest in the body, often sliced. As shows go it is austere – though with a nice line in joints – but it could well prove an intervention to remember.
Most days art Critic Paul Carey-Kent spends hours on the train, traveling between his home in Southampton and his day job in London. Could he, we asked, jot down whatever came into his head?
'Are We Virtually There Yet?'
Paul's ART STUFF ON A TRAIN 250
Marina Abramovic seen making 'Rising', 2018, which sees her trapped in a tank of rising water
Is virtual reality the way ahead for art? Like any new technology, it can have its clunky moments and effect can come at the cost of substance. Yet I have already experienced a persuasive work by Shezad Dawood ('Kalimpong', 2016), taking us on a consciousness-expanding journey between spaces, and a promising – if flawed – one by Mat Collishaw, whose 'Thresholds', (2017) transported me back in time to a now-unrealisable 19th century exhibition. That strand, I dare say, will eventually bring us into the double-edged territory of fully immersive virtual visits to current shows – in which case, self-defeatingly, why visit? Now HTC Vive, in conjunction with Art Basel, have commissioned Marina Abramovic and Anish Kapoor to make experiences for the Fair's Hong Kong edition at the end of March *. Their tactics indicate further scope for the medium. Abramovic's art depends critically on the force of her presence: logically enough, she attempts mythological transference to an avatar, which (who?) addresses us on global warming with enough intensity to suggest that there may be potential for her personal impact to live on beyond her. Kapoor started by asking what VR can do especially well, and his answers are vertigo and immersive interiority. Logically enough, then, over the ten minutes of 'Into Yourself, Fall', 2018, we tumble into our own bodies, visceral as Kapoor's silicone and pigment works (such as 'Unborn', 2016) through clouds and darkness before landing to be reborn in a giant vagina reminiscent of his 'Dirty Corner', 2011.
* As previewed at the Royal Academy on 6 March, at which the artists engaged in a lively discussion with Tim Marlow
Anish Kapoor: scene from 'Into Yourself, Fall', 2018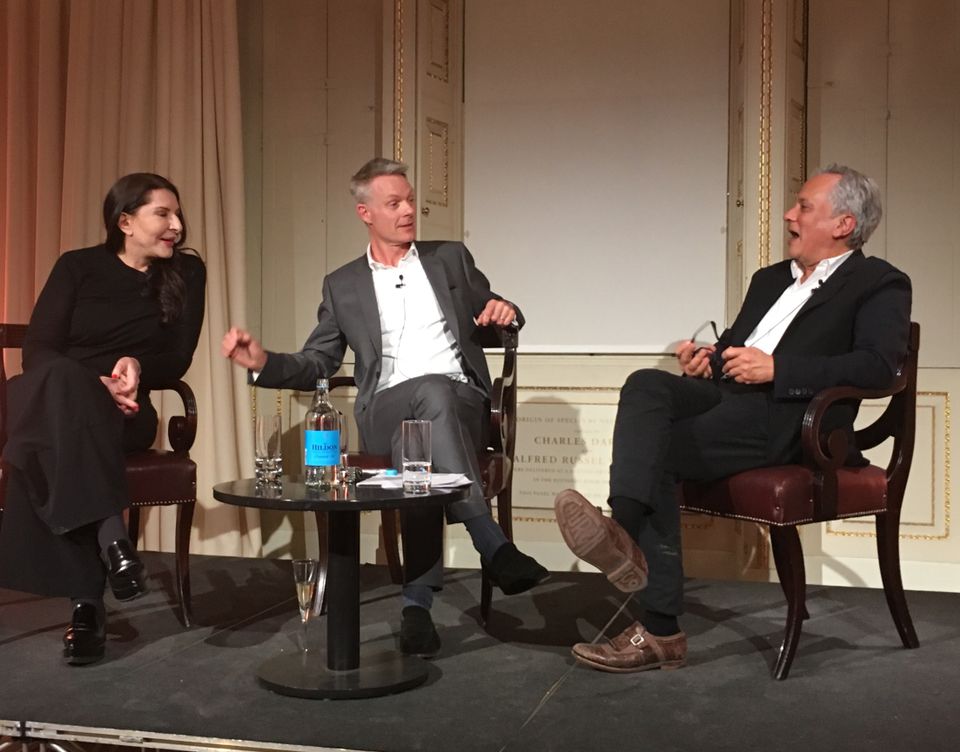 Abramovic, Marlow, Kapoor in discussion
Most days art Critic Paul Carey-Kent spends hours on the train, traveling between his home in Southampton and his day job in London. Could he, we asked, jot down whatever came into his head?
Marvin Gaye Chetwynd: After-Performance
Paul's ART STUFF ON A TRAIN 250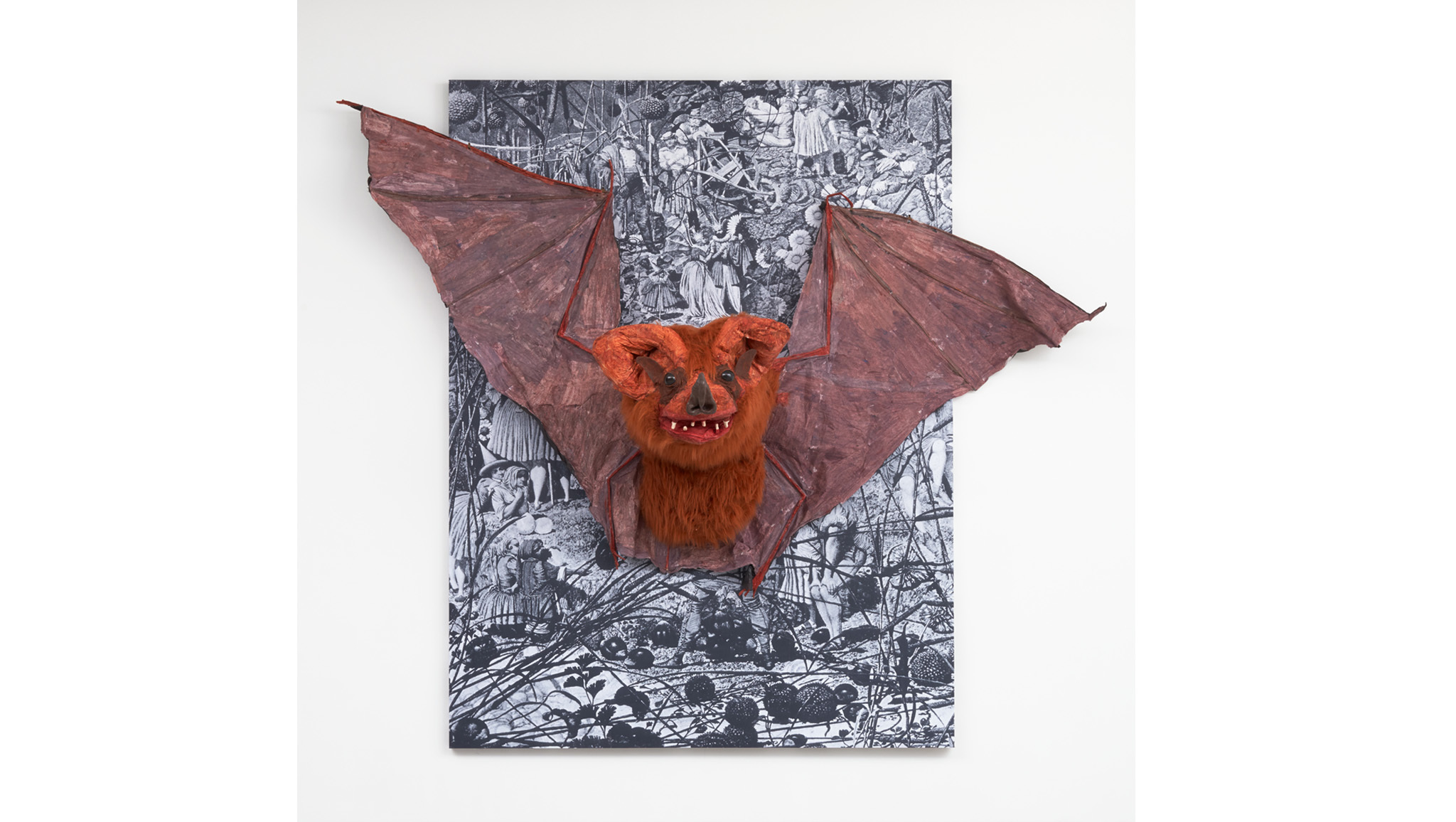 Marvin Gaye Chetwynd: 'Bat', 2018
What's the gallery life of performance art? For years, said Marvin Gaye Chetwynd at the opening of the suitably fluid-sounding 'Ze & Per' at Sadie Coles, she was restricted to the opening night of shows and not even included on the official list of participants. Now she, and performance generally, are more fully acknowledged, but it's still hard to present the after-action successfully. Tate has putting in an effort recently, and Saatchi did well last year with Oleg Kulik and and Pyotr Pavlensky. The former lives out his life as various animals, that being the position of post-Soviet man, the latter's protests include nailing his scrotum to the cobbles of the Red Square ('Fixation', 2013) as 'a metaphor for the apathy, political indifference and fatalism of modern Russian society'. Imaginative installations captured these actions well enough to make me suspect it was better than the doubtless uncomfortable reality of being there. What of Chetwynd herself – forenamed Lali 1973-2006, Spartacus 2006-13 and Marvin Gaye 2013-ongoing, though I guess you could call her Mrs Cichosz and see where that gets you? Ze's come up with per own way of occupying a gallery without using the video route through which 'Hermitos Children, the pilot episode', 2008, featured in the Tate's Tanks programme last year. Chetwynd's new show (to 7 April) presents grandly scaled performance props or potential props on grounds made from multiple photocopies of elements from performances. These monumental tableaux – cheekily invoking the possibility that they are paintings, with all the historical heft and added sales potential that brings – are interesting, but feel further from the originating performances than did Saatchi's displays.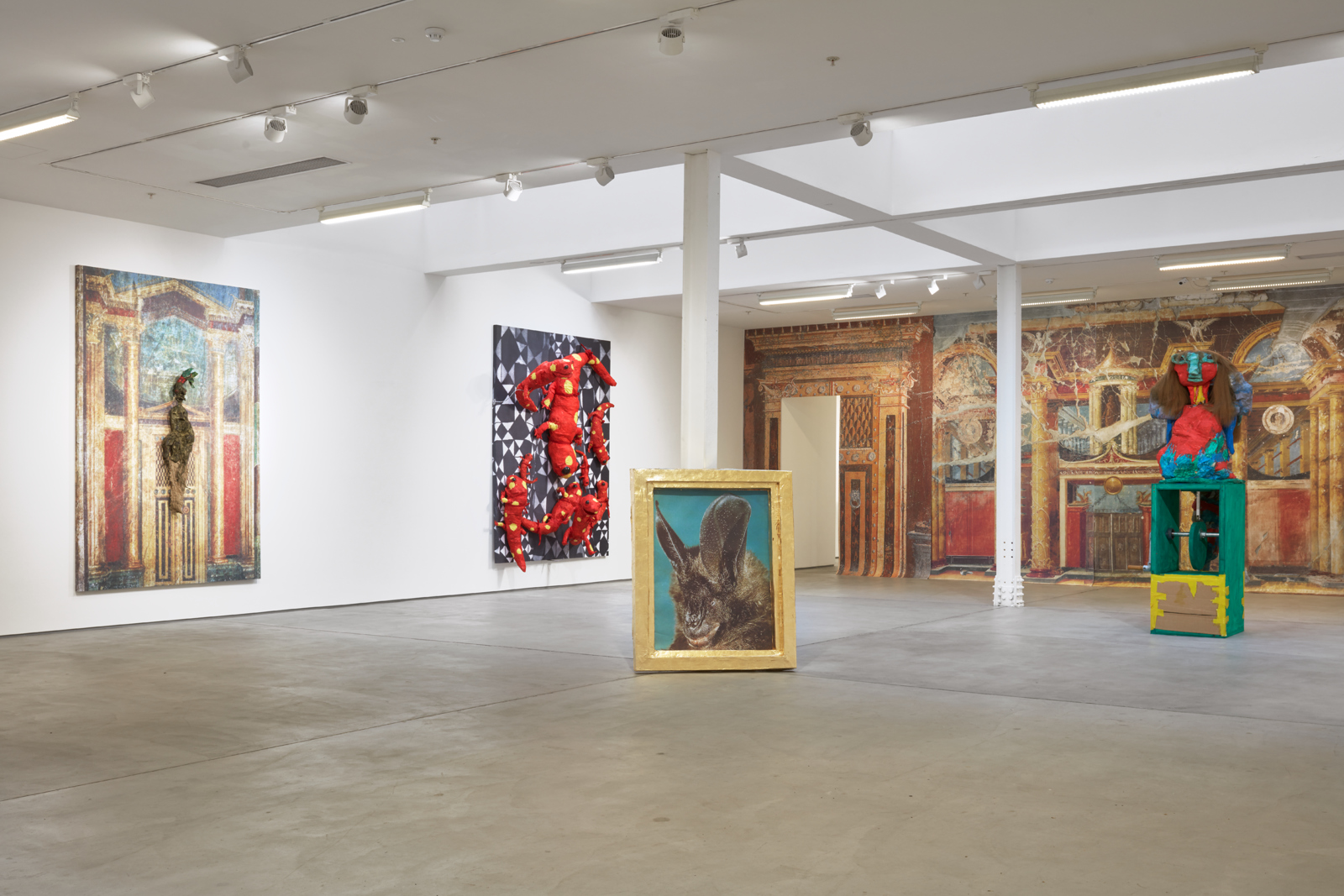 Marvin Gaye Chetwynd: 'Ze & Per' installation view
'Queasy does it':

Paul's ART STUFF ON A TRAIN 249
Elpida Hadzi-Vasileva: 'Rendition of Self', 2016 - cow stomach, turned wood
If you want striking art interestingly set yet conveniently placed, I can currently recommend the Grant Museum of Zoology near Euston. In among its time capsule cabinets of the bizarre – a chimpanzee's hand, flying squid and dinosaurs, a giant turtle shell, all sorts of skeletons – Elpida Hadzi-Vasileva's artworks are sufficiently at home that you need the map which pinpoints their location ('Internal Beauty', to 28 March). The Anglo-Macedonian artist's materials reinforce the commonality: lights made from sheeps' testicles, a 'bible' of caul fat (which encases pigs' intestines), a cow's stomach forming a self-portrait. Rather as Arte Povera triggered a re-evaluation of poor materials, she shows that internal organs which we tend to avoid have a potential for beauty as well as obvious utility. One stylish swipe of pigment turns out to be printed from a cow's anus, taking process-based abstraction in a direction not seen since Morten Viskum painted with a severed dead man's hand. Add less gruesome instances – such as a flower made from quails' beaks, a formation of rabbit jaws and 'Gill's Slits', which combines the wing-like skeletons of several skates – and you have an unusual show in an unusual location.
Elpida Hadzi-Vasileva: 'Witness of Virility', 2011 (detail) - lights in sheep's testicles
Most days art Critic Paul Carey-Kent spends hours on the train, traveling between his home in Southampton and his day job in London. Could he, we asked, jot down whatever came into his head?
'Cadaverous in Croydon':

Paul's ART STUFF ON A TRAIN 248
David Harrison's frivolously convulsed 'Pink Lady Drag (Mobile Glory Hole)', 2017, courtesy artist and Victoria Miro, photo: Tim Bowditch
The last time I was in Croydon the trams – which came into operation in 2000 - were just a plan. Would a visit to Turf Projects, which has taken over disused units in the Whitgift shopping centre, prove stimulating enough to make me wonder if I've been missing out? Stuart Brisley was performing all day, wielding Clingfilm, winding tape and smearing fruit ('literally', he pronounced, 'banana shit') with all the assurance of someone who has been dealing with base materials for 60 years. Interregnum aimed to use them, as the show's text puts it 'to make visible a process, a dynamic, and a tension' in order to convey the stasis of 'periods of politico-historical impasse'. We do seem to be in such a phase, post-Brexit. Nor was the accompanying show, 'Frivolous Convulsions', much more mainstream. A drag queen mask in the form of a mobile 'glory hole'? Why not, courtesy of David Harrison. Some astral projecting with modern witch Janet Farrar? Of course, through Lucy Stein. A flower-headed man pissing on a rat-headed man? I was expecting that: David Harrison again. A painting titled 'FUCK MONEY'? Easy for Aliki Krikidi to say that, as the works are not for sale. The curators Vanessa Mitter (who performed at the opening and paints with Redonesque extravagance) and Ben Westley Clarke (who's spent four years portraying the regulars in an Irish pub behind Euston) say in the accompanying publication that their choice of artists 'have one foot in the grave. It dangles there'. Croydon is good for more relishably cadaverous visits.
Most days art Critic Paul Carey-Kent spends hours on the train, traveling between his home in Southampton and his day job in London. Could he, we asked, jot down whatever came into his head?
'Photos as Paintings as Photos':
Paul's ART STUFF ON A TRAIN 247
Andreas Gursky: 'Paris, Montparnasse', 1993
One point everyone mentions about Andreas Gursky's method is that he intervenes digitally to painterly effect. So, for example, 'Paris, Montparnasse' (1993) presents an impossible perspective on the architecture of a block of flats because it is built up from many separate shots taken from two viewpoints so that all the dwellings are presented exactly front on. Nor is that image unusual in revealing Gursky's interest in architecture, whether in the built environment or in social contractions. That's one reason that the 68 work retrospective (to 22 April) suits the Hayward Gallery, the refurbished brutalist spaces of which Gursky likes . One validation of the painterly nature of what Gursky is doing with photographs is provided by the coincidence that a painter is currently on show doing something rather similar, and with the Hayward building at that! The Scottish artist Renny Tait, known for depicted idealised architectural landscapes, includes 'Hayward Blue Sky' in his current show at Flowers in Cork Street ('Thresholds to Brighter Worlds', to 17 Feb). Tait adds a central tower to the design, so bringing out the resemblance to a castle, rather as Gursky seeks to get at what might be called 'the reality beneath appearances' through his digital interventions. The contrast in scale is pretty severe, though: the Tait is 61 x 76 cm, the Gursky 187 x 431 cm: the days of big paintings vs small photographs are long gone!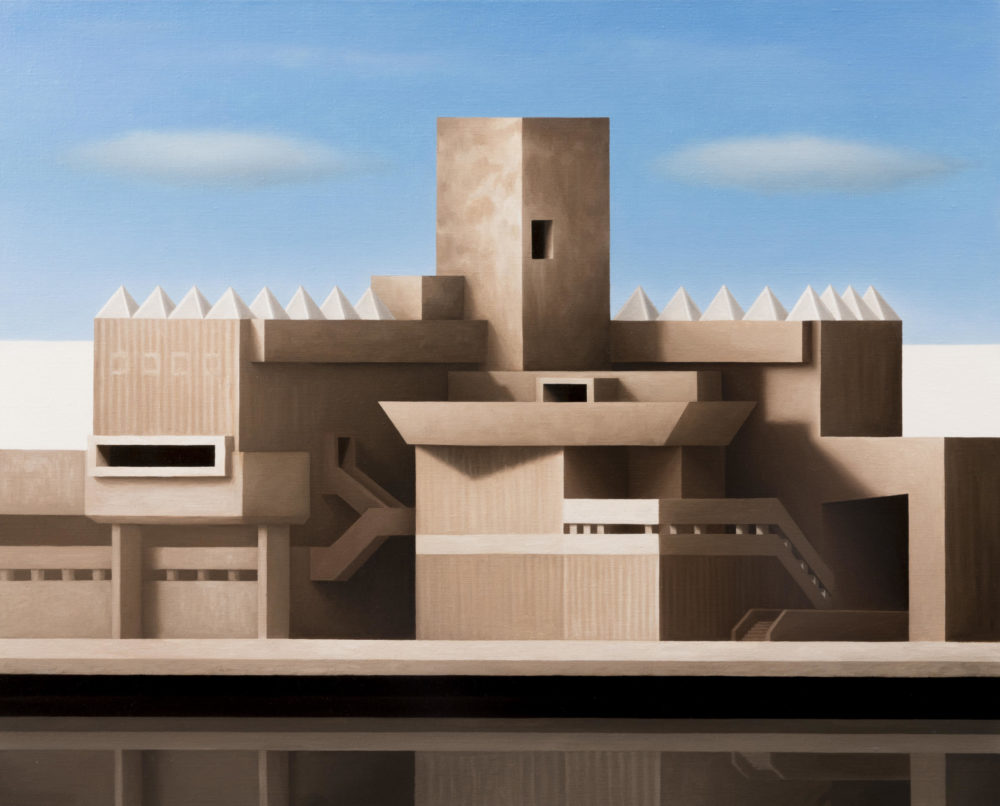 Renny Tait: 'Hayward Blue Sky', 2017 – Oil on canvas, 61 x 76 cm
Most days art Critic Paul Carey-Kent spends hours on the train, traveling between his home in Southampton and his day job in London. Could he, we asked, jot down whatever came into his head?
'The Definition of Drawing in Bath':
Paul's ART STUFF ON A TRAIN 246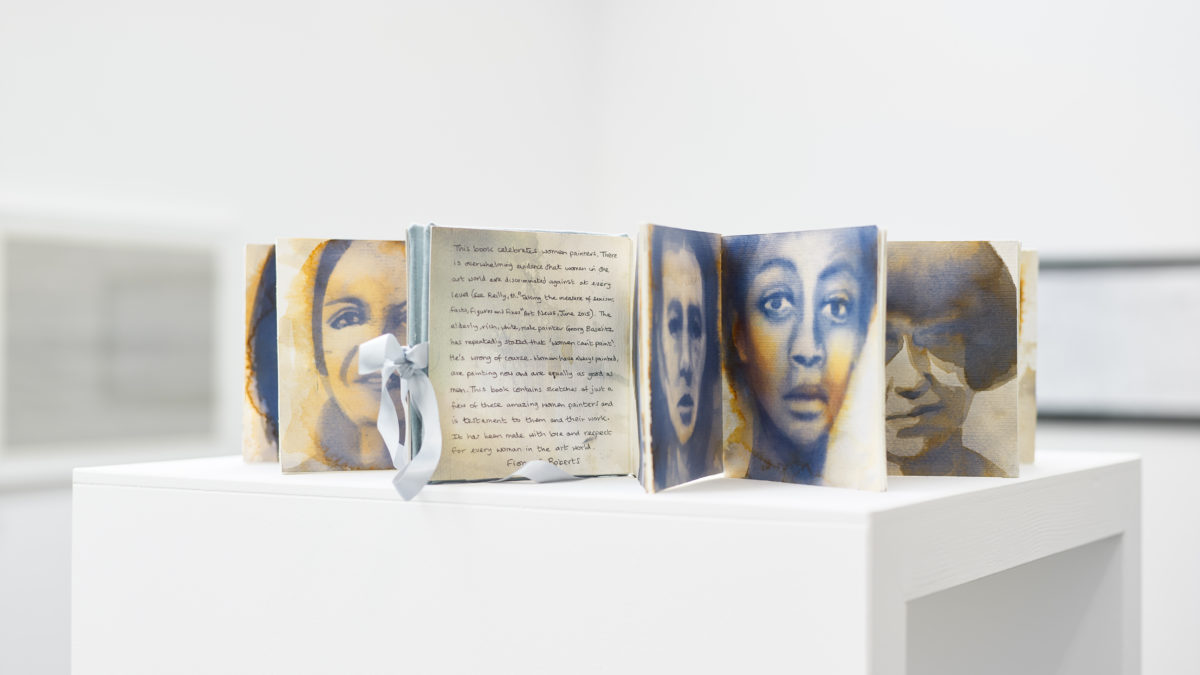 The Jerwood Drawing Prize* is always interesting both for many of the works in themselves, and for its expanded definition of drawing – this year, for example: walking in the snow (Elisa Alaluusua), a film about drawing as it is used to communicate by someone who cannot read or write (Ana Mendes), and a found spent fireworks launcher (Eric Butcher). Two prominent themes are the use of the grid and recording the life of the artist. Jeremy Hutchison's photographs of his markings of dusty windscreens in Dakar are the most surprising pure grids. David Symonds covers both bases with 'All the Days of My Life', an unfurlable scroll of – I assume, given that Symons is 65 – some 24,000 thumbprints. Rebecca Swindell commemorates 18 life events, from weddings to dining to flying to listening – through drawings on wine corks. Fiona Roberts celebrates the inspirations of her art life in a beautiful book of paintings which unfold into a table top sculpture: with quiet assertion, they show her 26 favourite female painters in the context of Georg Baselitz's notorious claim that 'women can't paint'. Marlene Dumas looks to be her most direct inspiration, and she is appropriately central in Roberts' book.
* the 2017 edition started in London, moved to Norwich, and is now at The Edge, Bath University 10 Feb – 21 March and then Canterbury 11 April – 6 May
Jeremy Hutchison, 'Harmattan', 2017 (The Harmattan is a northeasterly trade wind. From November to March it blows particles of the Sahara Desert across West Africa, covering cities such as Dakar in a film of dust.
Most days art Critic Paul Carey-Kent spends hours on the train, traveling between his home in Southampton and his day job in London. Could he, we asked, jot down whatever came into his head?
'Bridget Riley's succession - by self and otherwise':

Paul's ART STUFF ON A TRAIN 245
At 86, Bridget Riley has a show, predominantly of recent work, at David Zwirner. It's a mixed bag. Two stunning black disc works, a brave inclusion as they are from the early sixties and provide a tough measure for the rest of the show; new works returning to black and white using part-curved triangle motif shimmer in black and white, successful but not a revelation; and dots in brown, green and grey which predominate, to rather pallid effect. But with one exception: a wall painting with much sparser use of the dots in which the popping of new after-image circles characteristic of the early disc works occurs in a new setting to tremendous effect. Worth seeing, then, but it's still tempting to say that the best new Rileyesque show is across town at Austin Desmond, where the Pakistani artist Mohammad Ali Talpur – quite openly a Riley fan – does quite a few new things with Riley's early language of repeated parallel black lines on white ground. Some arrive afresh at optical movement – though Talpur says he doesn't aim at that any more than he does at spiritual readings. Two, which make a grid of squares from straight verticals and curved horizontals, give the illusion of colours if viewed from a few feet back: I'm not sure how, but I tested this with several people who all saw the chromatics, albeit with varying hues. Will it work the same online, I wonder?
Most days art Critic Paul Carey-Kent spends hours on the train, traveling between his home in Southampton and his day job in London. Could he, we asked, jot down whatever came into his head?
'Stack 'em High?':

Paul's ART STUFF ON A TRAIN 244
Donald Judd: Untitled (Bernstein 80-4), 1980 - Galvanised iron and blue Plexiglass
The aim of
Sprüth Magers' impressive show 'Crossroads' (to 31 March) is to present

Craig

Kauffman in the context of Robert Morris and Donald Judd. Yet walking in on a Judd 'stack' – ie one of the many 'untitled' works by Judd which fit that convenient classification – I found myself looking at that afresh rather than as just 'another of those'. Partly, no doubt,

because I found myself next to Judd's longtime assistant Peter Ballantine, one of the fabricators who made all Judd's work after 1964. He installed
Sprüth's example, in this case of galvanised iron and blue Plexiglass, an inherently coloured and self-supporting material central to both Judd and Kauffman's production. It looked particularly good in the somewhat unlikely winter sun. Early examples have seven units, later ones have ten. In all cases, the units are of equal size to the spaces, and there are two sizes of unit, 6 inches leading to a height of 10 feet, as here, or 9 inches leading to 15 feet. I've always liked it more when the stack looks tailored to the ceiling height, and that was indeed the case when they were first shown in Leo Castelli's relatively domestic space in New York. But, Ballantine explained, Judd did not insist on it, so there may be a larger gap above and - going the other way - he allowed some flexibility in the case of low ceilings: some units can be removed, but a minimum of seven is set.
Craig Kauffman: Untitled, 1972 - acrylic laquer on plastic, also looks good in sunlight
Most days art Critic Paul Carey-Kent spends hours on the train, traveling between his home in Southampton and his day job in London. Could he, we asked, jot down whatever came into his head?
'Types of Art Fair':

Paul's ART STUFF ON A TRAIN 243
Sidney Herbert Sime: Waves at Art UK
Londoners have two types of art fair available this week. The third edition of the Condo initiative (13 Jan – 10 Feb) sees 19 London galleries host 27 from elsewhere for pop-up exhibitions. The result sits somewhere between an art fair and the coordinated openings of Berlin's 50-strong Gallery Weekend. There's an evident energy, and plenty of strong individual artist presences. I reckon, though, that only three of the venues deliver to what might be seen as the ideal of the event: a coherent, integrated show bringing home and away artists together to make more than the sum of their parts: those at König, Project Native Informant and Rodeo (pairing Robert Overby and Ian Law in probably the outstanding show). The London Art Fair isn't the tightly managed gathering of comparable participants that you find at Frieze, and the leading contemporary galleries don't take part. Rather, LAF (Islington, 17-21 Jan) is of wildly variable quality. So you have to walk past a fair proportion of dross, but that's part of the experience and there's always excellence to offset it. Here, for example, are five things I liked this year: Frances Richardson at Chiara Williams (a whole stand installation playing games with carpets and giant wooden post-it notes); the Australian gallery Alaska's three videos, including Maori performance artist and former model Angela Tiatia assertively demonstrating the tattoos which also featured on her grandmother); Adam Hennessy's lively paintings and cringe-makingly funny 'zine about getting crabs at New Art Projects; five artists' choices of five works each from the national art collection; and the combination of Spanish artist Irene Grau and historical works from the 1970s by Yoshishige Furukawa at American gallery Maus Contemporary.
Yoshishige Furukawa: 'D-21', 1975 – industrial rubber, thread, canvas
'

New Year New Spaces

'

: Paul's ART STUFF ON A TRAIN 242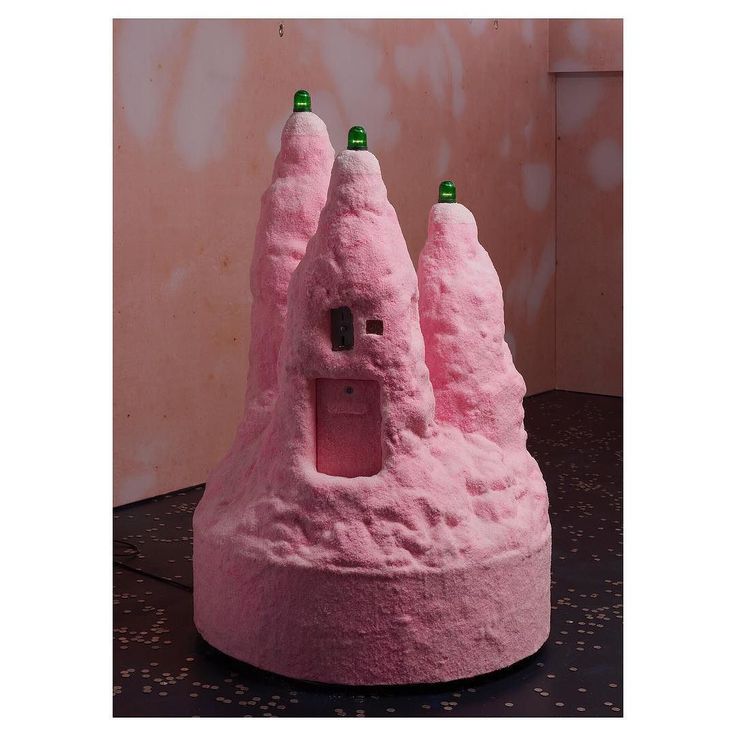 Installation view: Jonathan Trayte: 'Schussboomer' at Castor Projects, Enclave 8, Resolution Way, Deptford to 27 Jan
There's a case for being gloomy about the prospects for London's smaller galleries, several having closed last year, but new ventures are still making their way. Andy Wicks, formerly an artist, has followed on from temporary locations for his Castor Projects to set up a permanent space just off Deptford High Street last year. His current show entertainingly merges sculpture with funfair and cookery: Jonathan Trayte* has set up mechanisms you can activate with some of the thousands of 20ps on the floor, so that candy-coloured mountains dance to make what I suppose must be rock music of a sort via the noises of whisks and mixers. An artificial dusk is lit only by the flashing lights of the work (if a film's sound is diegetic if it has a source on-screen, can we use the word for lighting which has its source only in the art to be illumined?). Alice Black, who used to work for Stephen Friedman, has good natural light in her own first floor space (with business partner Matt Symonds) a few yards south of Oxford Street. The third show there features the Karachi-raised British artist Adia Wahid**, who feeds the unusual background of economics into subtly systematic abstractions which also reference computing and textiles to suggest affinities between loom, database and grid. They vary attractively from straight oils to a scrim tape composition, a monotype printed from bubble wrap and a dance between real and painted thread.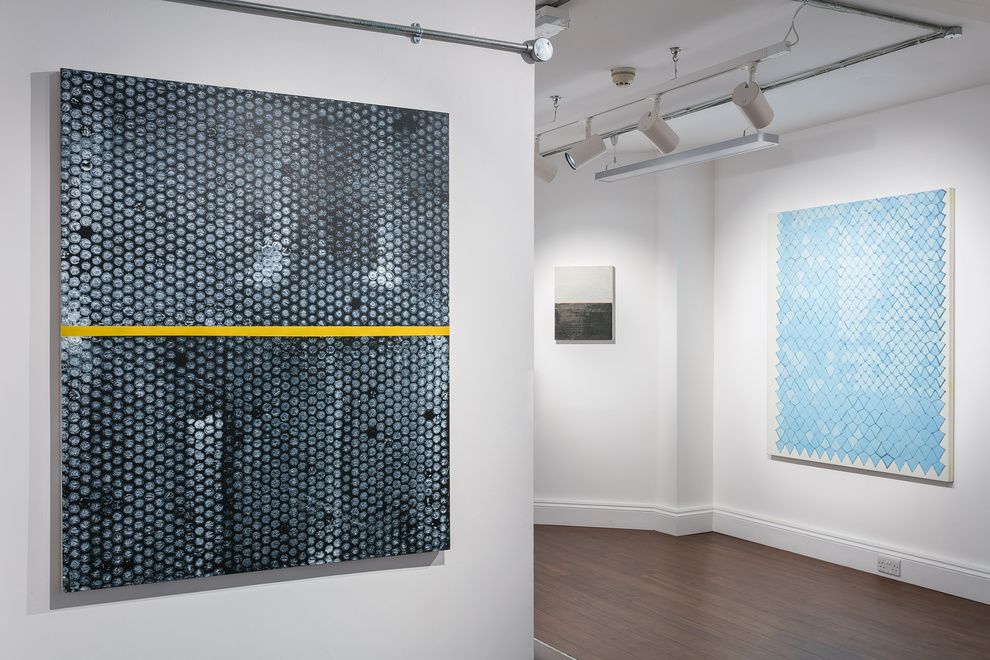 Installation view: Adia Wahid at Alice Black, 47 Berwick Street, Soho to 26 Jan
Most days art Critic Paul Carey-Kent spends hours on the train, traveling between his home in Southampton and his day job in London. Could he, we asked, jot down whatever came into his head?
'In the Details': Paul's ART STUFF ON A TRAIN 242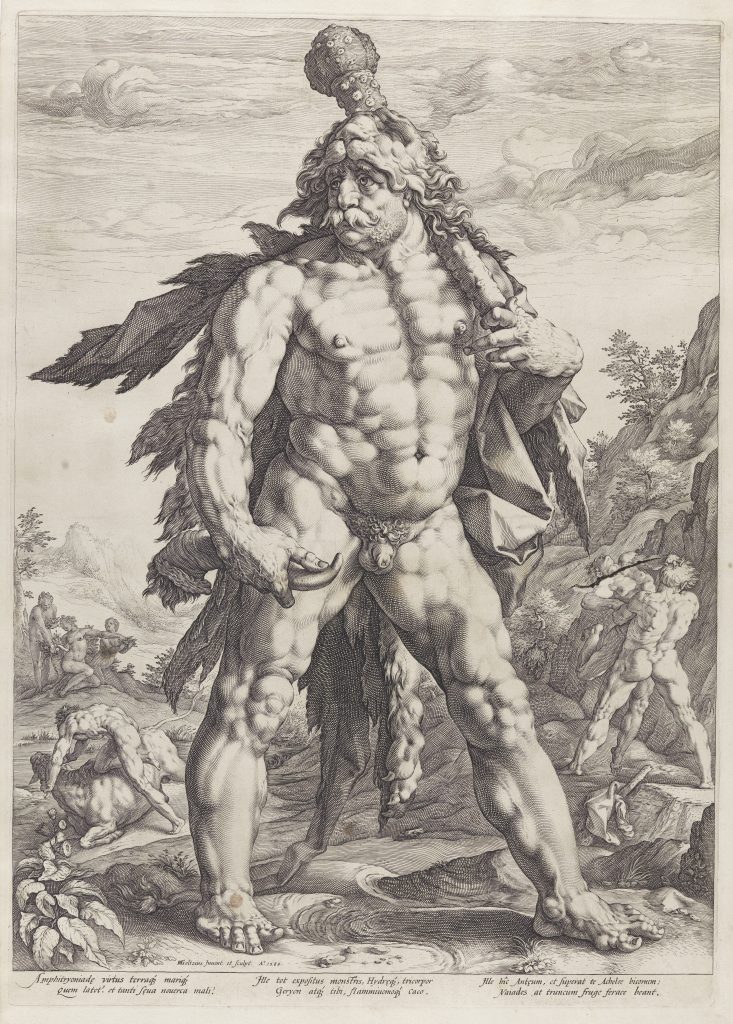 Hendrick Goltzius 'The Great Hercules', 1589 – Engraving, 56 x 40 cm
The National Gallery's
Monochrome: Painting in Black and White
includes as adjunct the remarkable 'Great Hercules' in which Hendrick Goltzuis pushes to the maximum his technique for conveying muscular volume: look closely, and you can see that each bevelled line swells and tapers as it winds around the forms, so that the detail mimics the whole at the same time as it contributes to the bulges of the hero's body.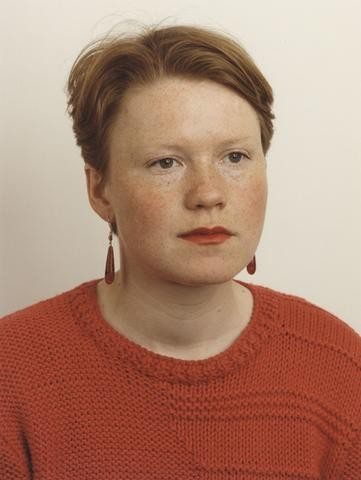 Thomas Ruff: 'Portrait (P.Fries)', 1984 – Chromogenic colour print, 216 x 165 cm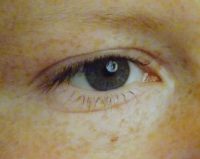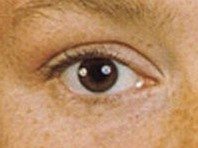 Right eye details from P.Fries (left) and the more usual styling of P. Lappat, 1987
I've seen many of Thomas Ruff's giant prints of frontal portraits with a neutrality which might suit passport photographs on a smaller scale. So far, they all have the exact same set-up such that one light can be seen reflected in the subject's left eye, and two in the right. Until now: the National Portrait Gallery is showing four such images, and one of them has just one light reflected in the right eye. It's of the young Pia Fries, a favourite painter of mine who, incidentally, is overdue a London exhibition.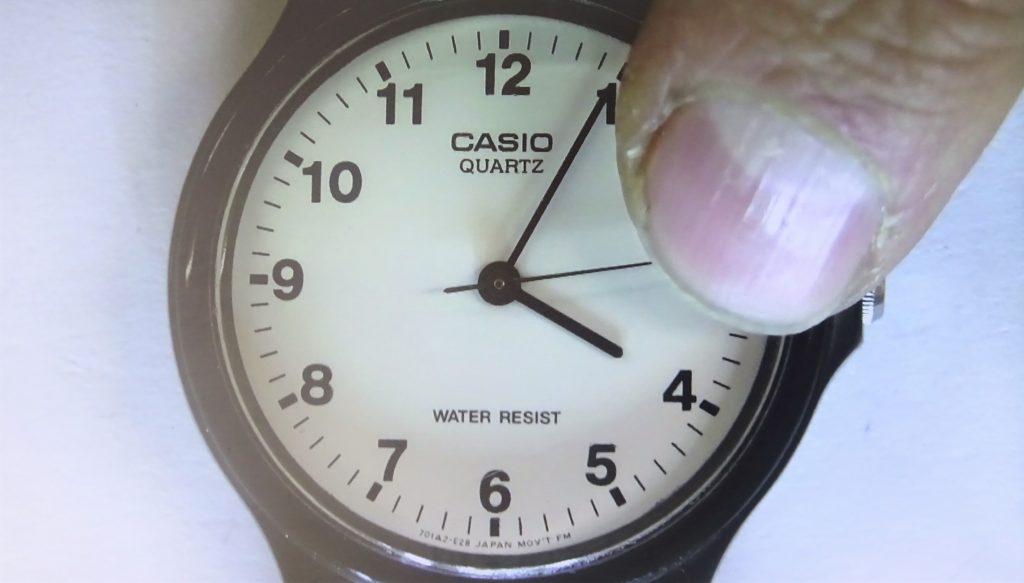 Marcus Coates: 'Hand of God', 2016 – 12 hour video
Second are a detail of time, and Kate MacGarry's celebration of 473, 298,000 million seconds in business – call it fifteen years – included a film which Marcus Coates made in response to the question 'What makes one want to work?'. The answer required him to follow the second hand on his watch with a finger, creating the illusion that he is controlling it. A nice joke, but he had to that for a complete clock cycle of twelve hours, moving into heavy endurance territory worthy of Marina Abramovic.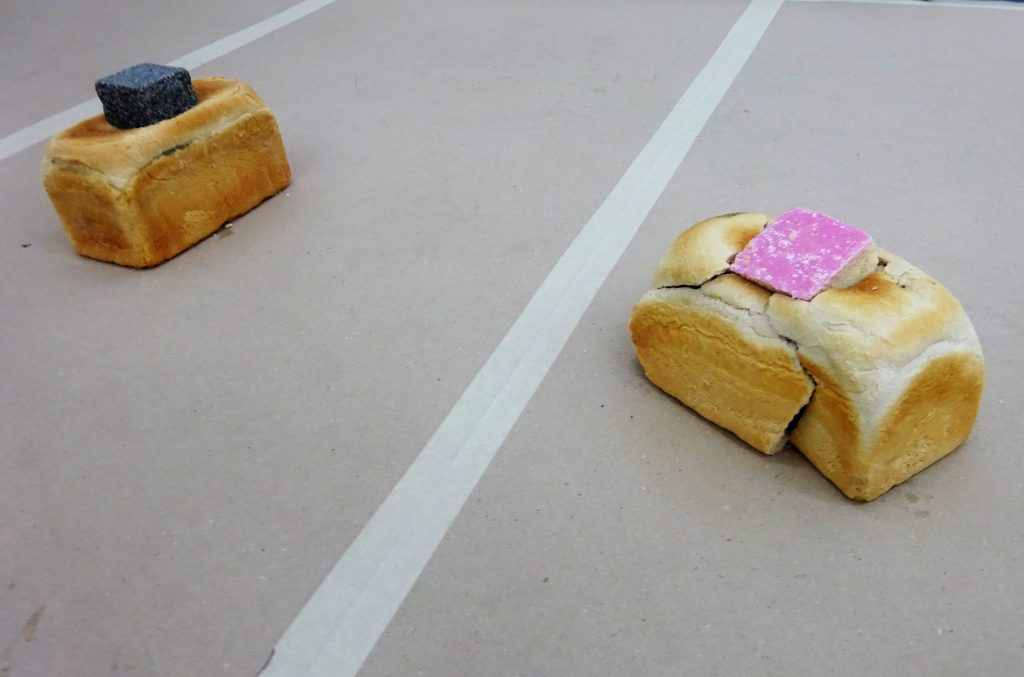 Mladen Stilinovic: 'For Marie Antoinette '68', 2008
Croation conceptualist Mladen Stilinovic (1947-2016) featured heavily in The Showroom's excellent import of the Kontact Art Collection from Zagreb: bread were scattered round the floor For Marie Antoinette '68 – invoking revolution and cake – each loaf contained an iced sponge. Or did it? The detail to notice before taking a renegade bite was that the grey cakes were actually blocks of granite…
Most days art Critic Paul Carey-Kent spends hours on the train, traveling between his home in Southampton and his day job in London. Could he, we asked, jot down whatever came into his head?
'Just About the Size of It': Paul's ART STUFF ON A TRAIN 242
My wife is 5 foot 2, so 'Small is Beautiful' seems a fair premise to me, and the 35th of Flowers Gallery's annual series (to 6 Jan) boosts the case – though I was disappointed to find that the contribution from Jonathan Small wasn't especially beautiful. It's a logical yuletide tradition, as small also tends to be wrappable and cheap enough (£220 and up) for potential gifting. That said, I don't always understand why bigger should be pricier – after all, beyond a certain point it's harder to hang – surely it's not just an old-fashioned privileging of labour and materials over concept and effect? The number of works, on the other hand, is large: 107 in Flowers' not-huge upper gallery on Cork Street and plenty of bonus extras illustrated online. There, of course, they might as well be big, such is the size-democratising tendency of the screen. What works best at the typical scale of something like 15 x 20 cm? Geometric abstraction seems a good fit – Sinta Tantra, John Carter, Francesca Simon and Carol Robertson (with one the few readable as Christmas-related) work nicely. Or a small figurative subject, such as a bird, like Ishbel Myerscough's budgerigar, Humphrey Ocean's African Mannikin and Emily Mayer's metal construction of an extinct flightless bird. But you can also be drawn in to what feels as if it should be bigger, best illustrated by Tom Hunter's photograph of Hackney not looking especially as I've seen it.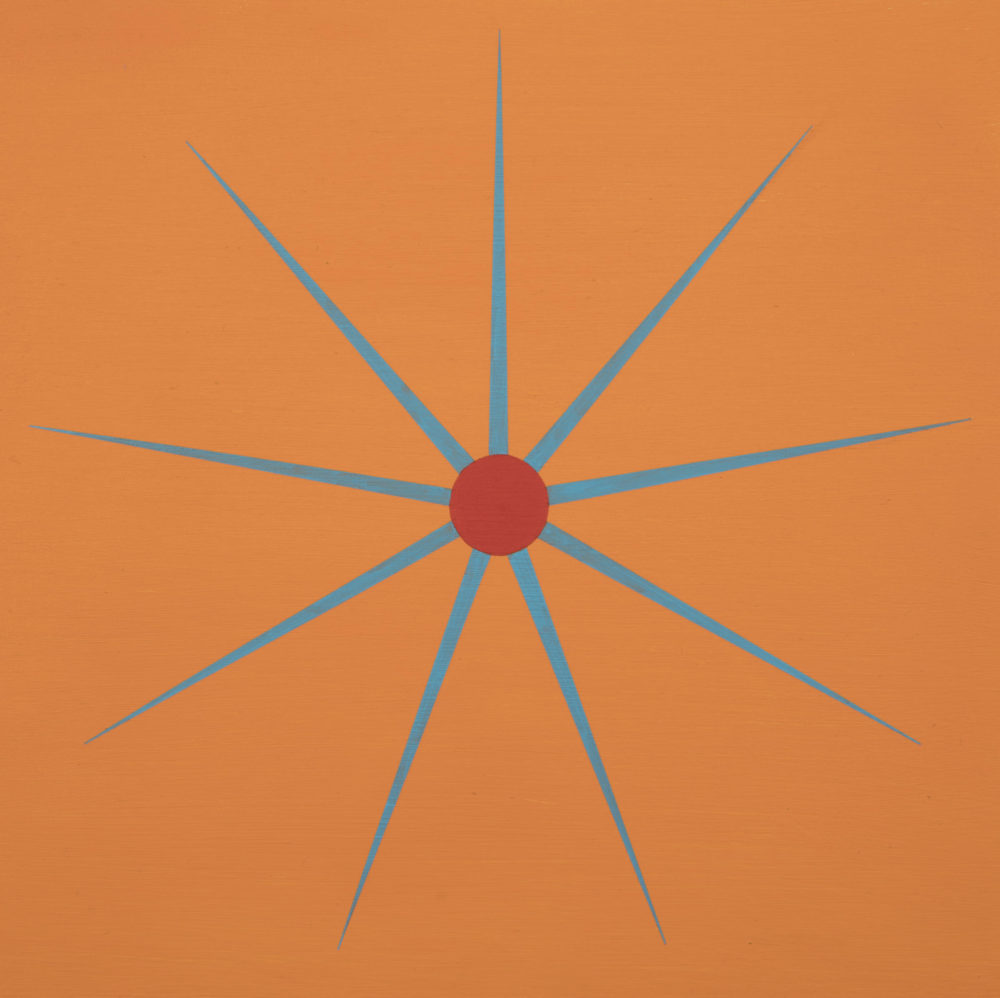 Carol Robertson: 'Pointstar Small #13', 2017 – oil on board, 20 x 20cm
Tom Hunter: 'Hackney Marshes', 2017 – photographic print on aluminium, 21 x 26cm
'Gibert & George and the Circus in Bermondsey': Paul's ART STUFF ON A TRAIN 241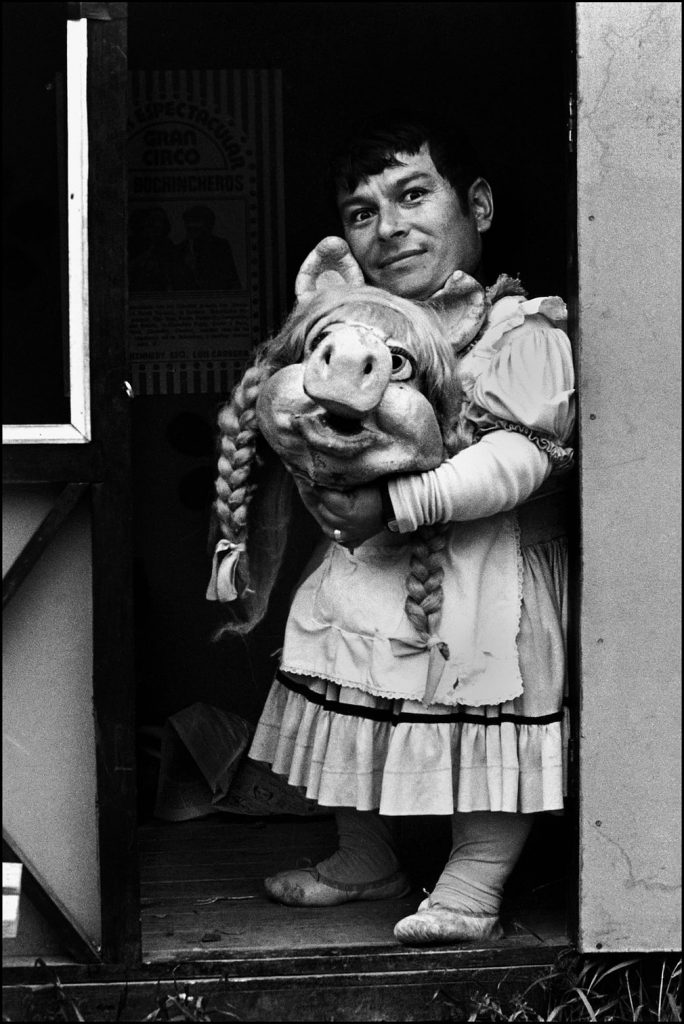 Paz Errázuriz: Miss Piggy II, Santiago, 1984
It's a circus in Bermondsey this Christmas. You expect that of Gilbert and George, but their 'Beard Pictures' feel like they're mostly running on autopilot. I was more drawn to the 'Fuckosophy' covering the walls with phrases featuring 'fuck' and its… conjugates. It may be a one liner stretched to 4,000 lines, but that takes some fucking chutzpa, and you soon find yourself scanning the entries for the favourites – FUCK-A-HOOP, PASSIVE FUCKING, FUCK-ON-SEA, FUCKERS UNITED, and the self-contradicting EASY ON THE FUCKS are to my taste – so perhaps there is a case for the seasonal O COME ALL YE FUCKERS (to 28 Jan). The circus for real is next door: Chilean photographer Paz Errázuriz is best known for 'Adam's Apple', her series depicting male prostitutes and transvestites which is now on show at Tate Modern, but Cecilia Brunson has 28 of Errázuriz' evocative photographs from her 1980's time living on and off with an itinerant circus in Pinochet regime Chile, so capturing an unseen community from the inside ('Circo', to 19 Jan). The circus tradition has pretty-much disappeared in Chile, as here – and as in Canada, scene of Wil Murray's conjunctions at Vitrine a few yards south, a window front display which looks especially good by dark. Murray combines the locations in Alberta and Saskatchewan at which his family's circus toured in 1933-43 with the prairie sites on which Japanese balloon bombs fell in 1944-5, in photographs layered behind his personal signifier of exaggerated brushmarks ('The Onlyes Power Is No Power', to 2 Jan). I suspect the casual passer-by won't spot the role of Hoffman's Novelty Circus, but yes – it's all a circus in Bermondsey.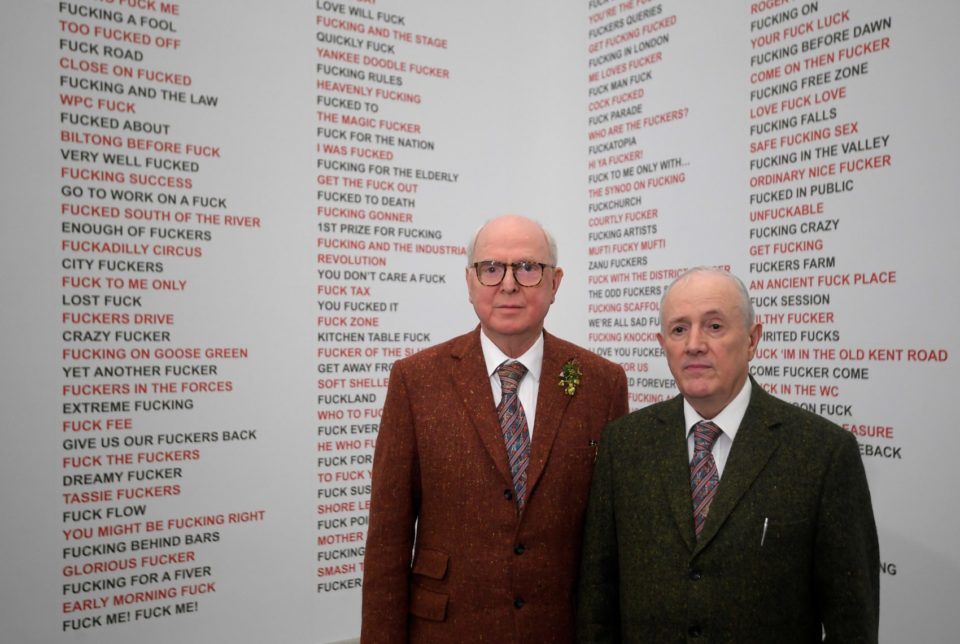 Wil Murray: THE ONLYES POWER IS NO POWER, 2017
Most days art Critic Paul Carey-Kent spends hours on the train, traveling between his home in Southampton and his day job in London. Could he, we asked, jot down whatever came into his head?