'My Original Repetition' - featuring the new / different ways artists have found to work with repetition, setting out how the tactics differ. Linked to minimalism.

'Branded' - how artists have handled brands: consumer brands, art as a brand, themselves as a brand. Linked to pop.

'Searing Colour' - the meanings / effects from fluorescence or extreme brightness. Linked to recent abstraction.

'Forever or a Day' - looking at two extremes: long-term practices which generate meanings related to persistence; and works in which it's of the essence that they are made in a day. Linked to rapid painting and conceptual approaches.

'World and Process': The Abstract Photograph Found and Made






----------------------------------------------------------------------------------

'My Original Repetition'
Featuring the new / different ways artists have found to work with repetition, setting out how the tactics differ. Linked to minimalism.
Minimalism tends towards repetition to emphasise the cool, rational, uninfected presentation more akin to manufacture than to art production. Where minimlism is not at issue, it is more likely that the repetition will suggest obsessive interest or behaviour patterns. But artists also have their own particular reasons for arriving at repetition. Repetition can be within one work, across a series of works or across a career (Judd ticks all three boxes). I've concentrated here on repetition within a work, so Peter Dreher, for example, wouldn't qualify simply on account of painting 'the same work' daily.
Accumulation is different - as in say Arman or Tara Donovan - as is the collection of series with slight differences (eg Hans-Peter Feldmann, Zoe Leonard). But where slight variations are presented in the context of minimalism (Sol LeWitt, Eva Hesse) then that's been allowed into scope.
Some of these are famous works unlikely to be obtainable, in which case I assume aim would be to obtain other work by the artists which display the themes, and refer to the famous works in setting the scene.
Foundational and variants
Donald Judd: Stacks Judd used repetition together with impersonal manufacture to prevent any romantic or affective sentiments developing, and to give equal emphasis to object and space.
Andy Warhol's sewn photographs and silk screening both tie in repetition as a reference to consumption and desire. Perhaps Warhol's money is the cleanest example: he liked it and its accumulation.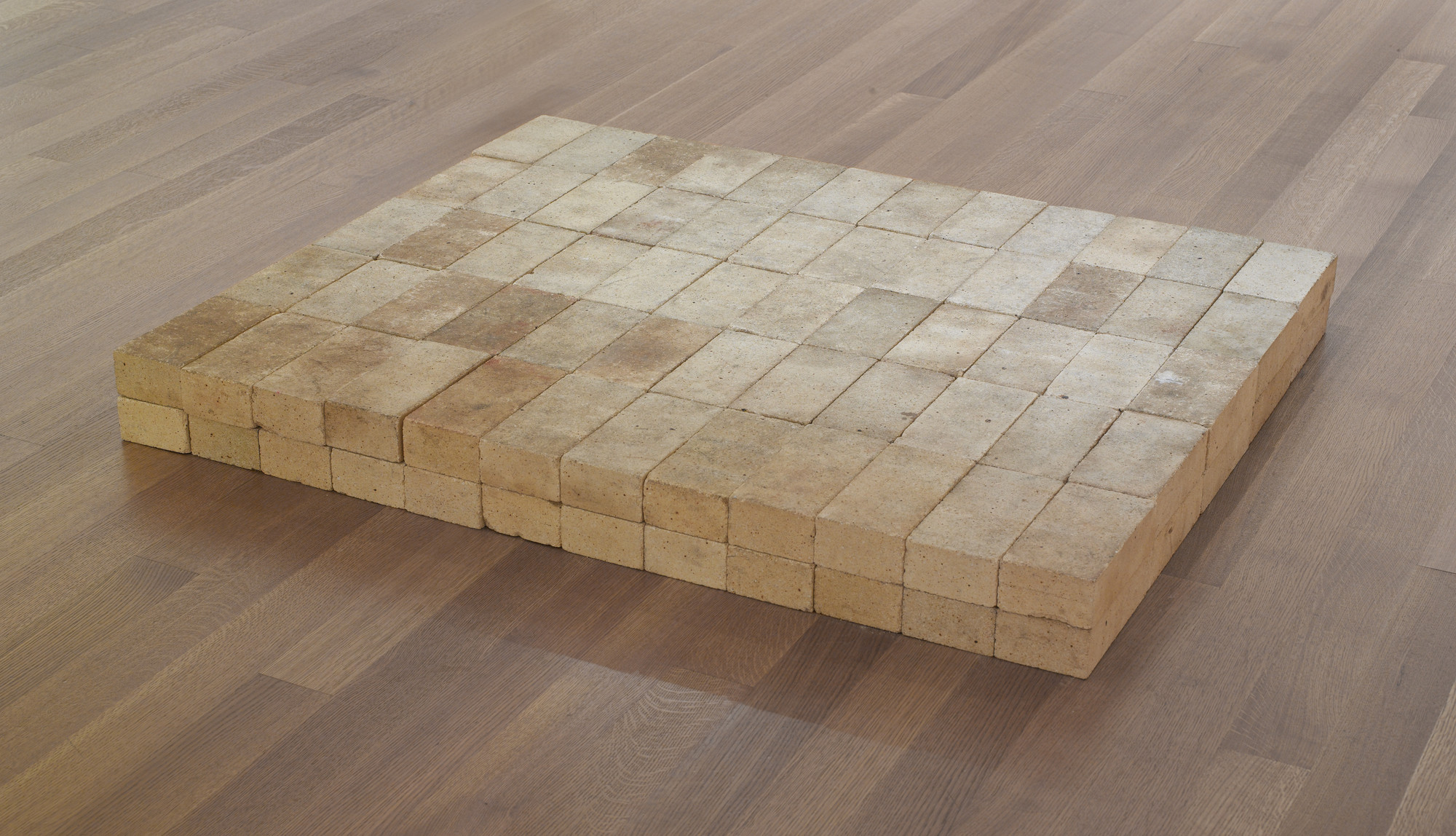 Carl Andre: Equivalent V 1966-69 - repeated units minimise any deflection from the quality of materials, emphasise their standard, utilitarian aspect, and imply that the arrangement could be different - all contrary to historic traditions in art.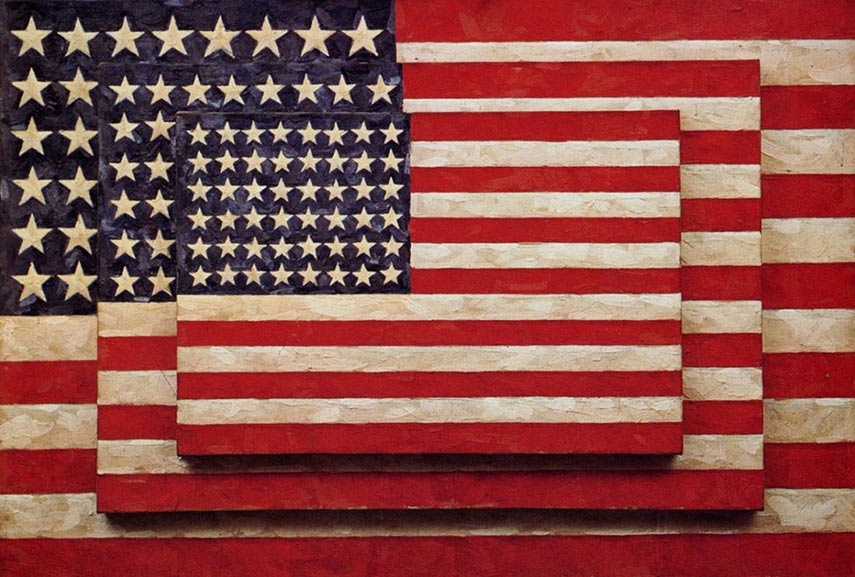 Jasper Johns: Three Flags, 1958 - not only plays on the repetition of stock symbols within our lives (such that we lose sight of them) but also repeats them within a painting to stress the point.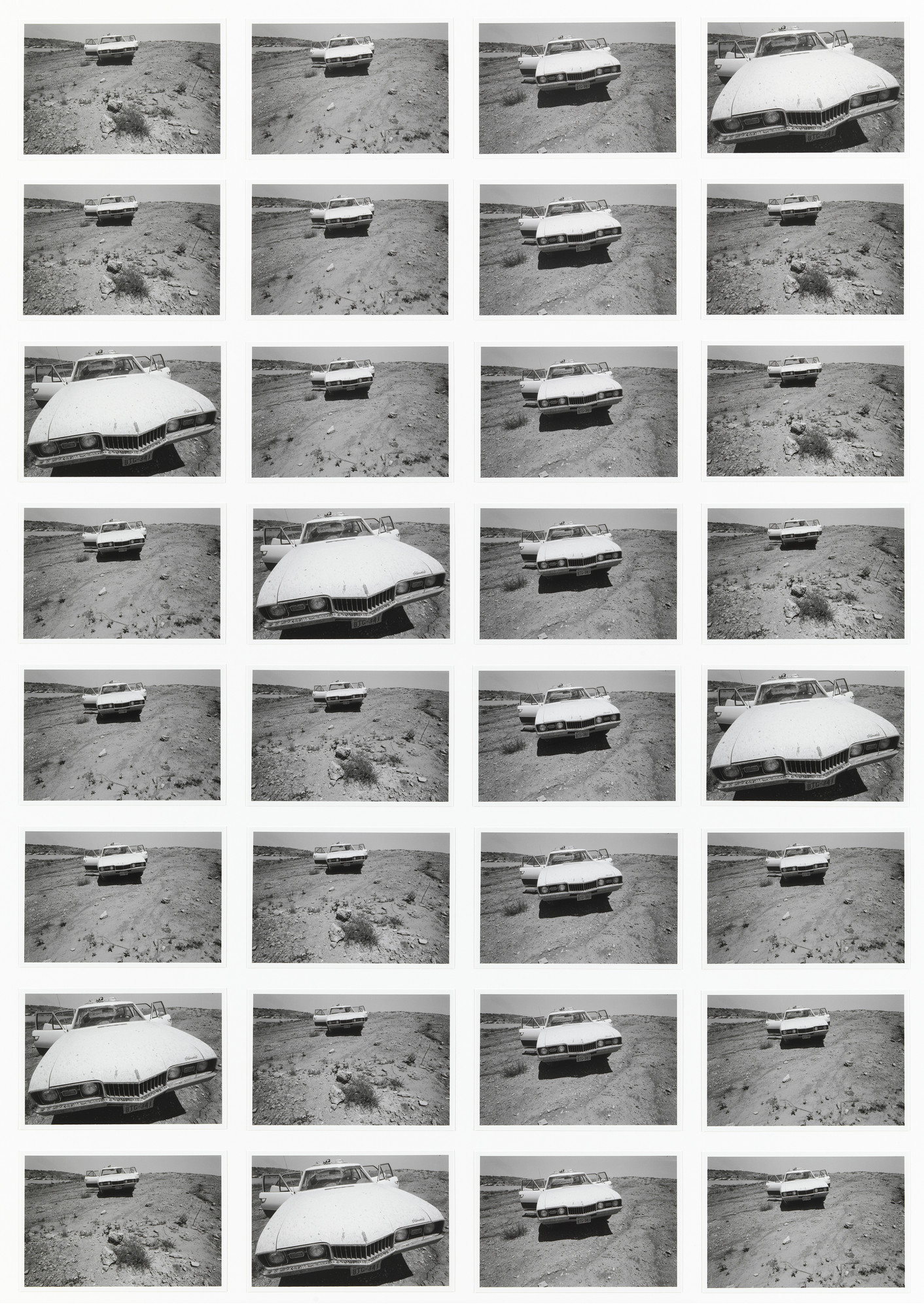 Stephen Shore - 4-Part Variation, 1969 Having - perhaps relevantly - been present at Warhol's Factory - the young Stephen Shore made several works depicting the same event or place from multiple different perspectives / distances. That suggests both that a single photograph is only significant in terms of its place in the series as a whole, and that no one viewpoint can be privileged.
Walter de Maria: The 2000 Sculpture, 1992 -

2,000 white-plaster rods which would measure a kilometre laid end to end. The layout is systematic but introduces a spiritual / meditative aspect, as the viewer can't take it all in and is drawn into a back and forth between parts and whole.
Towards Subjectivity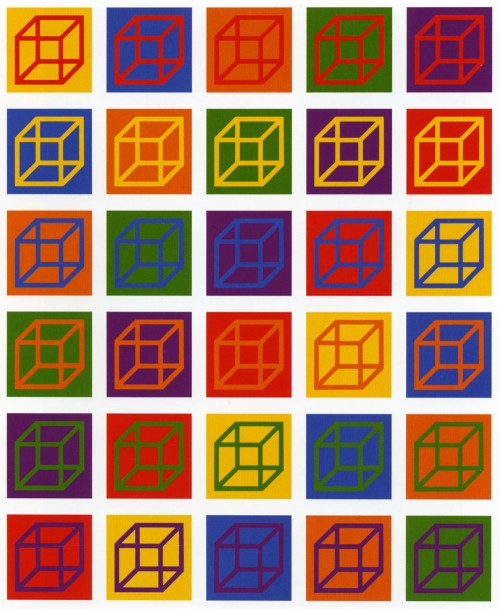 Sol LeWitt: Cubes in Color on Color, 2003 - follows serial and logical progression so that the colours vary thought application of rules in repeated, but the effect - like much of LeWitt's later work - is decidedly sensuous.
Eva Hesse: Repetition 19, 1968. Despite the title the Fiberglass and polyester resin units are - as with the LeWitt - not exactly the same. But nor, being handmade, are they systematic. Hesse is adjusting minimalist principles to reintroduce the personal.
Luis Camnitzer: Leftovers, 1970.
Eighty cardboard boxes stacked in a rectangular grid formation features blood-like stains. The remorselessness of torture is evoked by what may be seen as containers of dismembered bodies.
Roni Horn: Untitled #2, 1999 Are two units enough to constitute repetition? Roni Horn sees the device rather as on of amplification and emphasis - doubling is very different from trebling...
Ding Yi:
Appearance of Crosses 2016 – 10. Ding Yi has been painting Appearance of Crosses since 1988, using only x and + shapes as a recurring motif. He set out to merge painting and design into a single form of expression. Repetition here sets up various possible analogies, including with China's urban development.
The Performative Turn
Robert Morris: Untitled, 1965 repeats forms and mirrors interactively - so that the forms reflect each other, the space, and the viewers themselves so that they are aware of all three.
Rasheed Araeen: Zero to Infinity, 1968-2007. One hundred wooden open-framework lattice cubes are initially positioned in an ordered structure, but with the intention that viewers move them into new configurations - an anti-hierarchical move as a critique of less democratic models.


Alice Anderson: Ladders, 2014. Anderson uses repetition as a means to the performative
exploration of the semi-conscious outcomes of particular states of mind. Sometimes the performances result in no outcome, usually an artwork results, bearing the marks of repetitive process. Her best known strand arises 'when
one of the objects around me is likely to become obsolete or is lost in stream of our lives, I 'memorise' it with thread before it happens.the binding of 'memory objects'.
The Loop
The video loop is a natural form of repetition which works particularly well if it reinforces the narrative logic. Rodney Graham's Vexation Island, 1997, is a classic example.
Mona Hatoum: So Much I Want to Say, 1983. Still images, changing every eight seconds, show the artist's face gagged by a man's hands: the sound track repeats the title. Typical of Hartoum's use of politically infected minimalist formats in which barriers aren't able to cancel the message.
Sturtevant: Elastic Tango, 2010 - here nine screens showing a rapid sequencing of different images relating to consumer and image surfeit as well as Sturtevant's earlier concern with original / copy. Elaine's versions of Warhol, Johns might also make sense...
----------------------------------------------------------------------------------
'Branded'
How artists have handled brands:
themselves as a brand and

consumer brands as art. What are the tactics used by artists to market themselves as a brand? How do they parallel the way brands operate in the wider market place? What do artists gain by including brands in their art? How does that show itself in the works selected?
I suggest a slightly different approach here, with the analysis proceeding more specifically from the examples sourced.
(1) The artist as brand: we talk about that by reference to works by the artists who have achieved their own 'brand status' most successfully. Those works might or might not intersect with the 'brand' themed works in the other sections. Those artists, I suggest, might be Pablo Picasso, Frida Kahlo, Yves Klein, Andy Warhol, Joseph Beuys, Jeff Koons, Damien Hirst, Marina
Abramović

, Tracey Emin. Indeed, you could put on an interesting show around just that.
(2) Brands in art - general: it would be possible simply to choose a selection of 'art using brands'.

Artists whose practices involves working with brand in relevant ways include Stuart Davis, Jean-Luc Moulene (Strike and Palestine products), James Rosenquist, Wim Delvoye, Josephine Meckseeper, Haim Steinbach, Michael Craig-Martin, Richard Hamilton, plus those listed in the following…
(3) Brands in art - specific: It might be nice to narrow it somewhat (or complement a general selection) by concentrating on, say, a couple of iconic brands which were prominent in the pop era and used by several artists. I guess the choice might come down to availability. Anyway, the following are the three brands which I think could best sustain such a grouping*:

Coca-Cola: Warhol (and links to Sturtevant - inc. Trilogy of Transgression + Richard Pettibone, Mike Bidlo); Cildo Meireles; Insertions into Ideological Circuits: Coca-Cola Project 1970; Ai Wei Wei: Han Dynasty Urn with Coca-Cola Logo, 1994; Jonathan Horowitz: Coke and / or Pepsi Machine and related paintings, 2007; Robert Rauschenberg – The Coca Cola Plan, 1958, Tom Wesselmann: Still Life #34, 1963; Mel Ramos – Lola Cola; Frédéric Pradeau - still for making pure alcohol from Coca-Cola; Alexander Kosolapov, Coca Cola Lenin; Darren Lago – Coke45 Black Pearl, 2013 ; Wolf Vostell: Coca-Cola, 1961; Marisol Escobar. Love, 1962; Richard Estes street scenes, eg Canadian Club, 1974.


Marlboro: Richard Prince; Damien Hirst ashtray – (he smoked Marlboro light); Hans Haacke: Helmsboro Country (unfolded), 1990; Tony Oursler: Marlboro, Camel, Winston, Parliament, Salem, Marlboro Light, American Spirit, 2009; Leo Fitzmaurice: Post-Match; Theophilus Nii Anum Sowah / Pa Jo (Ghanain coffin tradition); Gursky pitstop photo (sponsorship issues); Jac Leirner, Lung, 198; Robert Larson – Untitled (Marlboro),1999, Ashley Bickerton – Tormented Self Portrait Susie at Arles No.2, 1988 (various brands as identity); Urs Fischer: Horse / Fraud 2010 (silkscreen print of Marlboro packs on mirror-polished stainless steel sheets); Alexander Kosolapov - Marlboro Malevich


Volkswagen: Damian Ortega Cosmic Thing; Francis Alÿs Rehearsal I (El Ensayo), Tijuana, 1999-2001; Chris Burden: Transfixed; Ichwan Noor - Beetle Sphere; Margarita Cabrera's VW (soft version in spirit of Oldenburg); Thomas Bayrle, VW Käfer rot; Joseph Beuys, The Pack; cars as photorealist subject eg Don Eddy, Untitled (4 VWs) (1971)
(4) Art as a brand: this could be omitted - there is probably enough - but there is one specific series which would neatly complement the above: Bucan Art, 1972 by Boris Bucan, which repurposes famous logos as logos for 'ART'. And there's a related work by Robert Indiana.
The look of such a show could major on pop aesthetics. For example:

(1) Beuys, Koons, Abramovic, Hirst:

(2) Examples: Bayrle, Hamilton, Oursler, Steinbach, Fitzmaurice
(3) Using Coca-cola as example: Wesselmann, Meireles, Ramos, Estes, Ai Wei Wei, Horowitz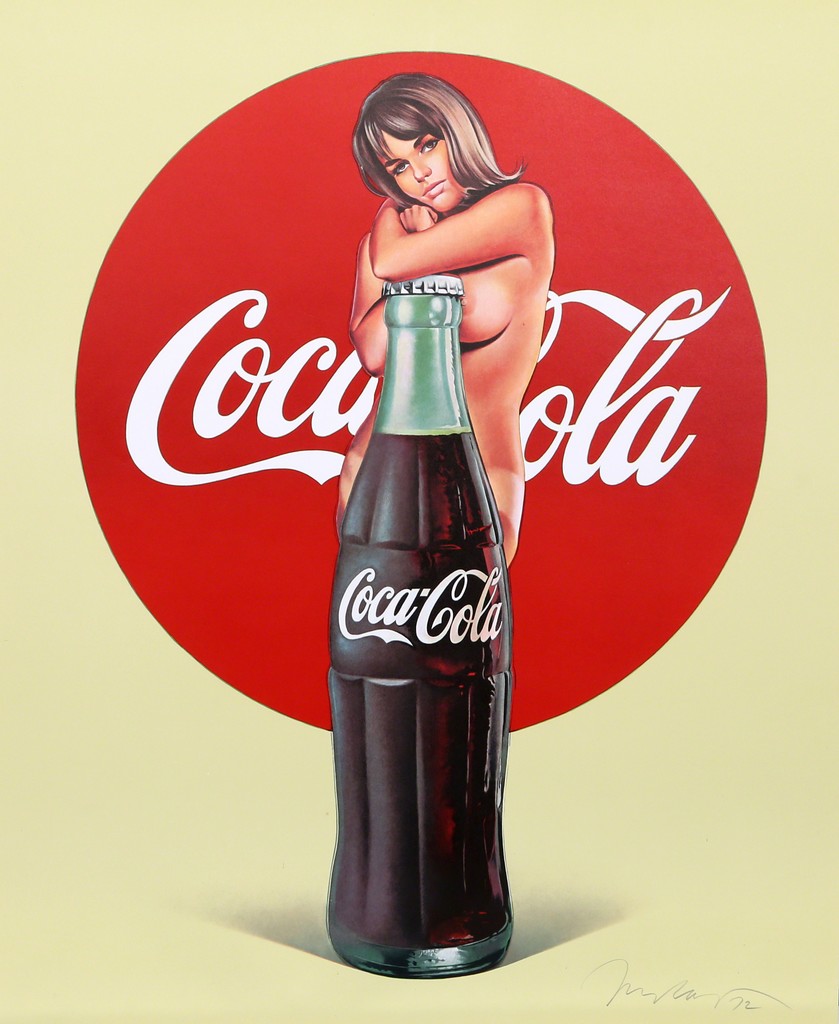 (4) Boris Bucan, Robert Indiana
----------------------------------------------------------------------------------


Searing Colour in recent abstract painting and sculpture

Scope: post-op, post-pop, mostly paintings but with some sculpture too, to maximise installation potential. could extend to figuration, eg Sigrid Holmwood, Carroll Dunham, Christoph Ruckhäberle, but that would, I think, get too broad; likewise I have excluded light works.

Shows a range of purposes to which such colour has been put: to create of disorientate space; to maximise intensity linked to social messages; to create a mood; to draw parallels with clashes in zones other than colour; as a ground for conceptual play; to make painting musical; to heighten the impact of simplification.
Katharina Grosse - Untitled, 2018 - colour
straight from the spraygun

makes space beyond the surface.
Daniel Lergon: 'Cold Fire' series 2011 - combination of abstraction and scientific investigation of materials.
Peter Halley: Raising Hope, 2013.
Fluorescent graphic paintings that explore circuitry and systems.
David Batchelor: Neo-Concreto, 2016 - theorist of cromophobic tendencies and counter-measures

Gerold Miller: Verstärker 30 - Lacquered Aluminum - colour calculated for the maximum optical presence in pared-back forms across painting and objects

Matti Braun: Untitled, 2011 - works on silk which explore cultural conjunctions through conjunctions of colour
Jim Lambie: maybe a bit of a taped floor... '
Covering an object somehow evaporates the hard edge off the thing, and pulls you towards more of a dreamscape', he says.

Other work of Lambie's could also suit.

Josh Sperling: Chasing Rainbows 2017 - playful retro-happiness
Rana Begum: colour-movement and reflected fluoresence - this is from her 'Fold' series


Beatriz Milhazes - carnival of colours - from Rio Azul now at White Cube
Carmen Herrera Yellow and Black, 2010 - aims at
the simplest of pictorial resolutions consistent with creating movement, rhythm and spatial tension - intense colour contrasts assist in that.
Jan Pleitner - Untitled, 2017 - stained glass windows to an inner space for the information age... Pleitner uses the term 'sci-fi expressionism'
Alexander Rodchenko
Shukhov Tower, 1929
Girl with Leica, 1934
Willkomm's saxifrage, rosette of leaves, c 1898-1928
Common Globe Thistle, c 1898-1928

László Moholy-Nagy
Photogram, 1930's
Floris Neüssus
Tellerbilder 03, 1974
Crumpled Paper, 1983
Günther Förg

Untitled 5, 2007


Villa Wittgenstein, Wien, 1987
Hiroshi Sugimoto
Tyrrhenian Sea, Scilla, 1993




Lightning Fields 168, 2009
Thomas Ruff
Substrat 33 II, 2007
r.phg 12, 2015
Wolfgang Tillmans
Sendeschluss / End of Broadcast I, 2014
It's only love give it away (2005) from the series
Freischwimmer
Ola Kolehmainen
Exchange of Plates with Kristjan II, 2006
Konstruktivizm Infantil X, 2013
Marilyn Minter
Choke, 2005


Breaking Dawn, 2011
Walead Beshty
Walead Beshty, Transparency (Negative) [Kodak Portra 400NC Em. No. 3161: April 22–24, 2010 LAX/SFO SFO/LAX], 2011 (from 'travel pictures)
Six Magnet, Three Color Curl (CMY: Irvine, California, September 6th 2009, Fuji Crystal Archive Type C)
,
2009
colour photographic paper (from 'curls')
Mona Kuhn


From Acido Dorado, 2014




Adieu, 2012
Liz Deschenes
Untitled (Lewitt) # 2 and 3, 2016 - uv prints on plexi-glass
Front / Side II, 2012 - silver-toned photogram
Edward Burtynsky
Morenci Mine #1, Clifton, Arizona, USA, 2012


Dryland Farming #2, Monegros County, Aragon, Spain, 2010

Eileen Quinlan
Smoke & Mirrors 7, 2005,




Green Graph, 2017
Jennifer West


Jennifer West film, eg above is a still from A 70MM Film Wearing Thick Heavy Black Liquid Eyeliner That Gets Smeary, 2008
Exploded Film Quilt, 2015: 70mm filmstrips treated with dye, bleach, oysters, vanilla - Plexiglas, thread 96 x 42 1/8 in.
James White
Abstract Thoughts 24, (series 2011 ongoing)
Abstract Thoughts 2, (series 2011 ongoing)
Penelope Umbrico
Selection from 'Out of Order', 2007 - ongoing (broken TV sets)
Also possible:
Andreas Gefeller,
Michael Flomen, Erin O'Keefe,

Gerhard Richter, Uta Barth,
Garry Fabian Miller,

Adam Fuss, Luisa Lambri, Barbara Kasten, Alexander James + works identified by Art-Circle