314: Textile Arts of Peru
Textile art has an increasing profile, witness Phaidon's new 'Vitamin T: Threads & Textiles in Contemporary Art', which presents 100 current practitioners. A logical place to see it must be the Fashion & Textile Museum in Bermondsey. 'Weavers of the Clouds: Textile Arts of Peru' combines Peruvian geographical and historical background with costume designs from one of the world's oldest cultures, and brings the story up to the present with a selection of contemporary designs and recent Peruvian art. Among the interesting features are a remarkably well preserved pre-Hispanic tunic created in orange, yellow and blue macaw feathers in a highly intricate production; the uniquely Andean Scaffold weave, a process of discontinuous warp and weft to create tapestry-like designs; and the striking clothing of the Tapada Limeña, which covers up all but one eye of the wearer and was worn regularly in daily life in Lima in the 18th and 19th centuries. The older art given context by this includes some fine photographic documentation of 'clothing in action' – notably by Cuxco-based Martin Chambi, one of the earliest indigenous Latin American photographers, and by Mario Testino, perhaps the most famous living Peruvian. Few of the 17 contemporary artists (chosen by Claudia Trosso) are well-known in Britain – I was aware only of Ximena Garrido Lecca, Lizi Sanchez and Ishmael Randall Weeks, – but, for example, Mariella Agois' tapestry-styled abstract painting and Ana Teresa Barboza´s merging of textile with photography are also very effective. A visit to Bermondsey (the show runs to 8 Sept) makes art and fashion sense.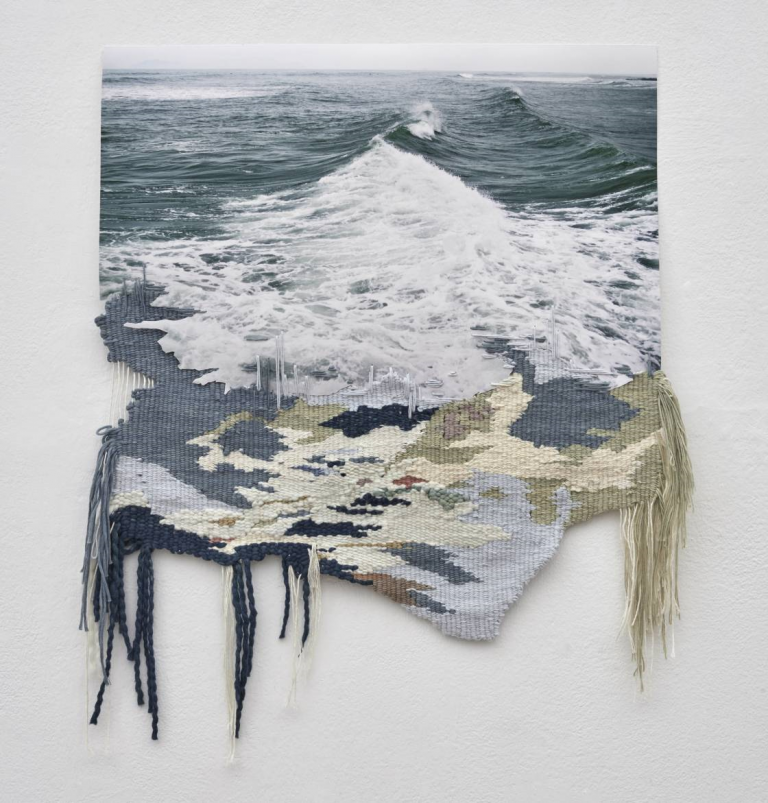 Art Basel is, I'd say, a bit safer than usual this year: hardly any film, plenty of 'another one of those' moments, artists from the Venice Biennale out in force. But if course there are plenty of works of fresh interest. Here are four things I liked among the thousands at 290 galleries:
Rebecca Ackroyd: 'EAVE!', 2019 at Peres Projects, Berlin (Image Above)
This is the – necessarily long-legged – body as tower block, the title suggesting the biblical Eve as well as making an oddly singular reference to the edge of a roof. The windows and visor set up gazes and exclusions. Ackroyd's figure seemed to be taking shelter in a separated-off part of the Peres booth – perhaps a take on homelessness, of your house and being simply your body.
Evan Holloway: 'Lyre Form', 2019 at David Kordansky Gallery, Los Angeles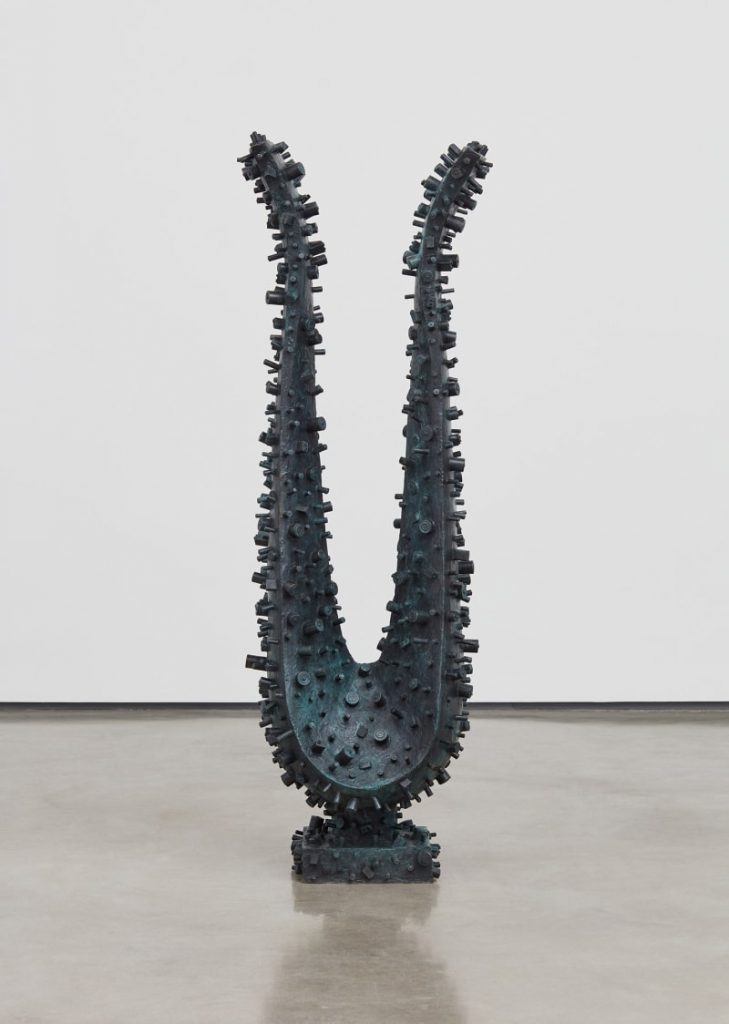 What are the bulbous shapes animating the surface of this classical myth-referencing bronze, part of a recent move into 'outside sculpture' by LA artist Evan Holloway? They are casts of spent batteries, which he has previously employed as the ultimate useless item, and one speaking to environmental concerns. Here, though, the batteries' chemical decay is perversely memorialized to make for a charged – and yet uncharged – take on what will last.
Tacita Dean: 'The Lady Painters', 2019 at Marian Goodman Gallery, New York, London, Paris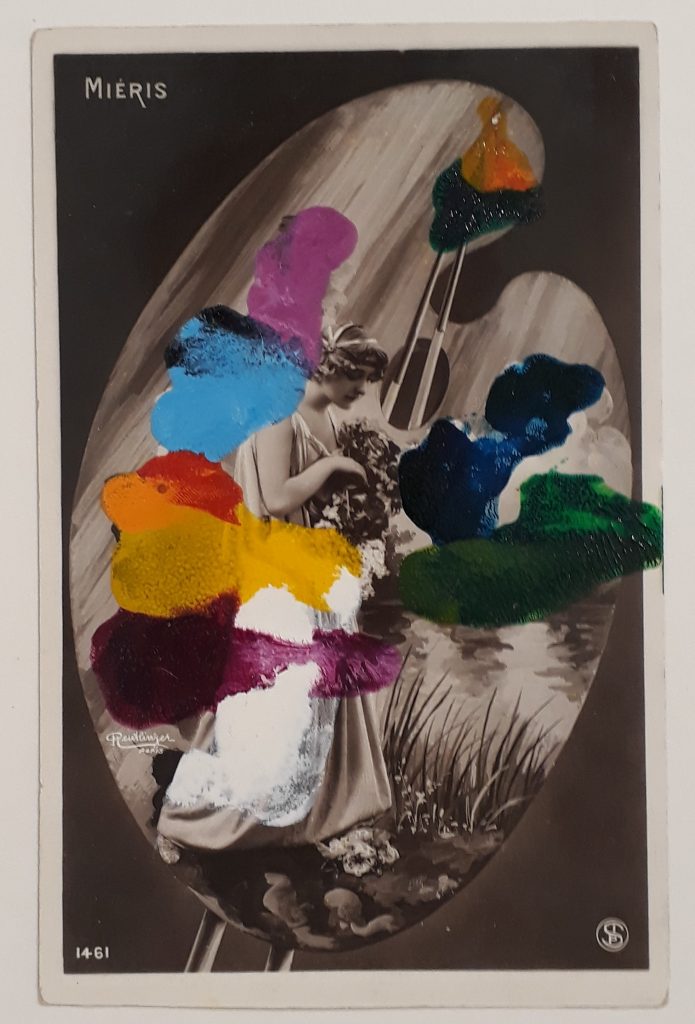 One stream of Tacita Dean's practice uses old postcards typically sourced from the flea markets of her home city, Berlin. Finding six which were identified as 'lady painters' in a male fantasy presentation of female dalliance, she intervenes to asserts the primacy of the paint over the restricting construction of the artist's image.
Carl Cheng: 'Alternative TV #5', 1974 at Philip Martin Gallery, Los Angeles
The widely travelled Asian-American Carl Cheng made a range of 'nature machines' in LA, Japan, Indonesia and China during the 1970's. He stated, rather presciently, that they were intended to 'model nature, its processes and effects for a future environment that may be completely made by humans'. They included an erosion machine, which wears away hand-made 'stones', and this restful alternative to television, which proposes a return to nature I preference to the artificial worlds in which we get lost.
Venice: Beyond The Consensus
The 58th edition of the Venice Biennale – open through to late November – has been greeted by critical consensus: France, Lithuania and Ghana are the national pavilions of choice; Ralph Rugoff's central curation 'May You Live In Interesting Times', with 80 artists each appearing in two sites, is excellent; Tuymans at Pallazzo Grassi and Arshile Gorky at Ca' Pesaro are 'must-see' shows. But the 'My Art Venice' guide lists 85 other countries with pavilions, plus 21 'official' and 86 other collateral shows, plus 40 permanent spaces – which isn't to mention the heritage in churches. So what else should you look out for from those 232 exhibitions? Here's my top ten others:
India: 'Our Time for a Future Caring'. Six top artists intelligently curated to reflect on Gandhi's legacy: includes Atul Dodiya's cabinets of socio-cultural and personal collections, text on mist by Jitish Kallat and Shakuntala Kulkarni's pointed cage dresses.
Helen Frankenthaler: 'Panorama'. Only 14 paintings, but less proves more – and if you want another sort of more, you get to see the rather astonishing Palazzo Grimani: Frankenthaler is in the exhibitions rooms above the palace's own rooms full of art and objects.
Scotland: 'SaF05' the third – 40 minute – part of recent Turner Prize winning Charlotte Prodger's film trilogy about her own identity formation.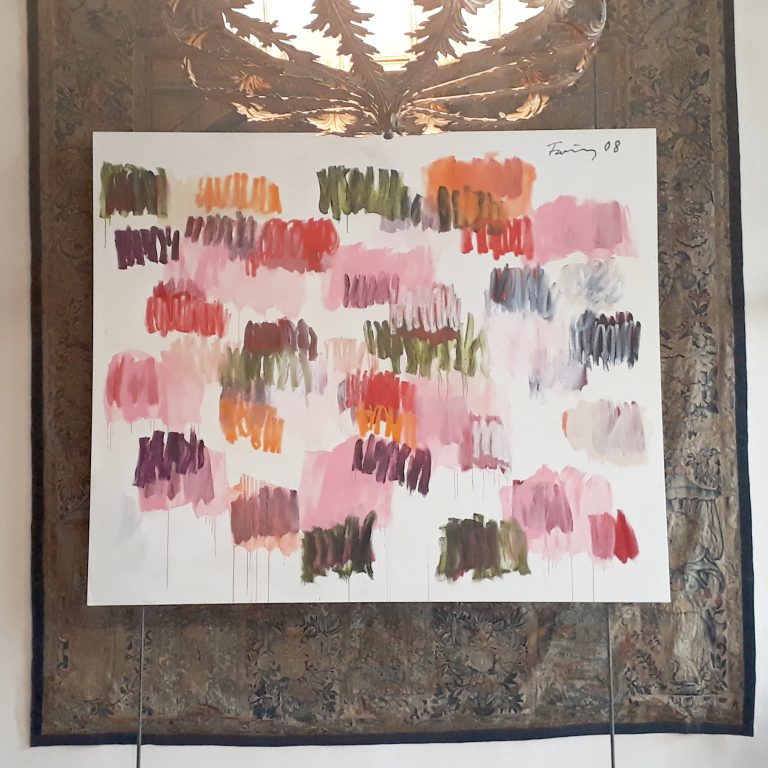 Förg in Venice: the German artist had a close relationship with Venice, and though it might seem an odd match-up, his knowingly late take on modernism plays nicely against the particularly faded classicism of the Palazzo Contarini.
The Netherlands: De Stijl, Surinam and stanley brouwn are connected in the appropriate setting of Gerrit Wietveld's modernist masterpiece via Remy Jungerman's Mondrain-influenced contructions and Iris Kensmil's portraits of female black utopians.
A trip to San Giorgio: Sean Scully (in the magnificent 16th century Church of San Giorgio Maggiore), Alberto Burri, master glass maker Maurice Marinot and seven contemporary Chinese artists all have revelatory shows on this small but simple reached island.
Montenegro: 'Odyssey' is basically three room-sized rectangulars, but Vesko Gagovic generates considerable intensity by floating Kubrick references on plinths of light in cinematic dark.
Peter Halley: Heterotopia I at the Accademia di Belle Arti – an imaginative sequence of rooms which forgoes Halley's signature painting style in favour of architectural installations and art and text by invited guests.
Parasol Unit: The Spark is You at the Conservatorio di Musica Benedetto. Nine Iranians are given the spaces to make powerful installations. And you can see the other half in London…
Pino Pascali at Palazzo Cavanis: 50 years after his death, the Pascali Foundation shows some of his most effective works, and persuasively traces his inspirations back to the photographs he took.
311: Confusing Times at the Venice Biennale
Ralph Rugoff's theme for the 58th Venice Biennale (to 24 November) is 'May You Live In Interesting Times'. There was plenty of work to confuse on show, and that may well be a consequence of such an age. So I found myself asking…
Roman Stanczak turned a private jet inside out for 'flight' in the Polish Pavilion: the cabling was outside and the wings folded in. Ah yes, the problems of an economy going into reverse even as the rich get richer.
Ludovica Carbotta's 'Monowe (The Terminal Outpost)', 2017 is a watch tower, but upside-down. That stands for a world in which their function is redundant – which sounds positive until you realise that the imagined condition informing her body of work: that she is the last person in the city of Monowe.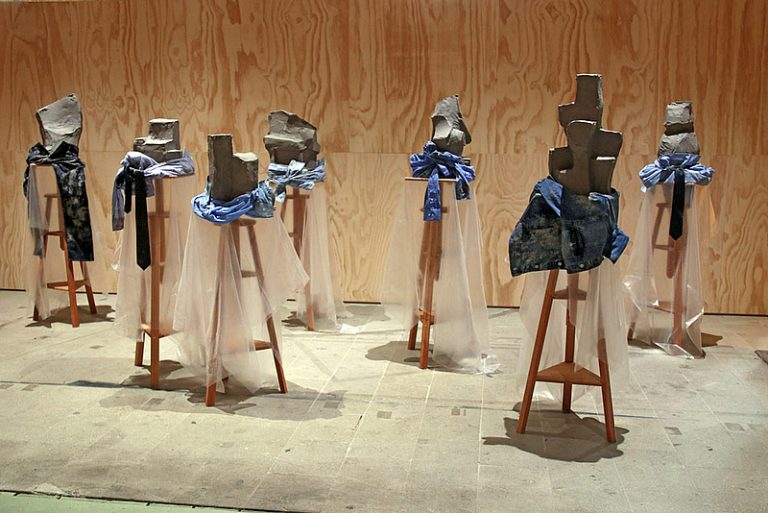 Maria Loboda's 'Lord of Abandoned Success (L'Argile Humide)', 2017 is a group of clay lumps which seem ready to be shaped into heads. Are they unfinished? No, they must be completed sculptures posing as unfinished, and wittily half-dressed to boot.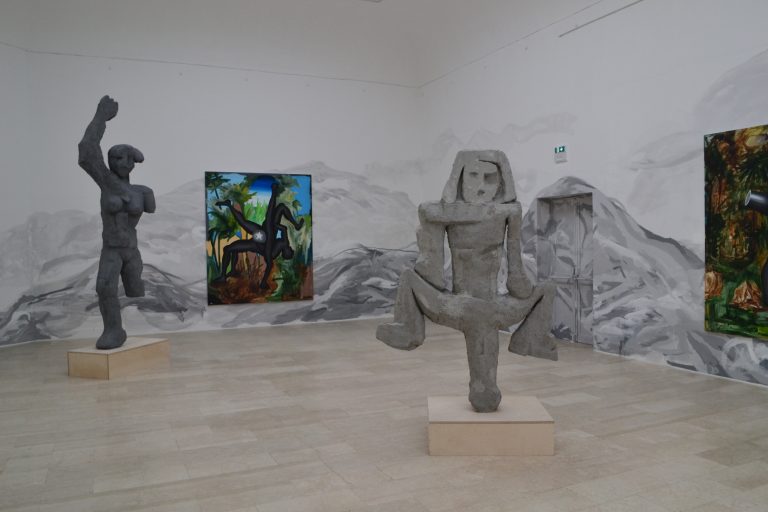 Djordje Ozbolt's excellent Serbian Pavilion, themed around how memories become unreliable with the passage of time, included a sculpted figure apparently standing on its penis. Quite a distortion of the event recalled, I suspect. In some sort of mirror reflection, by the way, the salacious words to the Brazil Pavilion's extravaganza of 'swingueira' dancing – at least as sub-titled – said at one point 'Tonight I'm gonna throw my pussy in the air'!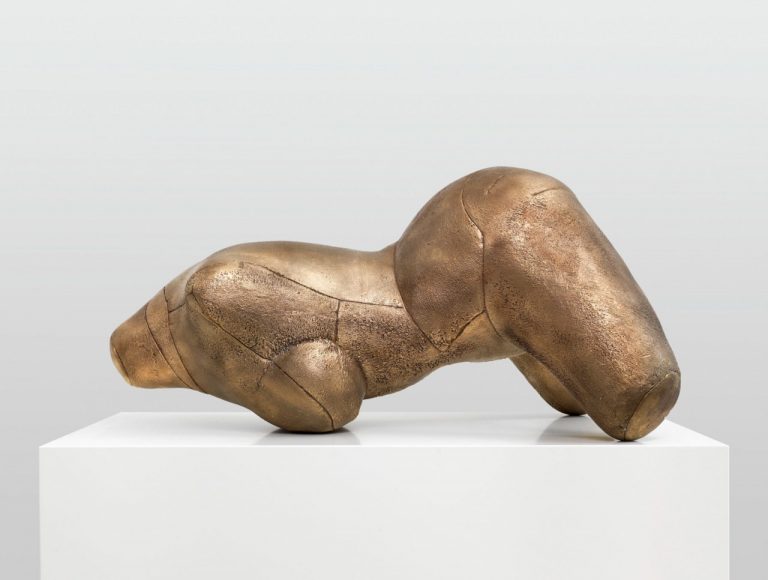 Alexandra Bircken's 'Eva' 2013 is a gleefully oppositional version of a sex doll: being cast in bronze, I think we can take it to be impenetrable. And I can include her twice, because the hacked motorbike 'Incubo' 2019 seems to be set up to carry its own engine, rather than a passenger.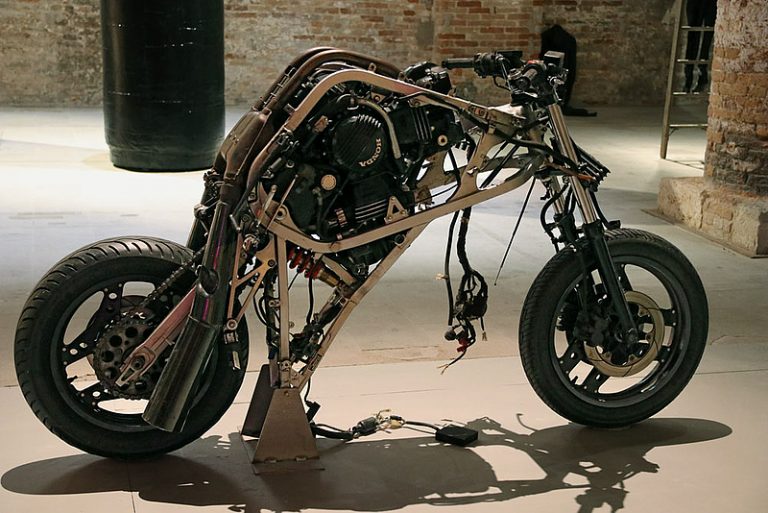 Art writer and curator Paul Carey-Kent sees a lot of shows: we asked him to jot down whatever came into his head
310: Ravens and Red Lipstick: Japanese Photography since 1945
Why are there so many good Japanese photographers? Lena Fritsch, talking at the Japan Foundation launch of her impressive book 'Ravens & Red Lipstick' (Thames & Hudson, £35), didn't feel any 'national style' could explain that – rather she cited the diversity of approaches and thought it more likely a numbers game: such was the interest in photography with the development of cameras (Canon, Fuji, Nikon, Olympus, Pentax…) and thousands of camera clubs set up to explore them, there was a vast population of enthusiasts in 60's-70's Japan. We should not be surprised if some stars emerged. The most famous in the west are probably Nobuyoshi Araki, Daido Moriama and Hiroshi Sugimoto * (the tradition was decidedly male, incidentally, though female photographers have emerged this century).
But the book reveals plenty of other artists of interest. Slightly contrary, perhaps, to Fritsch's denial of any national style, three types of photograph are prevalent: the diaristic, apparently casual, approach in which the photographer's life may be foregrounded (Araki and Moriama fit here); theatrically staged photographs, typically implying a narrative (eg Elko Hosoe features prominently); and, perhaps most characteristically, documentation of objects or places which disguise a more subjective angle than is immediately evident. Let's take images by four photographers I would associate with that last tendency, though of course there are crossovers. They include the two series referenced in the book's title:

Shomei Tomatsu: 'Nagasaki, Bottle Melted and Deformed' 1961 is a 'portrait' of a bottle mutated by the heat and radiation of the blast so as to resemble a carcass or a surreal creature.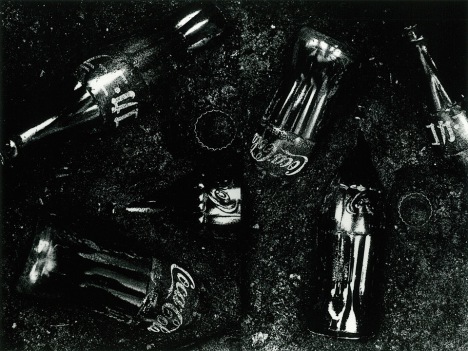 Kikuji Kawada: photobook 'The Map' (1965) addresses the scars of post-war Japan, featuring dark, grainy photographs of dumped American products such as Coca-Cola, and images of stains from the Atomic Bomb Dome in Hiroshima.

Masahisa Fukase: 'Kanazawa', 1977 from his 'Ravens' series, in which the recurrent birds set a darkly melancholic tone. Fukase, lonely following the break-down of his marriage, called himself 'a raven with a camera'.
Miyako Ishiuchi: ''Mother's #38', 2002 (top image) from a series which combines close-up photographs of the artist's late mother's body with her possessions, such as lipsticks.
* Fritsch reverses those name orders, so that the 'surname' comes second in British style. I've stuck with the more usual order, though I suppose that should be read, Japanese style, from right to left).
Art writer and curator Paul Carey-Kent sees a lot of shows: we asked him to jot down whatever came into his head
309: Photo London: All the Nudes Not Fit to Put On Instagram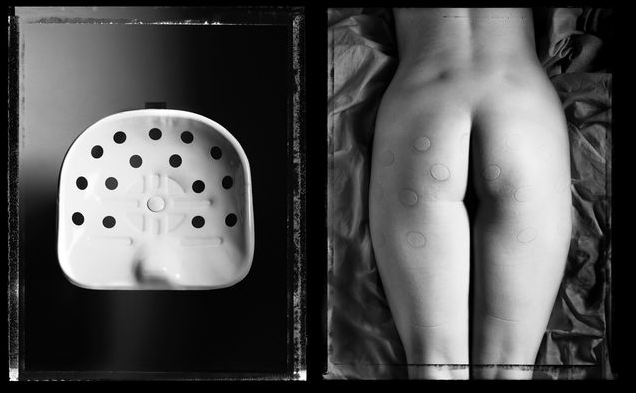 The nude is potentially difficult territory in the #MeToo era, the more so as almost all of the examples at Photo London are of women. Instagram doesn't allow them anyway, so my stream's choices from Photo London were landscapes and portraits. And yet I found myself drawn to several interesting nudes, mostly from the rear…
Gabriele Basilico: Contact, 1984 / 2016 at Galleria Valeria Bella, Rome
This is a recently printed composite version of what were originally pairs of photographs showing the impact of iconic Italian chair designs on a classical Italian arse. In this departure from trained architect Gabriele Basilico's renowned core practice of photographing buildings, body modification meets abstract gridding via witty use of a printing process we've all experienced.
Chloé Jafé: from the series I give you my life, 2014-2017 at Akio Nagasawa Gallery, Tokyo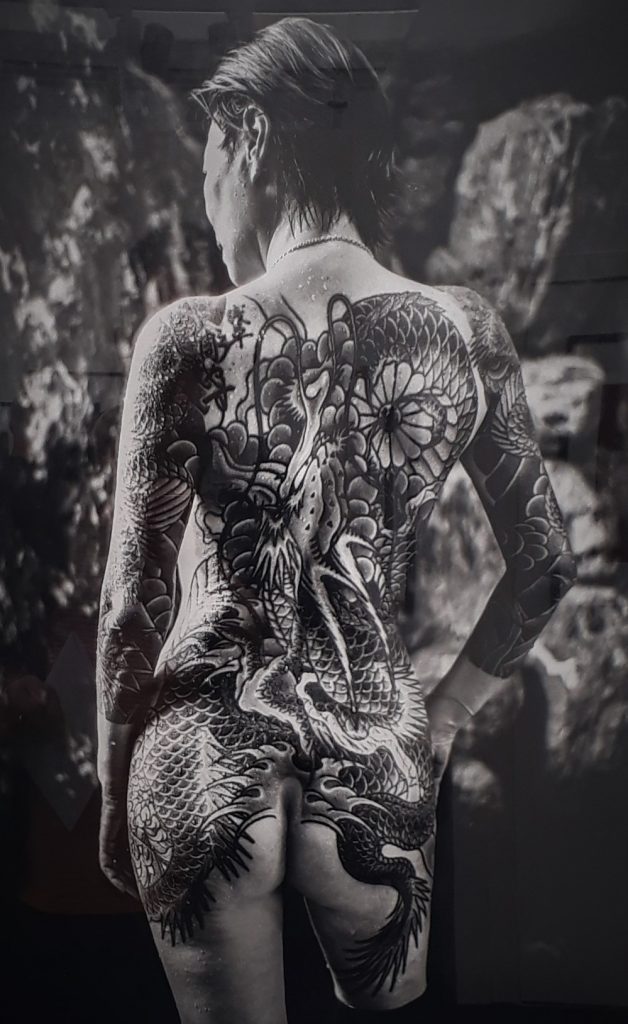 The surprising name in a very Japanese booth is as French as it sounds, but Chloé Jaffé lives in Tokyo and is sufficiently integrated to have worked in a hostess club and met a boss who agreed that she document the women associated with – they cannot be part of – the Yazuka organised crime syndicates. They were typically keen that Jaffé photograph their 'irezumi' tattoos, made painfully over years by hand with a wooden handle and a needle: they are a source of pride, still associated with outsider status, not fashion, in Japan. As such, they represent a strong commitment to their gangster partners.
Danielle Van Zadelhoff: Paradise (Adam and Eve), 2016 at Project 2.0 Gallery, The Hague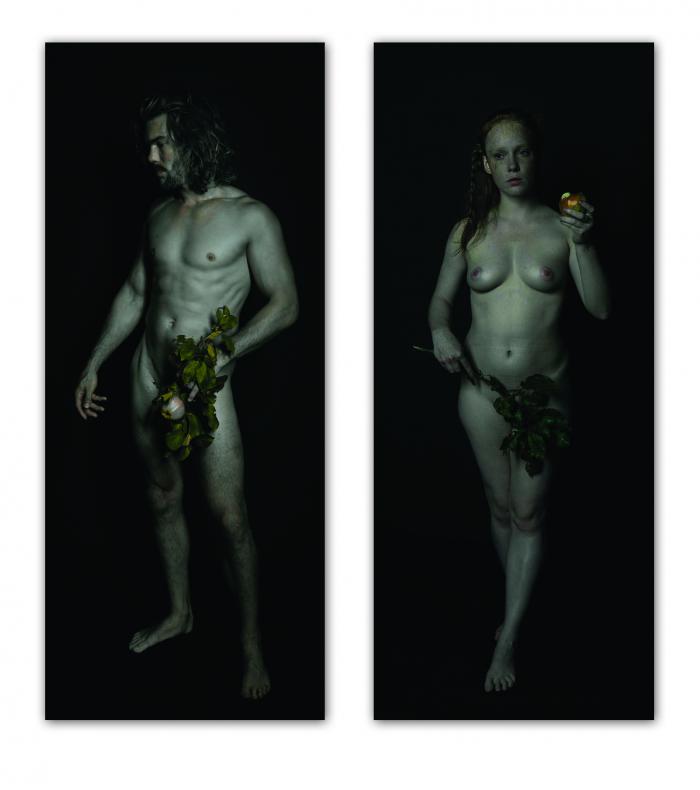 The surprising colour here isn't down to Photoshop, but the use of grey light to suggest an early renaissance tonality. Add the jocularly genital foliage and fantastical freckles, and the Amsterdam artist's life-sized first couple make for an original spin on one of the oldest subjects. Though perhaps it carries the contemporary question: what are we doing with the garden now?
Alix Marie: French Kiss, 2014 at Roman Road, London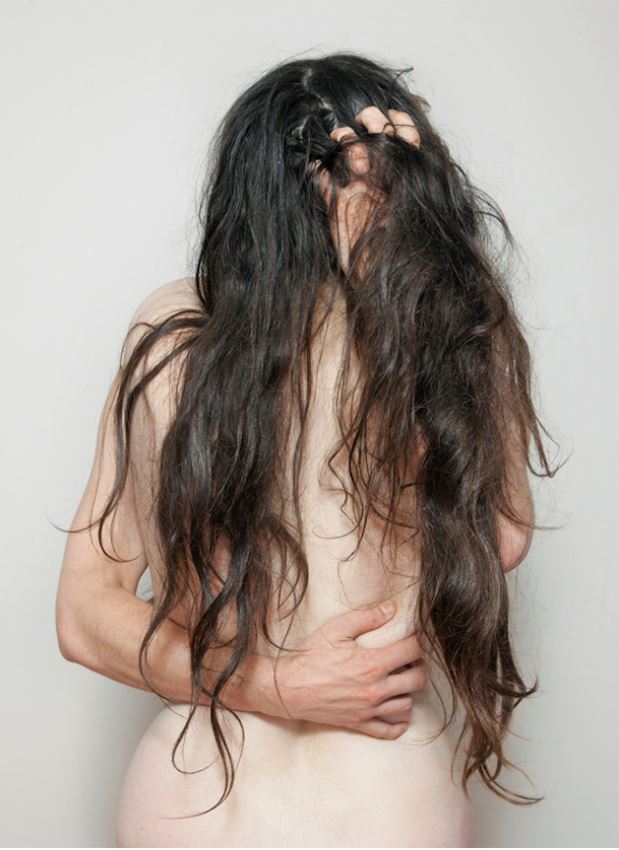 How many people is that? It takes a moment to realise that a man is smuggled into that hair in one of the London-based French artist's explorations of how to represent bodily intimacy. It's as if he's being consumed. No wonder Marie has said: 'I am investigating the similarities between skin and the photograph: both surfaces, both fragile, both filled with secrets and taboos'.
Edouard Taufenbach: Impression Nue de Dos from the series Spéculaire, 2019 at Galerie Binome, Paris

Edouard Taufenbach shows cut-ups of photographs from the collection of anonymous images that film director Sébastien Lifshitz has been gathering for several decades. They feature bodies in leisure, pleasure and desire,and are shaped to the form Taufenbach finds in the original. He introduces movement and complexity, here with the suggestion of multiplication in a bathroom mirror. The erotomane transvestite Pierre Molinier is bound to come to mind…
Art writer and curator Paul Carey-Kent sees a lot of shows: we asked him to jot down whatever came into his head

308: Let's Talk About Normal: Peter Fischli
If you attend exhibitions of contemporary photo
graphy – or Photo London, opening today – it won't be long before you see what look at a glance like everyday images of everyday subjects presented as art. What's that about? By way of a good example, Peter Fischli provided an illuminating commentary on an apparently commonplace photography project, 'Agglomeration', which he undertook with his late collaborator David Weiss. Luxembourg & Dayan hosted the event, and showed 24 photographs from that extensive 1992 project documenting the suburbs of Zurich. It came about, said Fischli, because after spending two years in the studio making 'The Way Things Go', they wanted to get outside, and there was the city, answering their interest in 'how the world is around us'.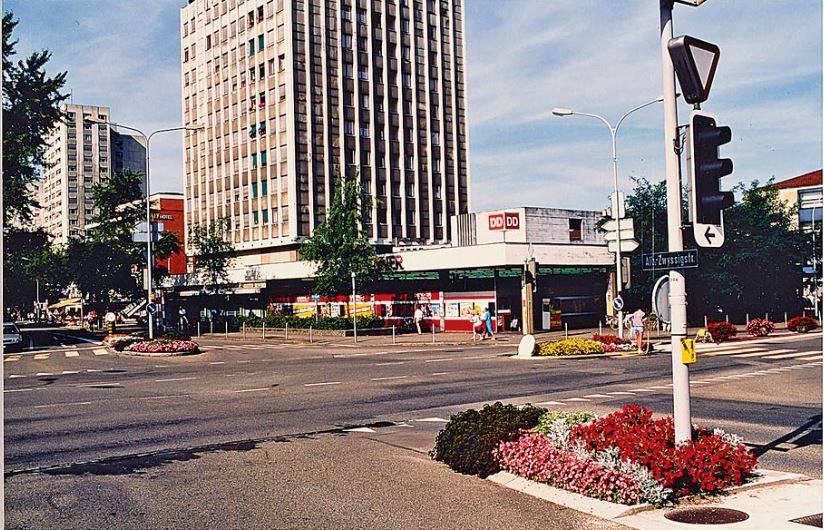 Fischli & Weiss were interested in how shifts in power occur, and the city's recent architecture, he felt, was at the end of the modernist project, at a low point at which its original utopian aspirations – the aim of changing society – had been lost. Developments were being driven by entrepreneurs rather than architects who, said Fischli, 'would have hated the 'ugly flatness' of the buildings'. He added that his father was an architect who studied at the Bauhaus, so he was very much connected to, rather than estranged from, the aesthetic. He described the project as to do with 'photographs as an emotional vehicle' rather than a simple critique. Relevant to that vehicle, the images are also from the end of the mainstream tradition of analogue photography.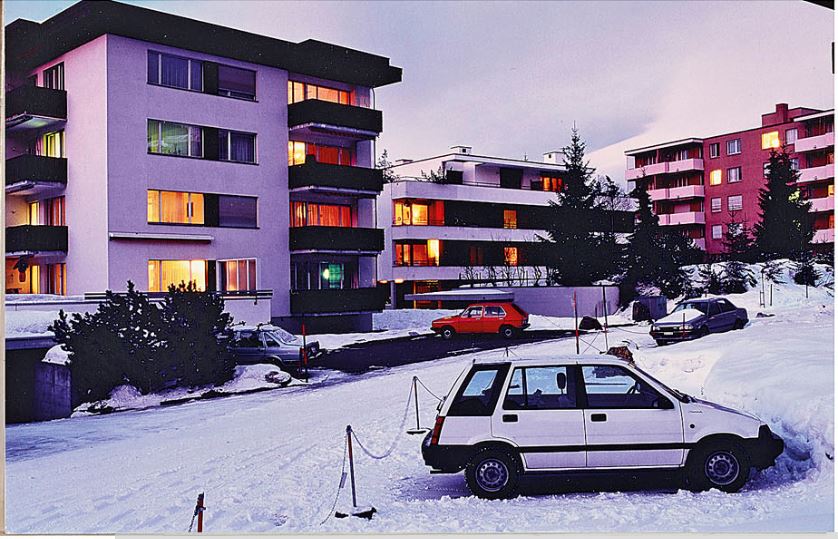 Fischli was aware, of course, that they were exploring the normality of a specific – and affluent – place, and that similar subjects would have played quite differently in, for example, the UK or France, where social problems and material deterioration would have come to the fore; or in Germany, where the memories of Nazism and war would have affected the interpretation. Rather than seeking out such concerns, Fischli pointed out that the photographs consistently examine the interplay between nature, the seasons and those manmade objects in the landscape, generating a cumulatively compelling aesthetic. 'Agglomeration' forms part in turn of Fischli & Weiss's photographic practice of emphasising the surface of normality in a way which suggests something is hidden: the larger project 'Visible World' includes, for example, airports, flowers and tourist destinations. In all of them, commonplace photographs act as triggers for various possible conversations.
Art writer and curator Paul Carey-Kent sees a lot of shows: we asked him to jot down whatever came into his head
307: Through a Glass, Clearly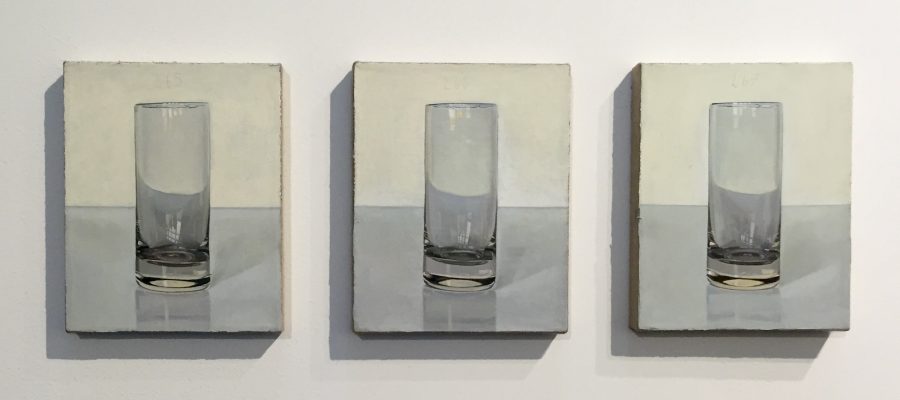 Peter Dreher: from 'Day By Good Day' 1974-2014
It's hard, you might think, to get too excited about a glass of water. Yet not only did Michael Craig-Martin famously present such a glass as an oak tree, the subject of a simple glass without so much as a still life to complement it crops up pretty often in paintings. In order of ascending scale, here are three who all happen to be German. The grandmaster of the subject is undoubtedly Peter Dreher (look out for him at White Cube Bermondsey from 10 July). For Dreher, the water glass – even without the water – is a pretext for apparently repetitive yet ever-fresh painting of the same subject, day and night. The results generate a meditative intensity.
Rene Wirths: 'Dirty Water' 2018
A little more broadly, René Wirths has painted various liquids in glasses. His 'Dirty Water' turns the subject back to painting in a very different way from Dreher. He depicts, on a much larger scale than the latter's standard 25 x 20 cm – the water in which he has washed his paint brush – which is still in situ. It's murky, but the painting it facilitates is crisp.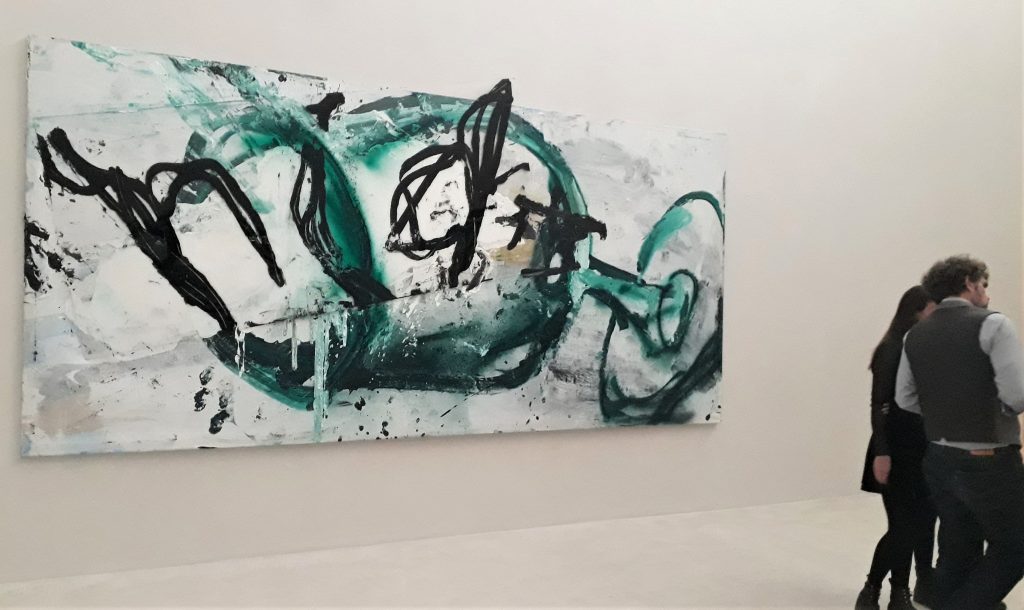 Dieter Krieg: from an installation of 'The Void is Nothing' at Kolumba, Cologne
Dieter Krieg (1937-2005) made the glasses even bigger in his masterful six painting series 'The void is nothing' 1998. The title's words are distributed across images of glasses falling, bringing spillage and death into play at a scale to make glasses stand as people. Moreover, Krieg attaches panes of glass to the paintings – but, paradoxically, not to assist in describing the glasses. In a potential play on Craig-Martin, this is another way in which the glass isn't the glass (it's the paint – which isn't glass either). Simple subject, giddying possibilities…
306: Sophie Layton's Japanese Prints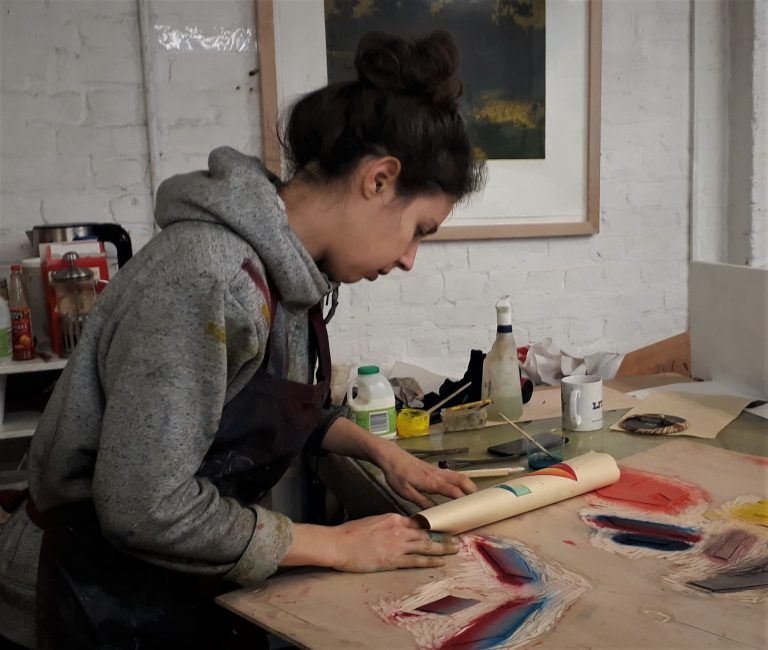 Sophie Layton aligning the paper for a Japanese woodblock print
I recently visited Sophie Layton the Artichoke Print Workshop in Brixton. It operates on a hot desk basis so that some 30 print makers can share the impressive facilities. Having travelled to Japan in 2014, Sophie became interested in traditional Japanese techniques of making woodblock prints with watercolour, and returned to Japan to study the method in 2017. I had the chance to try my hand at the processes involved: making sure the Japanese paper is kept moist; dropping the colour, together with some rice glue, onto the blocks; ensuring alignment when placing the paper; and then hand rubbing the block with a mounted bamboo leaf, as is traditional.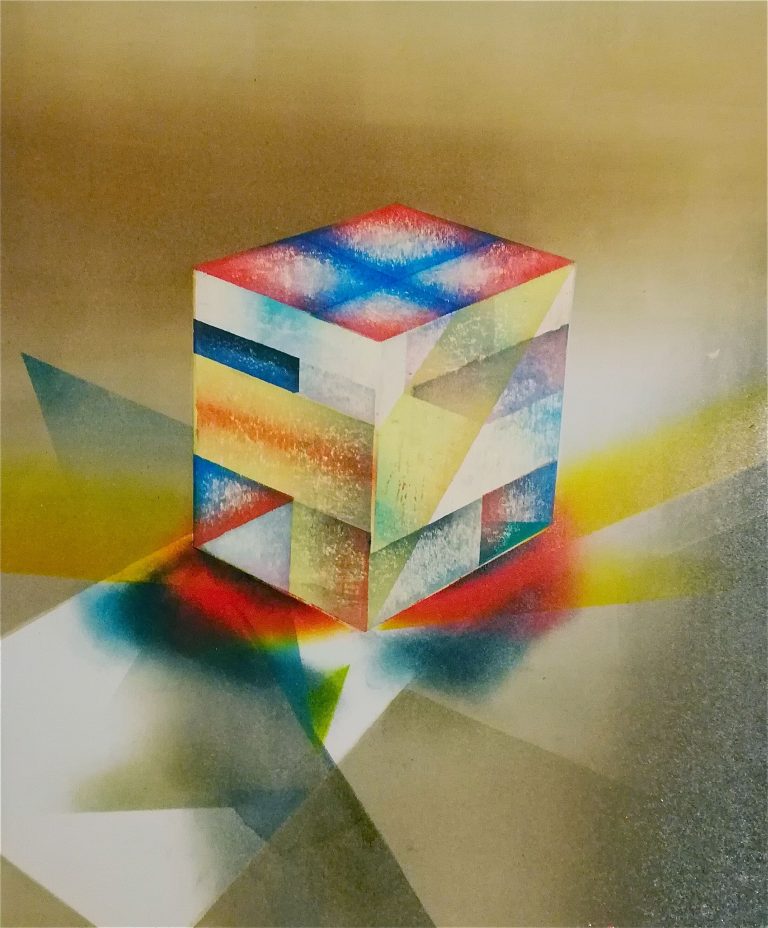 Sophie Layton: 'Refracting Light VI', 2019
Layton proceeds from a preparatory drawing to cut all the different forms to be used in different parts of a single block of plywood (for easy storage, and so that one element of a whole print cannot get separated and lost). Sophie's fiancée is the glassblower Tim Rawlinson, who is noted for making cubes with complicated interior geometric colouring. Sophie's show (opens Wednesday 8th May at Eames Fine Art, Bermondsey) will include some of his cubes, and work by Sophie herself which takes them – rather touchingly – as a starting point.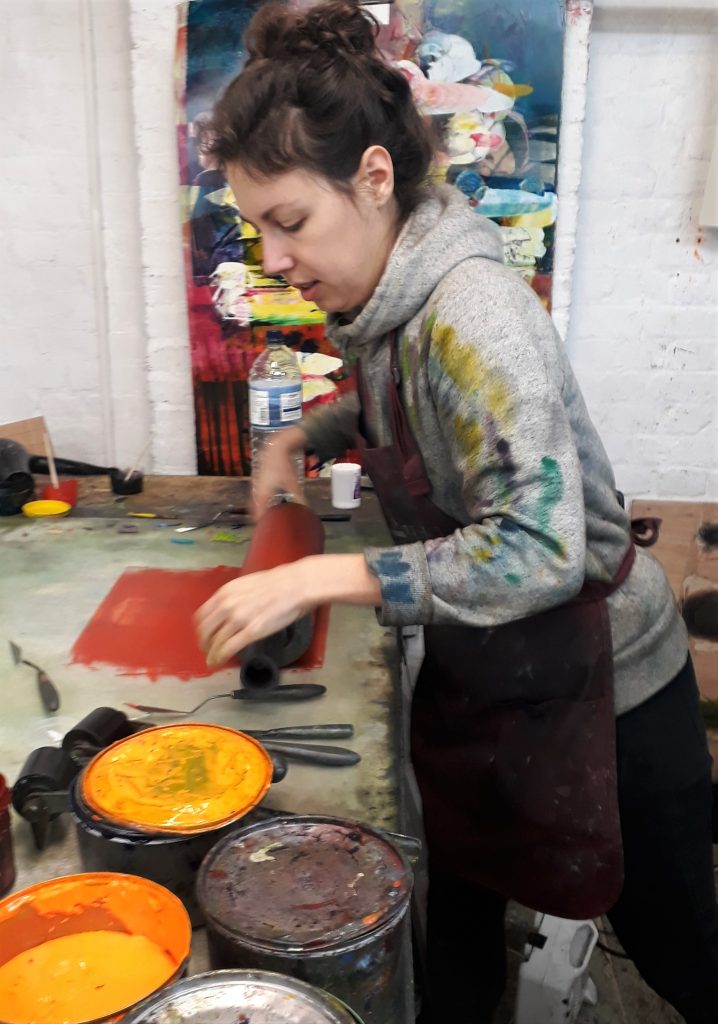 Preparing to apply paint with a roller, European style
First, the woodblock abstractions which start out by depicting the cubes. Second, monoprints made in a more European style with oil based inks, but based on photographs of Japanese flower arrangements (something else Sophie has studied) onto which she shines a light through one of Tim's cubes to produce prismatic lighting effects. Both printing methods allow for very painterly results. The three intimately related bodies of work should look good together, and I will appreciate them all more for understanding something of the history, skill and care which lies behind them.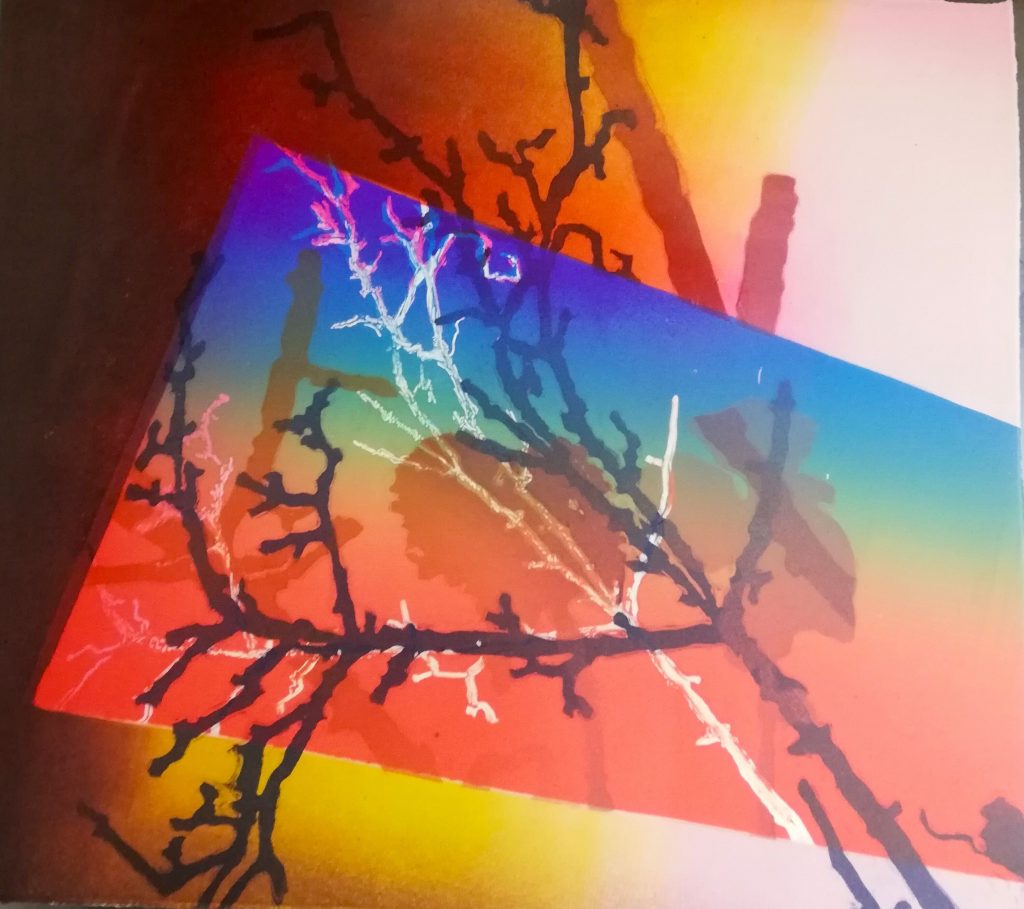 Sophie Layton: 'Ikebana', 2019
Art writer and curator Paul Carey-Kent sees a lot of shows: we asked him to jot down whatever came into his head
305: Hair Today
Celine Bodin: '19th Century' from The Hunt series, 2018
Hair is an interesting subject for art: of the body, and yet at a remove; and its own aesthetic area in the day to day. The most famous sustained body of work featuring its styles is probably the work of the Nigerian photographer J.D. Okhai Ojeikere (1930 – 2014), who from 1968 onwards documented around a thousand African styles.
His carefully formalised black and white anthropological records bring an almost architectural aspect to the hair designs. I was reminded of them by two other practices I came across recently. Young New York based Jamaican-American painter Jessica Spence makes the versatility of hair a focus of her explorations of black female identity: she hopes viewers who make assumptions about racial types will be 'intrigued to learn more about these women', leading them to 'question their own beliefs, about who these women are and why they have these limiting ideas and why these are more destructive than not'.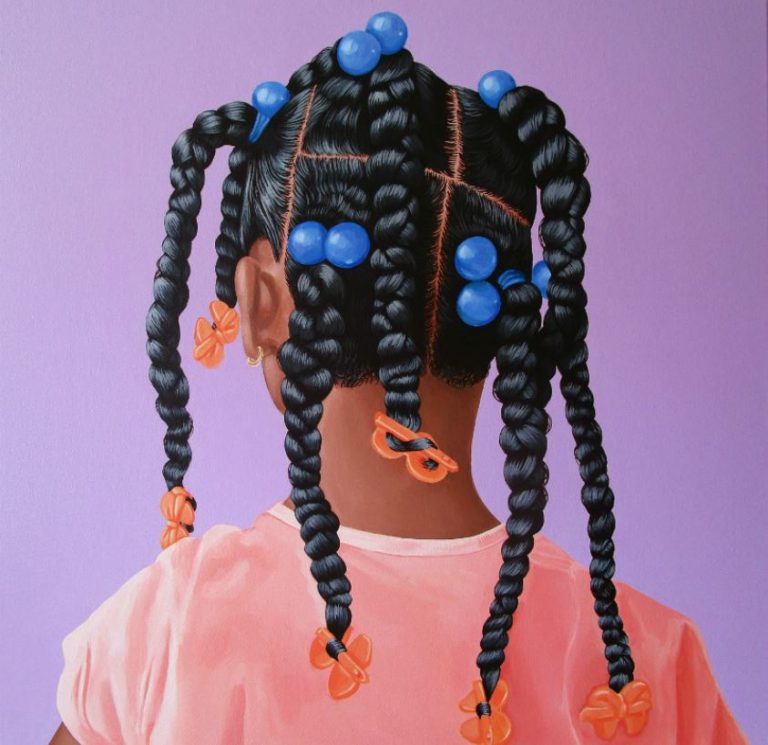 Jessica Spence: 'Braids and Barrettes', 2018
Celine Bodin (above and below), a French photographer living and working in London, includes her series 'The Hunt' in her current solo show at Purdy Hicks (to 4 May). Here white Western culture is the cultural frame for an anthology of female hairstyles from various periods. The critique operates differently, as the styles suggest stereotypes from art history, reducing the anonymised women to trophy status. Hence, perhaps, the use of positive and negative prints for each image: the signification of the type is independent of the substantive reality. All three bodies of work have substance – but also point up the aesthetics of hair.
Celine Bodin: '60's (inverted)' from The Hunt series, 2018
Art writer and curator Paul Carey-Kent sees a lot of shows: we asked him to jot down whatever came into his head
304: Social Media In Painting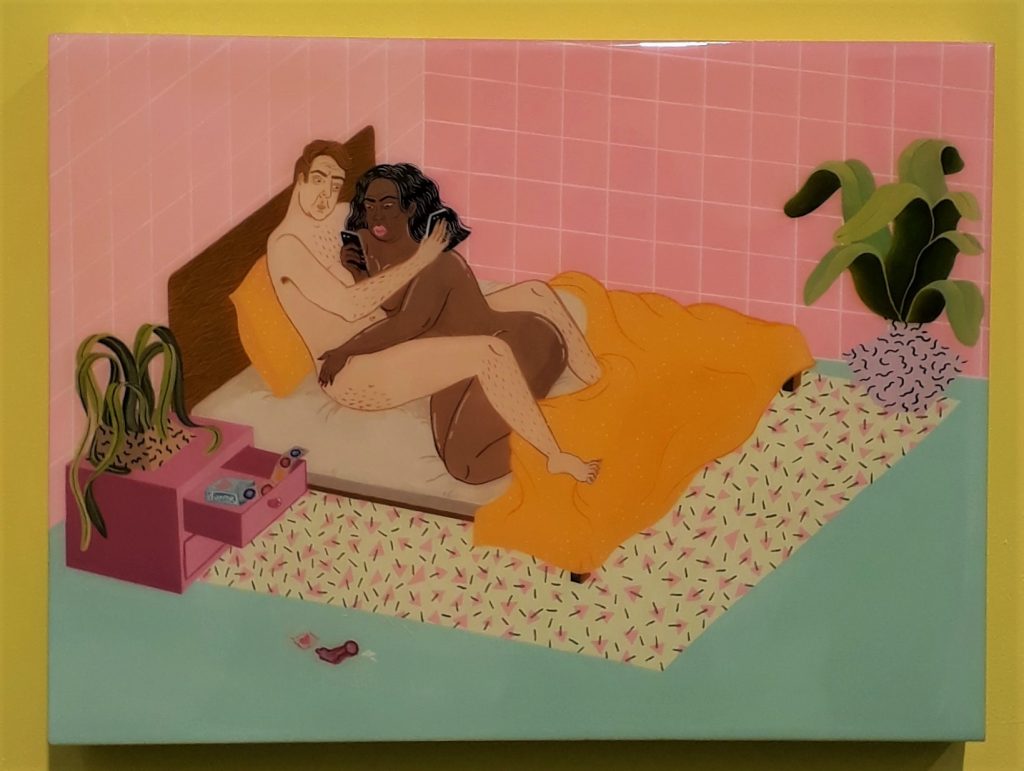 There's an obvious danger that painting – even in its expanded sense which uses the language but doesn't necessarily involve paint – might feel rather old-fashioned in the face of the rise of social media. One response would be to say: no bad thing. Another is to incorporate such media directly in making the work. The third way – to feed its omnipresence into the themes which painting tackles – was the one most evident at Art Cologne at the weekend. Here are three examples:
Joëlle Dubois: Bad Post-Sex Habit at Thomas Rehbein Gallery, Cologne (top)
The Belgian painter complains that 'communication between people today is increasingly becoming superficial, fleeting, impersonal and anonymous'. Hardly news, but her gleaming little acrylics under resin take the thought in charmingly witty yet slightly cruel directions by showing phones inappropriately used: not just after sex, but during it too, alongside all sorts of other activities from yoga to eating.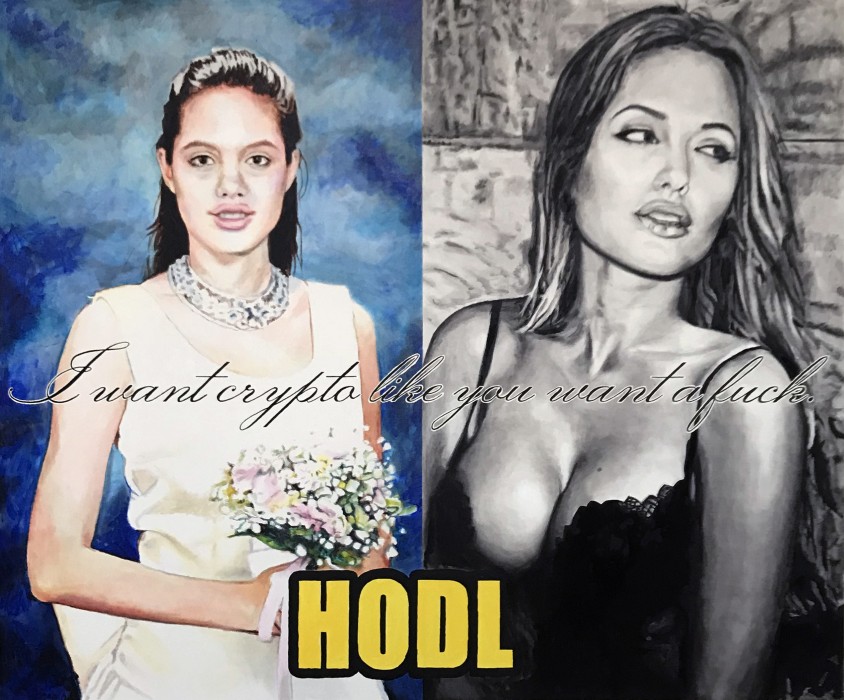 Christine Wang: Angelina Jolie, 2018 at Nagel Draxler, Cologne
The US artist makes paintings from found or collaged Internet memes. This diptych perplexed me, but can be explained. 'HODL' was a mis-typing of 'HOLD' which became a cool term to demonstrate being in the know among those investing I the volatile world of crypto-currencies. It became attached to Jolie online, perhaps to mock her failed attempt to hold on to Brad Pitt. Wang plays on both aspects with her addition of a text, found elsewhere, which diagnoses some sexual frustration in the actress.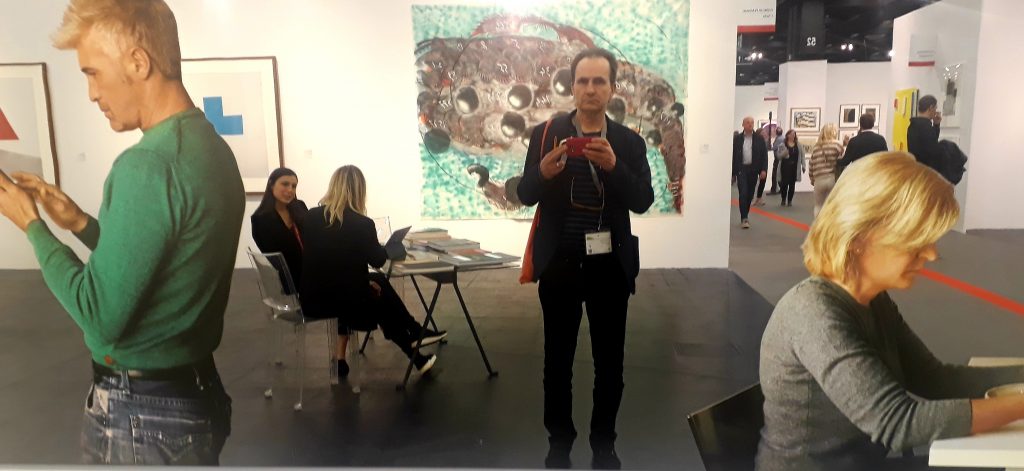 Michelangelo Pistoletto: Smartphone – seated woman and standing man, 2018 at Giorgio Persano, Turin
I guess it had to happen: Michelangelo Pistoletto's latest mirror pieces bring the viewer into the zone of figures with mobile phones. So here is my self-portrait, taken the same way of course, together with gallery staff who appear to be rather less thematically communicating with each other in pre-digital style.
Art writer and curator Paul Carey-Kent sees a lot of shows: we asked him to jot down whatever came into his head
303: We are still mused
John William Godward: 'Tranquility', 1914
There seem to be plenty of idealised beauties-come-muses, 19th-century style, in London galleries just now – though maybe there are always some around if you look. Either way, here are three artists who may not be great, who can be variously criticised for academicism, clichés or ignoring contemporary social concerns, but who are technically brilliant at doing what they do.
John William Godward: 'Tranquility', 1914 at
Trinity House
. Hardly the date to be so escapist, but in 1912 Godward had alienated his family by moving to Rome when his favourite model Dolcissima, shown here, decided to return to Italy. He saw the war out there, but by its end the fashion had turned away from his technically brilliant, if somewhat empty, brand of beauties in classical dress with marble, flowers and sea. He returned to England in 1919, but commited suicide in 1922.
Eugene de Blaas: 'The Unseen Suitor' 1898 at
the MacConnal-Mason Gallery
. Eugene Von Blaas (1843-1932), an Austrian in Venice at a time when the city was part of the Habsburg Empire, changed his name to 'de Blaas' to make himself sound less Austrian. The marketing tactic seemed to work, as his paintings sold for high prices and remain popular. Nearly all feature his brunette wife Paola Prina or her blonder sister, both preserved throughout his long career in their most pearlescent youth. Here we get both.
Joaquín Sorolla: 'Female Nude' 1902 at
the National Gallery
. 'Pearly skin caresses blushing silk' says the National Gallery – breathlessly but accurately – of this reimagining of the Rokeby Venus in the form of the artist's wife, Clotilde, looking at her wedding ring rather than in a mirror. That said, the Valencian 'master of light' (1863-1923), famous in Spain but subject of a revivalist exhibition from a British perspective, exhibited the work only as an anonymous nude or as 'A Gypsy Woman'
Art writer and curator Paul Carey-Kent sees a lot of shows: we asked him to jot down whatever came into his head
302: Art of the Franz Jest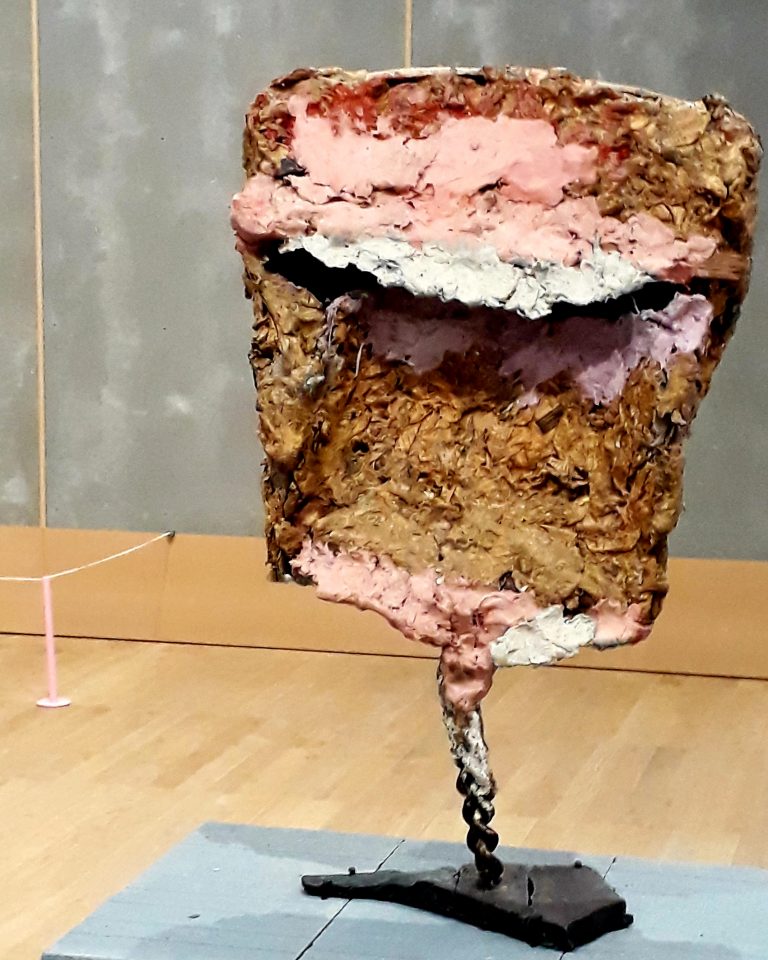 The Tate's Franz West retrospective (to 2 June) catches the irreverent humour of the Austrian artist – and how his art often lay in its pretending not to be art. Above, for example, is Desiderat, 1988: typical of West's papier-mâché works, often made from old phone directories and painted casually – with a circularity of sorts – while he was on the phone. This one looks like a sandwich grinning back bigtime at its consumer.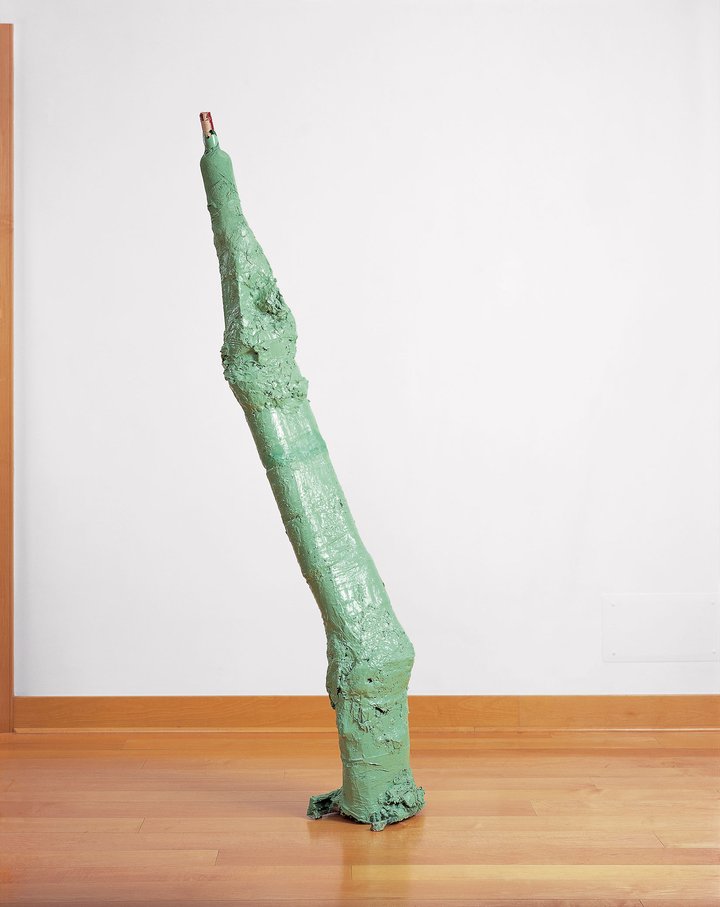 Trunkenes Gebot, 1988: West liked to use non-art materials and he was a heavy drinker: no wonder he incorporated alcohol bottles into his 'refreshment' series, such as this 'Drunken Attempt'. He didn't want to throw them away because their form reminded him of the pleasure of their contents, so 'in order to emancipate the original container, the bottle was sublimated into art'.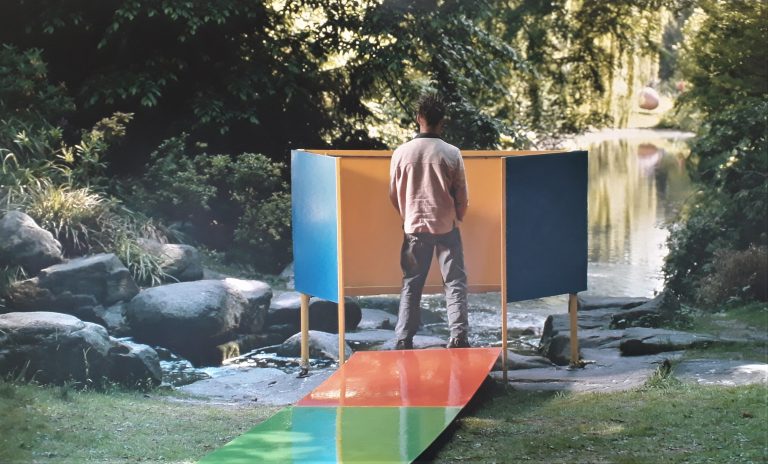 Etude de couleur, 1991/97: Here West takes the piss out of Duchamp's famous urinal and Warhol's Oxidation paintings by providing the relevant site with a long runway, colourful steel walls and attractive views to enhance the business. This, he seems to suggest, is the real way to make urination an aesthetic experience.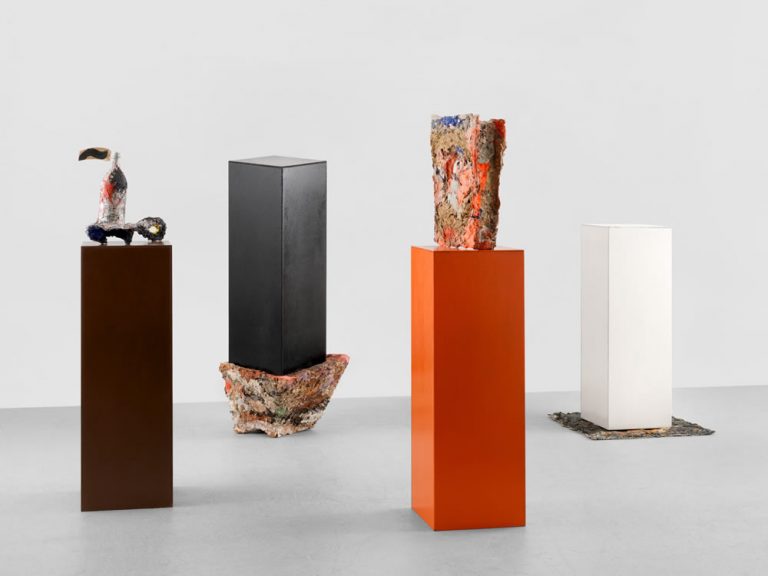 Untitled, 1988: West loved collaborating, as with this stupidly enjoyable 1988 set of Heimo Zobernig's already-irreverent plinths under and on top of his own contributions.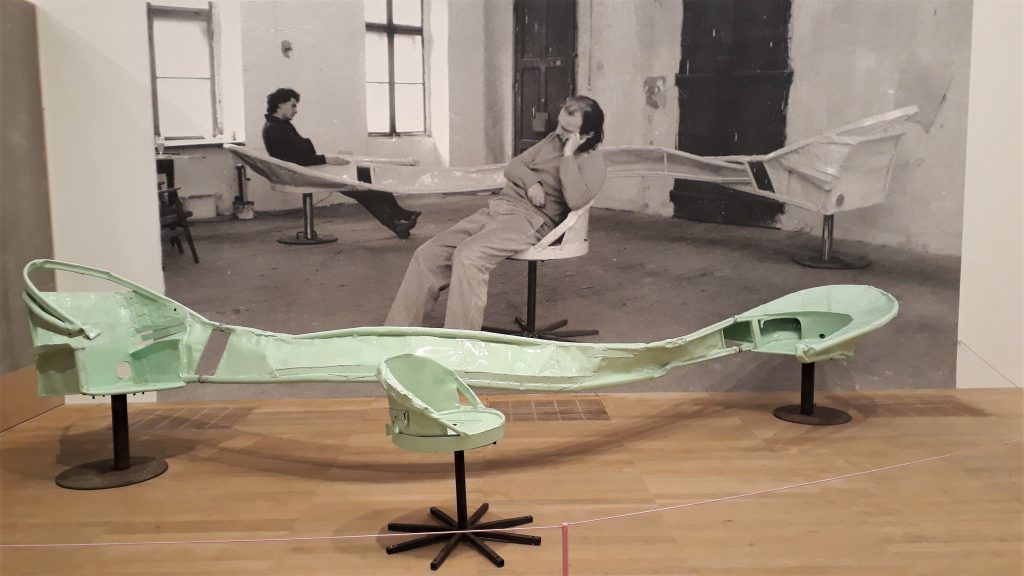 Eo Ipso, 1987 Not only is this stretched version of a washing machine set up for two people to sit on without making it easy for them to converse, it appears to have been wrung out in the manner of freshly washed clothing. It's also typical in using furniture as 'an everyday 'Passstücke', referring to the 'Adaptive' sculptures which West made with the idea that viewers could interact with them. It's shown in front of a view of it in the studio, and behind Sarah Lucas's Franz-styled crowd control ropes. The title is Latin, something like 'on its own account'.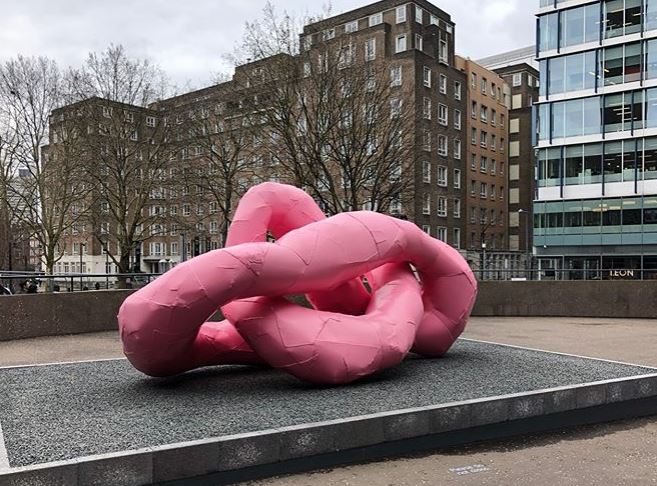 Rrose/Drama, 2001 as installed outside the Tate: West's outdoor sculptures of lacquered aluminium use cheesy colours (his pink is from children's pyjamas) to make glossy forms like huge turds – the deliberate opposite of all that public sculpture is expected to be, but somehow attractively ugly.
301: Graciela Iturbide's Mexico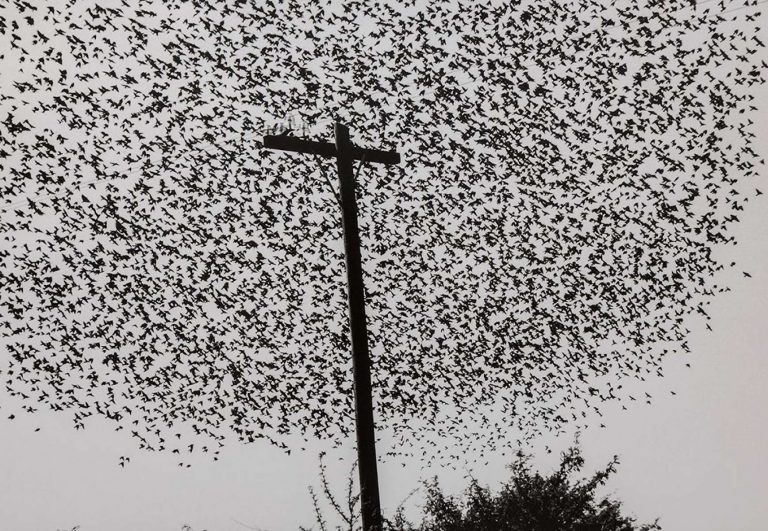 Graciela Iturbide: 'Pájaros en el poste', Carretera (Birds on the Post, Highway), Guanajuato, México, 1990. Gelatin silver print.
I've had the chance to look comprehensively at the work of Graciela Iturbide, through an extensive show of her work in Frankfurt (which itself has a sizable catalogue) and the sumptuous and informative catalogue of an even bigger show in Boston. Iturbide developed in the context of a powerful tradition – Edward Weston, Tina Modotti, Paul Strand, Henri Cartier-Bresson and Manuel Álvarez Bravo – to whom Iturbide acted as assistant – which tended to emphasise Mexico's 'exotic' and 'fantastic' qualities. And though she rejects the labels of surrealist or magic realist, she often makes what may be perfectly everyday seem simultaneously otherwise. That's at its strongest in what is justifiably her most famous single image: Our Lady of the Iguanas. A woman crowned with live iguanas, which she was bringing to market – they are considered a gastronomic delicacy – is promoted to an iguana goddess and enacts a fusion between human and animal which has an element of Medusa but also of humour. Iturbide says she chose the particular image from her contact sheet because the iguanas themselves appeared to be posing for the camera.
Graciela Iturbide: 'Nuestra Señora de las Iguanas' (Our Lady of the Iguanas), Juchitán, Oaxaca, 1979.
That is something of a one-off, whereas Iturbide has more typically explored particular subjects with many images which help to build up their symbolism. Early on in her career, following the tragic loss of her young daughter, Iturbide obsessively photographed angelitos—a Latin American term for dead children who are, according to custom, dressed up as angels and buried in white coffins. Other themes include birds, often pictured as harbingers of death in line with her originally photographing them at cemeteries; the women of Juchitán, depicted as strong, independent and politicised; the Seri Indians – 'those who live in the sand'; fiestas and rituals, notably the annual sacrifice of hundreds of goats in the Mixteca Mountains; and Frida Kahlo's bathroom, to which she was the first to have access when it was opened 50 years after her death. Both exhibitions also pay particular attention to the less expected theme of botanical gardens. As the Frankfurt catalogue puts it, they represent an interrelation of nature and culture through 'a natural domesticated space that suffers from a profound vulnerability; a garden whose autochthonous species ironically cannot survive if not specifically tended'. Accordingly, Iturbide's images reflect the caretaking aspect of the garden, often with plants in a state of healing, which she finds 'very human'. I've chosen a fence of órganos – organ pipe cacti – with newspapers wedged between the plants to protect them. They are in convalescence, reversing the healing process through which cacti are used medicinally, and suggesting wider metaphors give that Mexicans also use cacti on a daily basis for food and alcohol, and one appears on the national flag.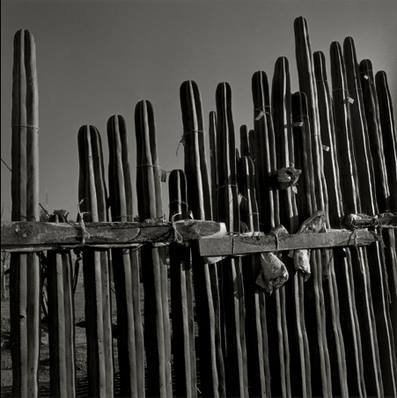 Graciela Iturbide: 'Botanical Garden' , Oaxaca, 1998–9
Iturbide's world certainly repays examination through these excellent exhibitions and books:
Graciela Iturbide's Mexico:
Museum of Fine Arts, Boston
to May 12 with accompanying publication by Kristen Gresh, with an essay by Guillermo Sheridan ($50)
Graciela Iturbide:
Fotografie Forum
, Frankfurt to 30th June 2019 with accompanying publication in English by the Fundacion MAPFRE, Madrid with texts by Marta Dahó, Juan Villoro and Carlos Martín García (€55)
Art writer and curator Paul Carey-Kent sees a lot of shows: we asked him to jot down whatever came into his head