362: Abstract Rainbows
The rainbow has become a ubiquitous symbol of support for health and care workers, but it has of course long been a staple means for artists to import upbeat colour – so much so that it doesn't have to be curved or follow the strict colour content to pick up the vibe. Here are three rainbow-channelling works which I like: superficially similar concatenations of rectangular blocks which have many underlying differences.
Ellsworth Kelly

's Spectrum IV (2015) recalls the colour juxtapositions he developed in Paris during the 1950's, including previous treatments of the rainbow theme, but this late work is a subtly muted conjunction of 12 thin rectangular panels. Kelly (1923-2015) was gay, and one thing which emerged in the gap between those rainbow engagements was the LBGT 'rainbow flag', adopted from 1978 onwards. I wonder if that was in his mind in returning to the theme…
Kelly said he didn't want to paint an overlap of colour, making it an illusion, so he used separate panels to produce real overlaps. In

Jonathan Parsons

' I Love the World (Simple Cubic Array), 2000, the bands of colour appear to weave between one another, creating a sense of overlap and depth, but he's actually with Kelly: the bands merely abut one another, existing side by side. The complete grey band, which looks as if it was painted last, was in fact the first to be laid down. Moreover, in this ingenious work, each hue occupies an equal surface area and, as paler and darker shades, is used twice.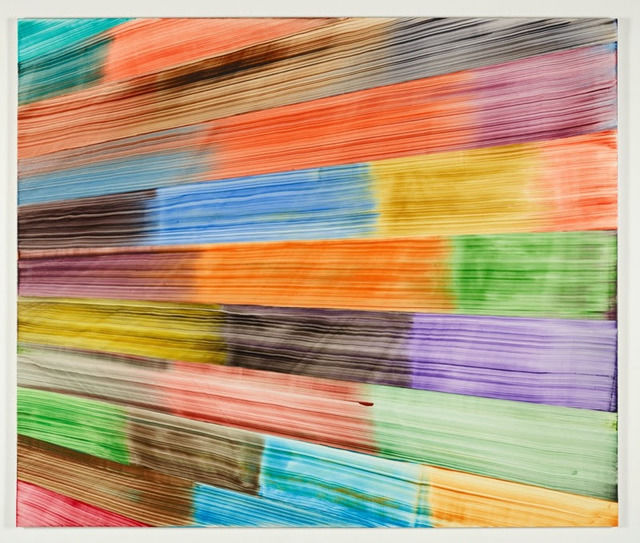 A 'dyade' is an ensemble of two elements, and although

Bernard Frize

has said that his chooses titles to avoid any connection to the painting signified, this 'vanishing point perspective painting' (to adopt Terry R. Myers' classication) Dyade, 2012, may be an exception. does combine not just oil and resin (as is usual in Frize's work, explaining the characteristic look of colours not quite taking hold) but the frontal view with the illusion that we are not placed frontally after all. Is it, perhaps, anamorphic if approached from the side? Just one of the remarkable number of ways Frize has found over forty years to, in his words, 'find ideas for which the paintings become the manifestation'.
Art writer and curator Paul Carey-Kent sees a lot of shows: we asked him to jot down whatever came into his head


361: On Kawara on 27 May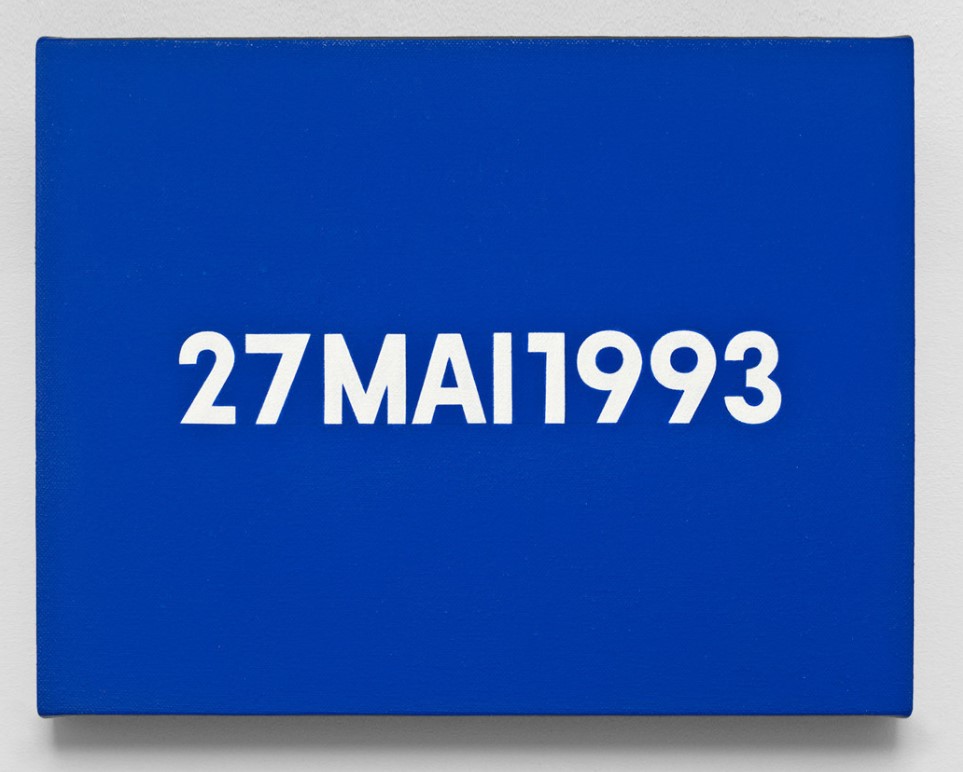 How many are there?

Some 3,000 from the first (4 Jan 1966) to last (12 Jan 2013).
Are they all the same, apart from the date?

Not really, though they're all liquitex on canvas, and lettering is always in white. Kawara chose from eight different canvas sizes and three background colours – red / grey / blue – but the shades varied due to his mixing the colour fresh each time. And the language used for the month matches that of the location he painted in – he visited some 130 cities in the course of the series. It might be closer to say no two are alike.
Always in the Roman alphabet, though?

Yes, as Esperanto is used when the first language of a given country isn't in a Roman alphabet. That may not be instantly obvious, given that the Esperanto abbreviations for the months are close to the English: jan, feb, mar, apr, maj, jun, jul, a?g, sep, okt, nov, dec.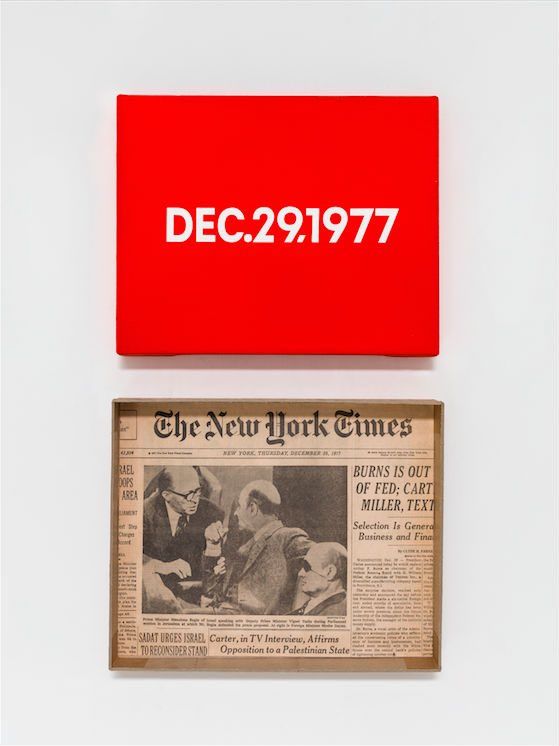 How long did he spend painting them?

Each one took 4-7 hours, depending on size. Sounds slow, but four coats of paint are carefully applied, allowed to dry, and then rubbed down to make the ground. The came rough and fine brushes for the background; outline texts drawn with ruler and set square; several coats of white paint with tapered brushes to fill in the text; then the fine tuning. If Kawara failed to finish on the stipulated day – evidently possible – he scrapped that attempt and started again the next day. If he'd painted one every day, there would be 12,000. If we assume an average of 5.5 hours and a modest 20% failure rate, he spent some 20,000 hours painting them. Long enough to get the hang of it…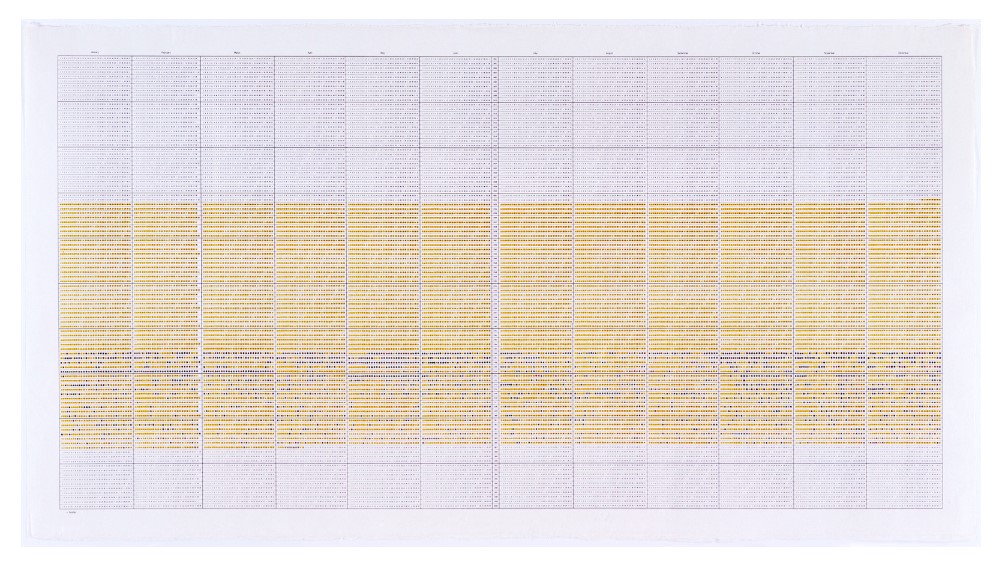 Are the paintings the whole process?

No: many are accompanied by a boxed newspaper from the day in question. Kawara also kept two records: a one hundred year diary marking off what he did on each day (above); and a chart recording the exact hue of each painting through swatches made at the time (below).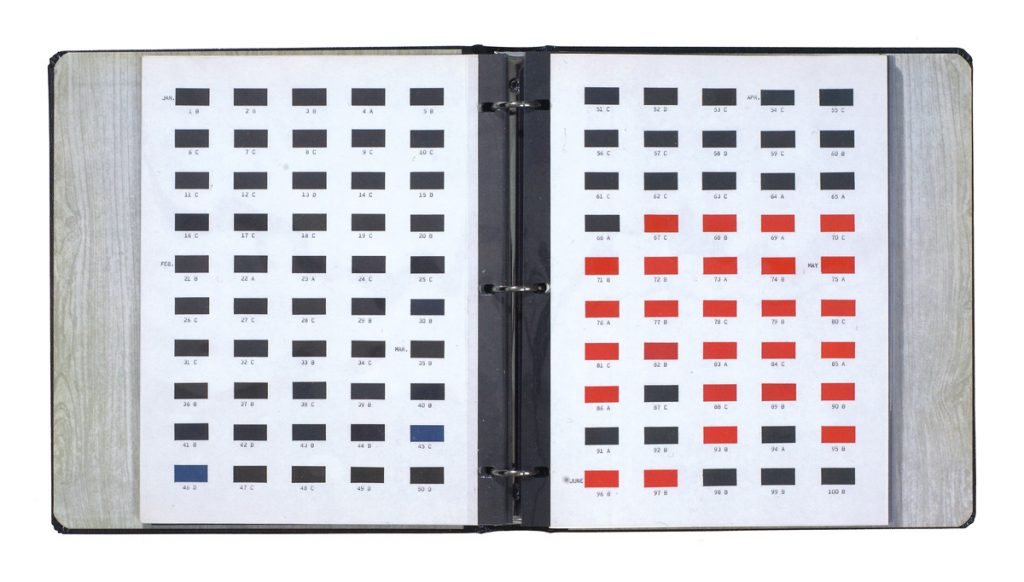 What's the point?

They're existentialist meditations on existence which home in on the present as the only knowable reality in a world filled with doubt. And, objective as they look, they come out of Kawara's personal circumstances – where he was , what was going on in the world – and depend on his long term commitment.
Can I have one?

I guess: expect to pay £500,000 – £1,500,000 at auction, depending on size.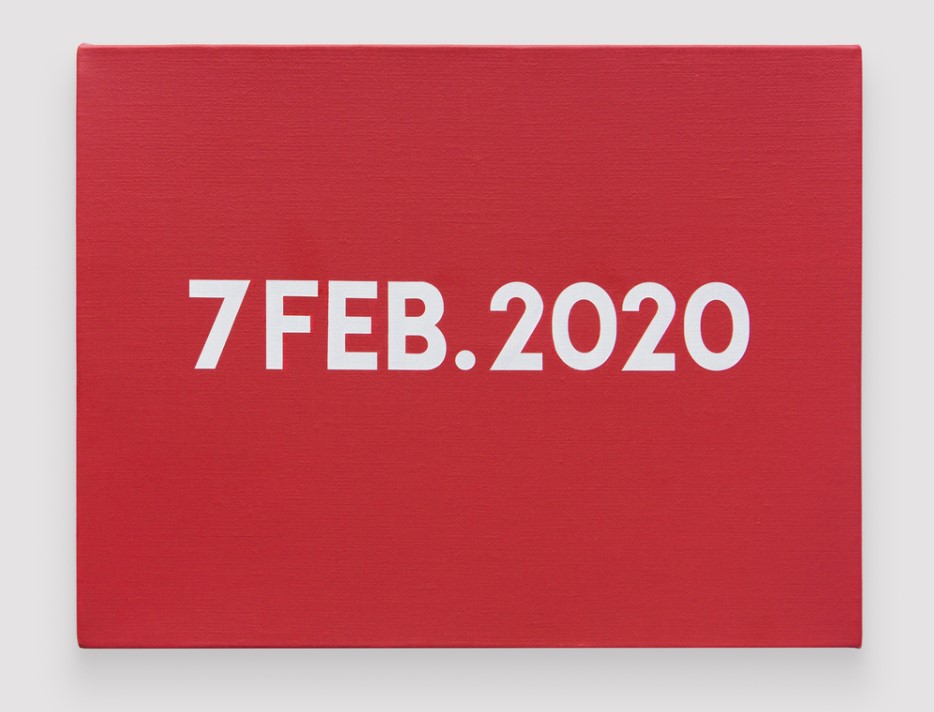 Isn't that a bit steep?

You could opt for a similar-looking work by Chinese painter Lu Pingyuan (above, not easily passed off as a fake). He started a series in homage in 2014, following a dream in which On Kawara asked him to continue creation of the Today series. Around £3,000.
360: Creative on Instagram
Instagram has become the default means for artists to present themselves online. Mostly, that's to show new work, how it comes about, inspirations, recommendations – all of which can be interesting. But some go further: their Instagram account becomes, in effect, the platform for creating new work, perhaps at a slant from the work for which they're best known. Here are four artists whose posts I look forward to from that less usual angle.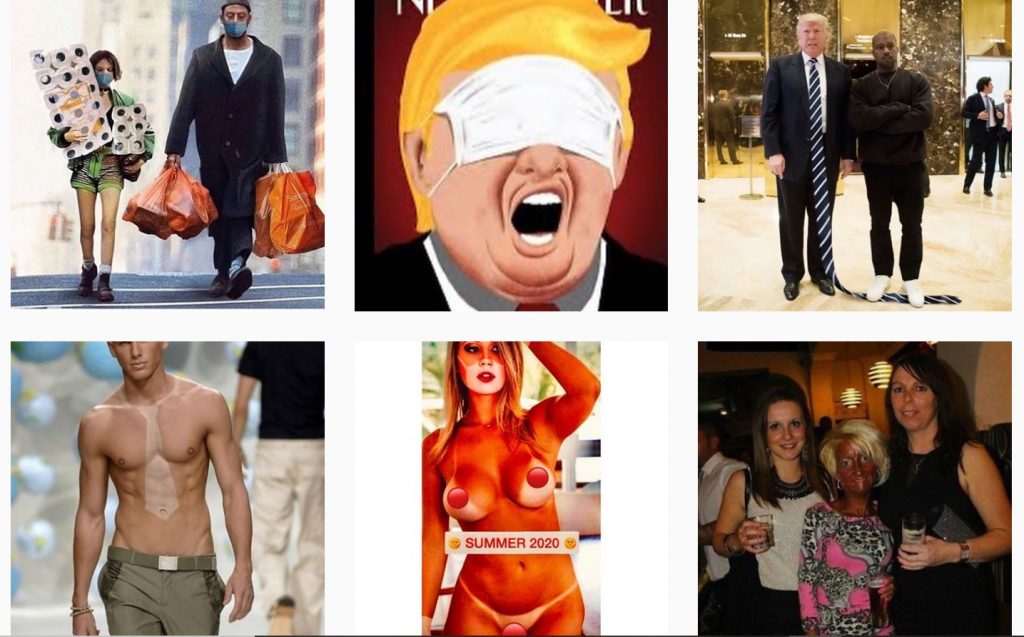 The six years of

Mauro Bonacina

's Instagram stream revisit the surrealist love of the found conjunction. Each day the painter and multi-media artist posts a pointedly ridiculous image, sourced from the net using a sophisticated battery of search mechanisms. And each day the image is linked in some way to the previous and subsequent image. Bonacina has shown also shown them – at one image per second – as the artwork '@MAUROBONACINA', suggesting a self-portrait of sorts.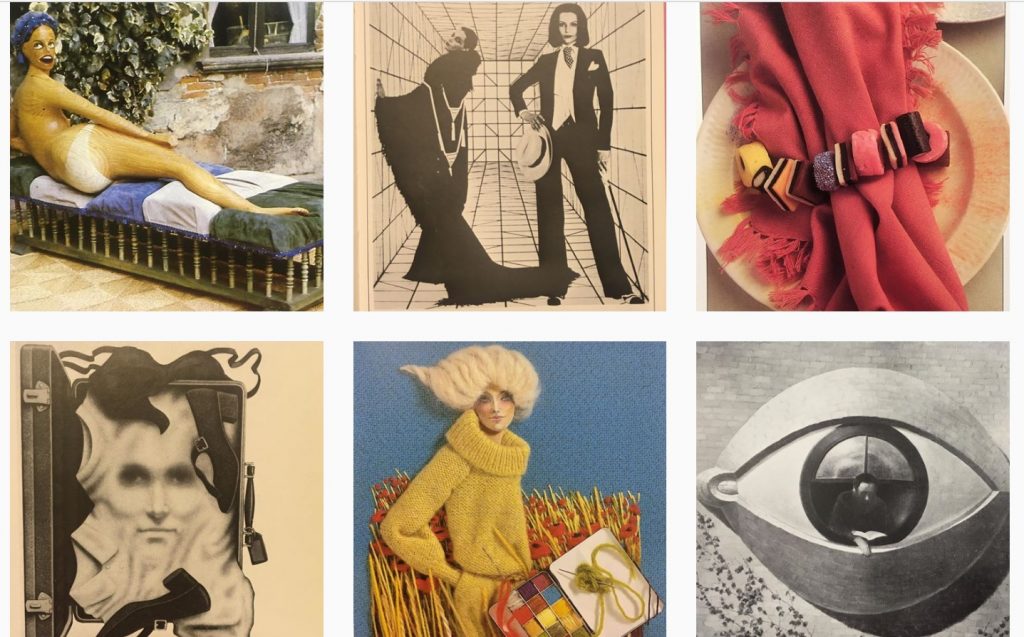 Julie Verhoeven

, known equally in the worlds of fashion and art, bridges them in another connective day-on-day Instagram stream. Her linkages develop, she says, through 'what would complement or contrast the previous image visually at micro size, mosaic style (I like pattern !), and then I try and find something that is less palatable on a taste level, or at least hovers on the border, the goal always being to merit a double take / look'. That frequently operates across time, by placing the retro in a new context.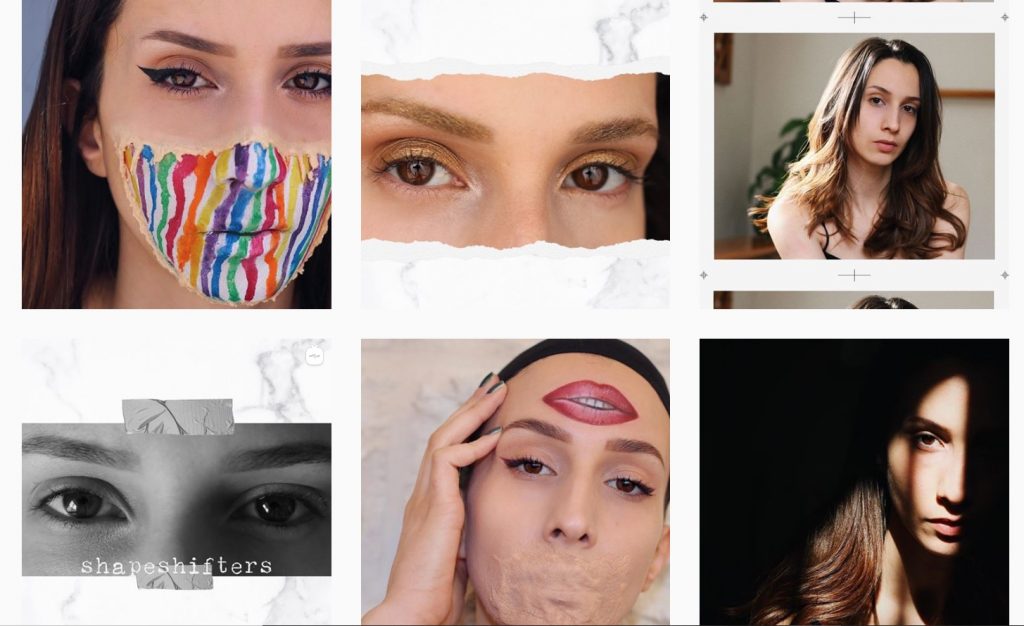 Rand Jarallah

describes herself as 'a weirdo interested in understanding human behaviour and how the mind works' who shares her insights 'through artivism, storytelling and makeup'. She often asks her followers questions, and takes the dialogue into such dark areas as self-worth, mental illness and suicide. As part of her exploration of such issues, Jarallah uses surprising makeup to dramatise her online self-portraits. The screenshot of posts above includes, more straightforwardly, her repurposing of the carer-supportive rainbow, with the caption 'spread love (virtually) not corona'.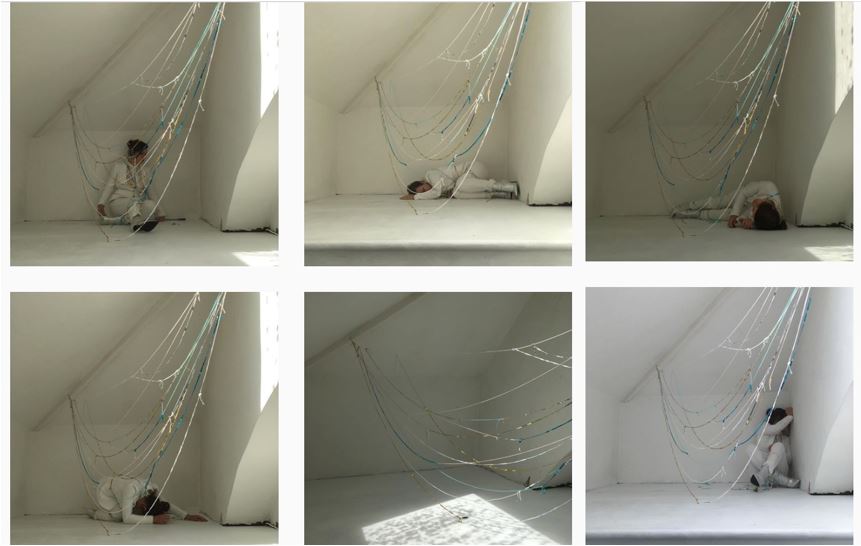 Abstract painter

Clare Price

used Instagram to add a performative aspect to her practice by staging her self in front of her works, accompanied by hashtags indicating emotional states – '#fragile', for example – which enact a healing process. In recent posts the paintings have given way to hanging lines tracing the space in an absent painting, and the hashtags have expanded to a full stream of consciousness, one extract being… dull dried cadmium painted slurps of road markings violet bells high leather boots and furs in the sun harry said people did used to talk dirty before tinder you know…
Possibly that selection is biased, as all four have been in shows I've curated – but I prefer to conclude that I ask interesting artists to be in my shows!
Art writer and curator Paul Carey-Kent sees a lot of shows: we asked him to jot down whatever came into his head
359: What are artists doing during lockdown? (Part II)
What are artists doing during lockdown? Here are some further examples, following on from last week.

Canadian painter

Wanda Koop

is known for her environmentally aware landscapes, but during lockdown she has developed (see top and bottom) a stream of robotic humanoid heads. She sees them as 'portraits of uncertainty – sort of like MRIs of the human psyche – for the past, present and future'. There's a darkness to them, but not only that, and just now they resonate with how much of our contact is mediated through technology…




Sweden-based British painter

Alex Hudson

started Old Habits Die Hard, a fantasy of primates taking on human traits, just as the corona virus impacted. He 'imagined it to be about my own demons, 'monkey's on backs' for example, and the perpetual search for transcendence and well-being'. A modern take on absurdity receives a staging which evokes both Frida Kahlo's self-portraits and Frans Snyders' mischievous monkeys from the 18th century.




Michele Ciacciofera

's Untitled, 13.4.2020 is from the impressive sequence of 'Confinement notes' which the artists of Paris/Brussels Gallery Michel Rein is posting daily. On the one hand, a delicately tentative geometric abstraction which could have been made at any time; on the other hand the materials – 'watercolour, gouache, red wine (Saint Nicolas de Bourgueil), salt, sodium bicarbonate and pencil on paper' – are redolent of time at home rather than in the studio.




George Condo

says of the drawings he's made in lockdown: 'I'm imagining figures who are distanced from each other… invented to resemble those I can't see, and they somehow reflect my inner feelings about how it is to be left alone in the wilderness'. I guess Condo's condo might be a fairly comfortable wilderness, but the multiple viewpoints work nicely to reflect different emotions occurring simultaneously, including fear, paranoia, claustrophobia, panic and distress. This is Parallel Lives.




Recently announced Max Mara prizewinner

Emma Talbot

has started making animations in lockdown, but also continues with her wider practice, which sometimes includes pure text works in which the words are not pre-planned but emerge as she paints them. Here she finds herself 'forced to turn inwards' and unable to 'compute the emptiness of days passing without feature. Episode 10 season 4'. It's not her everyday handwriting, by the way, but a mixture of upper and lower cases and differing sizes which she has developed to enable the maximum variation of emphases.







358: What are artists doing during lockdown?
What are artists doing during lockdown? It's potentially a reinforcement of 'studio time' – albeit that may be in the house without access to the studio as such – and a chance to move in new directions without the pressures of particular deadlines to finish work for a show. Sometimes the work will directly reflect the unusual circumstances, thriving perhaps under a different form of pressure, as art often has. Sometimes it supports particular causes. This week and next I will feature work made in last couple of months which reflect some of those factors.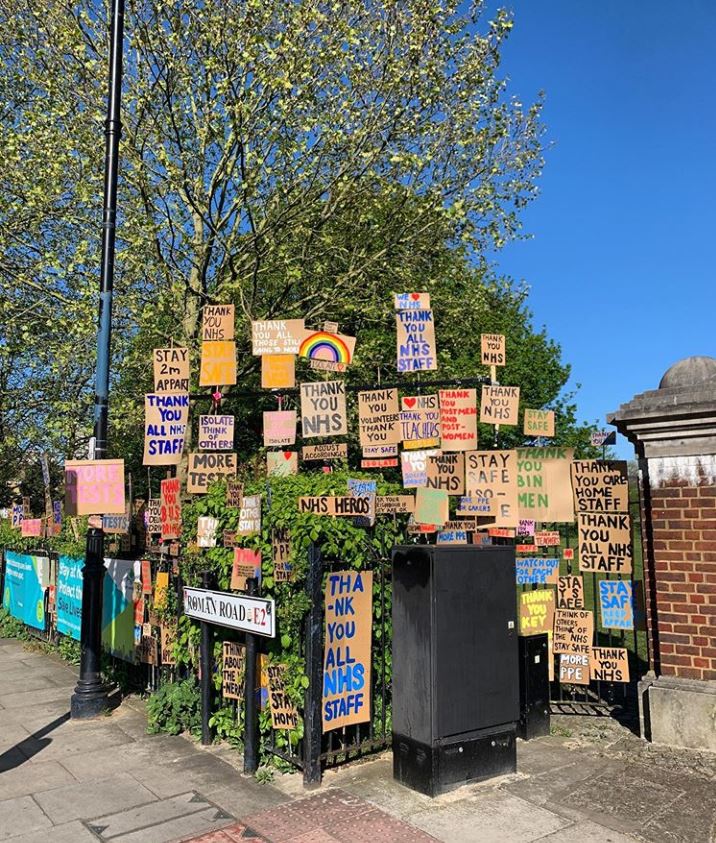 Peter Liversidge:

Sign Paintings for the NHS. Peter Liversidge has previously addressed forms of protest through installations of signs, but here his placards, which he adds to daily in his East London neighbourhood, are celebratory and have become an evolving sight for the presumably reduced number of regulars passing by. @peterliversidge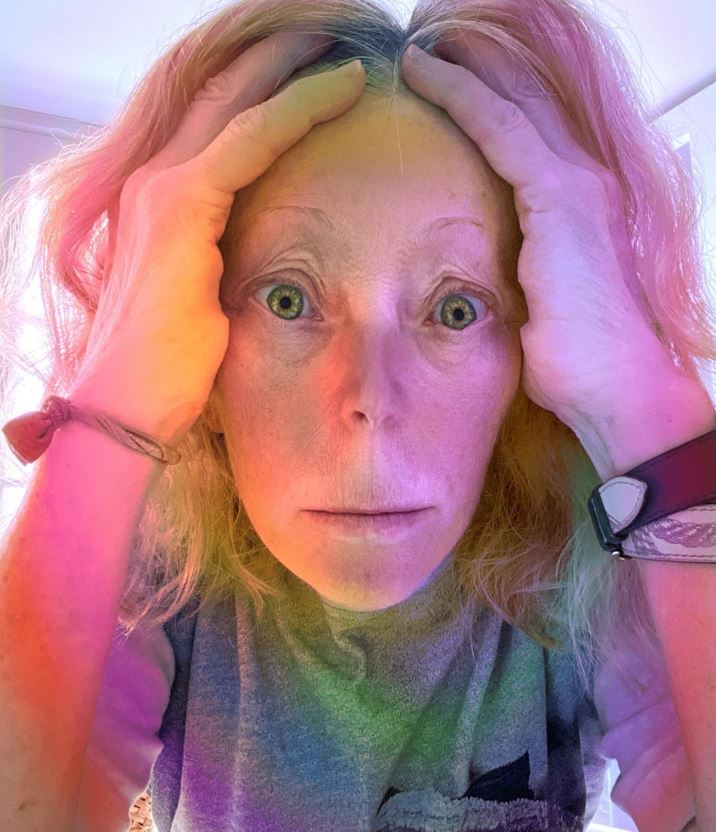 Cindy Sherman

is among those artists quick to take up charitable causes in response to the crisis. This is Cindy Sherman's response to a call to support foodbanks in New York by making art featuring the currently ubiquitous rainbow motif. @cindysherman #rainbowsinwindows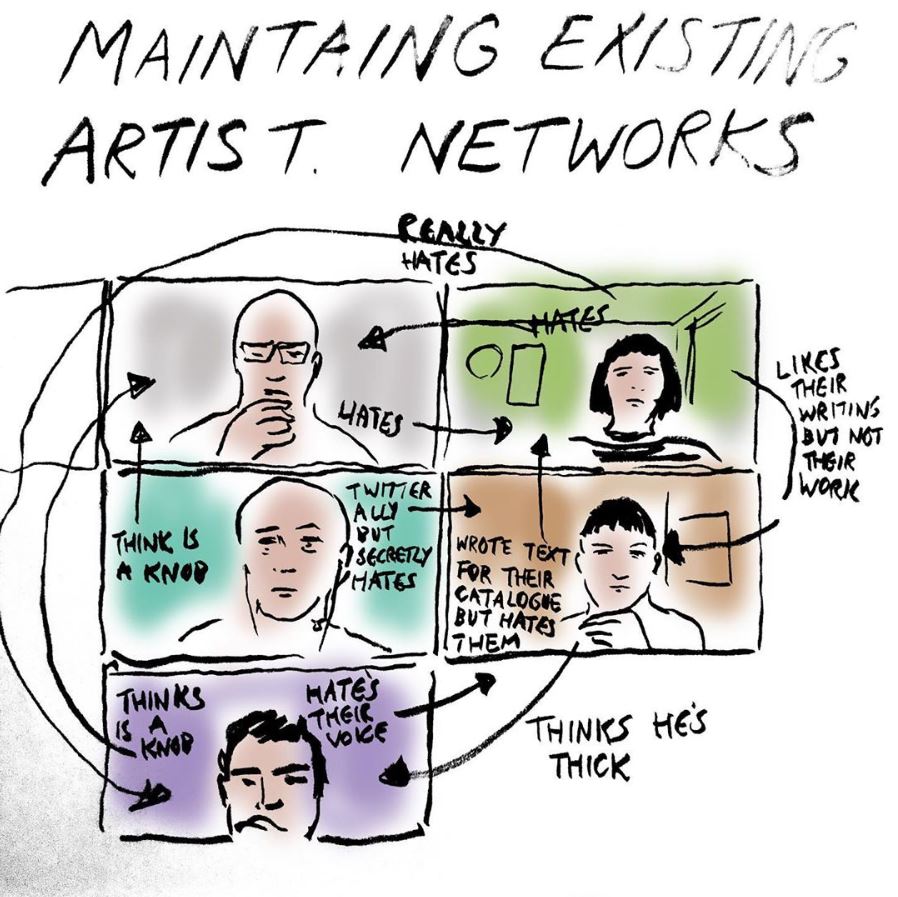 Bedwyr Williams

regularly posts his satirical drawings of art world on his Instagram account. Not surprisingly, the lockdown has given him a fresh context to lampoon such characters as the 'tells artists that art isn't important during a crisis artist' and the 'posts quotes and stills from obscure books and films without saying where they are from artist' and – here – the false bonhomie of networking for a purpose. @bedwyr_williams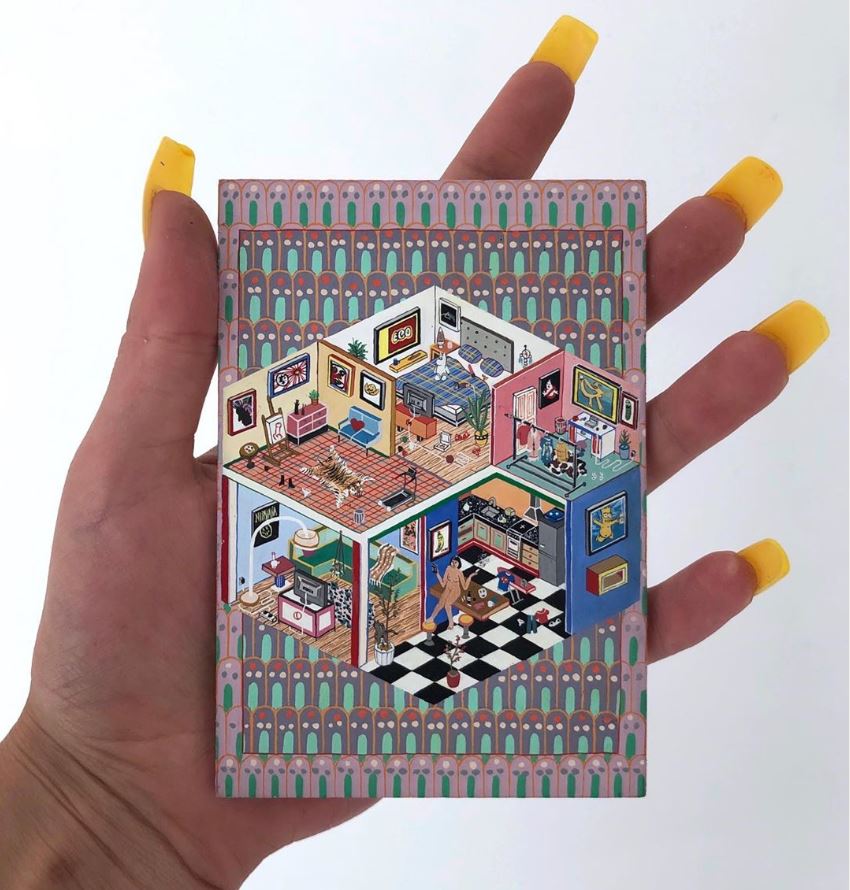 Paola Ciarska

holds one of the art-laden interiors in which her naked avatar lives the isolated life in some luxury. The presentation demonstrates both the intricacy of Ciarska's working process, ideal for confined circumstances, and the impressive maintenance of her fingernail standards during lockdown! @paolaciar
Art writer and curator Paul Carey-Kent sees a lot of shows: we asked him to jot down whatever came into his head
357: Mel Bochner, Plain as the Nose on Your Face
Lockdowns have been in place long enough by now that galleries have had time to home their digital content beyond simply putting up what would have been in the gallery. Simon Lee's Mel Bochner viewing room, for example, gives us various texts, a film and a discussion with the New York based artist which, alongside the images, provides a comprehensive overview of his practice (to 17th May). By no means does Bochner always paint text, but here are six works which give a quick overview of his engagement with language: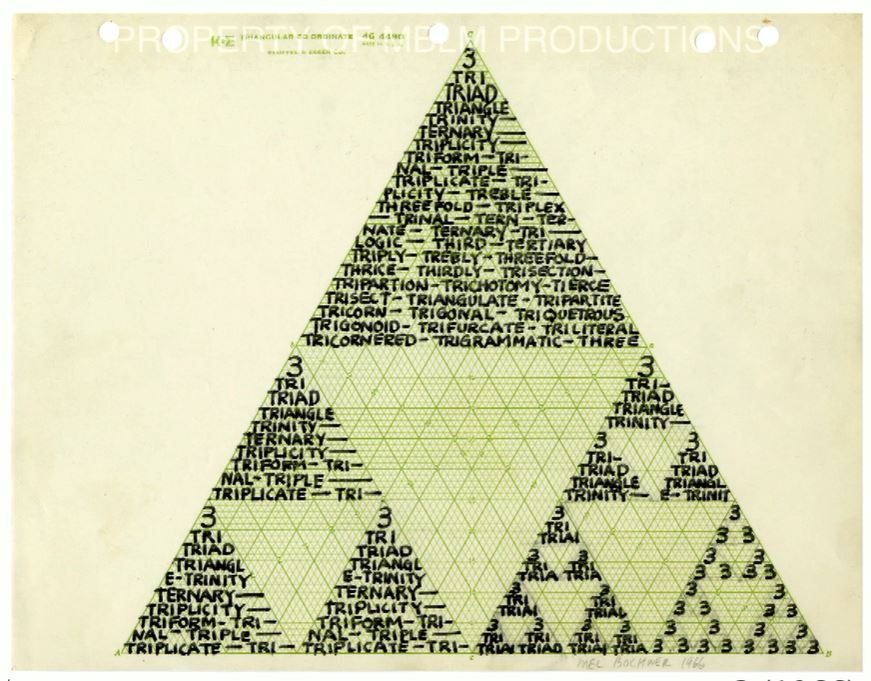 '3', 1966 – ink and pencil on graph paper
Bochner says this drawing on a sheet of triangular graph paper led him to turn to the thesaurus for the first time. 'I thought it would be interesting to look up the etymology, synonyms and definitions of the word 'three'… and I saw it could exist simultaneously as numeral, word or image'.
'Nothing', 20o3 – oil on canvas
Bochner merges painting with language because, he says, 'language is a covert means of smuggling ideology into discourse' and he's interested in how 'language structures thought and thought in turn structures what we see.' 'For me', says Bochner of the thesaurus paintings, 'they are about the journey that the mind goes on from the first word to the last word'. Pffft!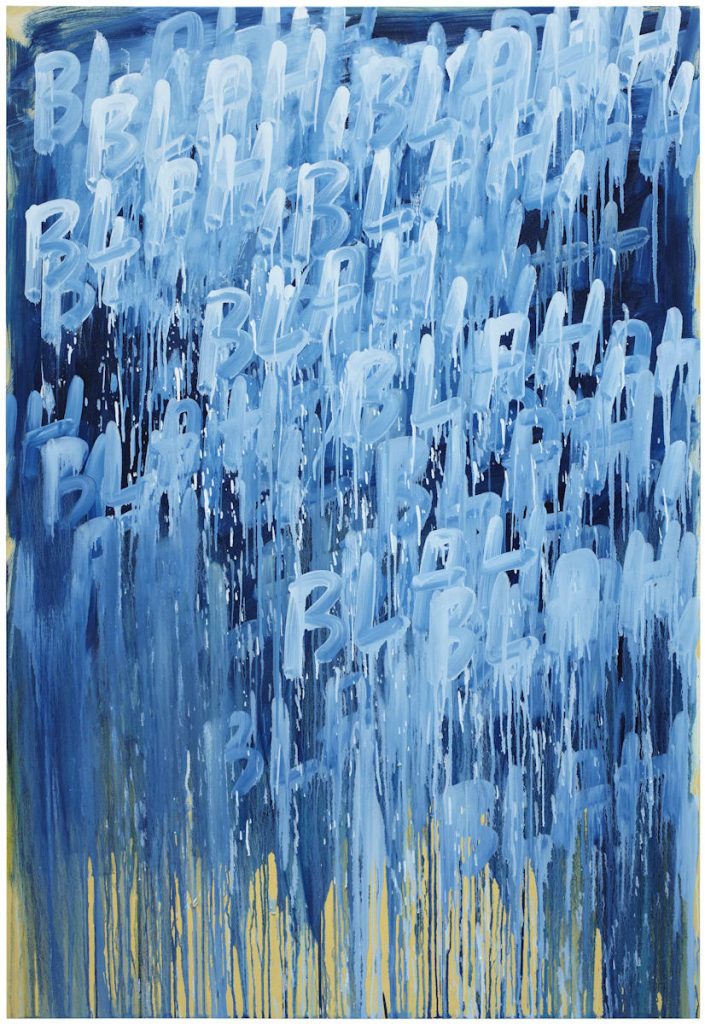 'Blah, Blah, Blah', 2010 – Oil on canvas
'Blah blah blah is a way of shorthanding a conversation', says Bochner, 'you know what I'm saying, so blah blah blah'. It's a form of agreement. But it also carries a contradictory and critical meaning – what you are hearing or saying is in fact meaningless, it's simply blah blah blah. It's about the emptiness, the endlessness and the darkness of the discourse'.
'Obvious', 2019 – montotype (image at top, obviously)
Bochner's work has become increasingly painterly and rich in colour and texture – something which extends into editions, such as this monoprint in oil paint with collage, engraving and embossment on hand-dyed Twinrocker handmade paper.
'Ha Ha Ha', 2018 – oil on velvet
Like 'blah', 'ha' can operate positively or negatively. It also allows Bochner to play with the sincerity of his endeavour, as if laughing at the legacy of conceptual art he himself has helped to shape.
'Mistakes Were Made', 2019 – oil on velvet
This is one of Bochner's most recent word paintings, from a series moving on from the thesaurus as source to isolate set phrases so that we attend to their ambiguities. Right now, some might find it hard not to pin the phrase to Matt Hancock …
356: Artists in Lockdown
Fiona Grady at pledge work

The scheme initiated by Sussex-based painter Matthew Burrows has proved a roaring success: over 70,000 works have been posted for sale via Instagram at #artistsupportpledge, and business has been brisk. Works are offered for up to £200, and when an artist sells £1,000-worth they pledge to spend £200 supporting another artist. I gave myself a budget of that same £1,000 as a way to support artists whose works I like, and in several cases the covid-appropriate charitable causes towards which they in turn are donating some of their receipts. The set also acts a commemoration of these strange and alarming times.

Mimei Thompson

: Untitled (cave), 2020.

The ultimate isolation space, perhaps, but not necessarily the healthiest: I guess it's rather damp down there among the mosses, ferns and liverworts which seem to have tinged the space beyond the entrance area in which they normally thrive. We are all, you might say, in our mental caves just now, and maybe there's a sickly green aspect to many of them.




Sarah Roberts

: 3 walls, 2020

Another cooped-up artist, judged by this collage with photo and watercolour, is Sarah Roberts. As is her way, she provides accompanying words: 'She stared at the tiny blue blemishes until they became UFO's. Blue dots in front of her eyes, swimming – as the walls closed into a crisp sheet of A4. She breathed her daily breaths through a painted lip, recognising the notable importance of keeping up appearances'. So a photo of a wall on a wall of A4 which mimics it leaves the protagonist's inner wall just about in place…




Aly Helyer

: Untitled gouache, 2019.

This antithesis of social distancing features, when you take a second glance, five people in a fairly small space, lit eerily green by a single bulb. What's going on? And why is the frontal figure wearing a see-through fish scale costume? A satisfyingly puzzling example of Helyer's way of infecting classical and mannerist inspirations with a somewhat surreal twist, open to interpretation as emotional states.




Gordon Cheung

: Isolation (after Gaspard Dughet 1638-1640), 2020.

Gordon Cheung's paintings on a collaged backdrop of stock listings link to an interest in the way we move between the physical world and the virtual realities of communications technology, global finance and the Internet – and on to another strand of his practice, which disrupts the data files of various image sources. Here Cheung's algorithm reorders the photo pixels in Gaspard Dughet's Italian Landscape, 1638-40 (original at bottom), which features figures at the currently approved two metres from each other.

Fiona Grady

: Rainbow (yellow, orange, red) III, 2020

Fiona Grady's work is at its most characteristic when installed on windows, where the light floods through her colourful vinyl geometries to intoxicating effect. So there's a sense in this lockdown production (as per image at top) of the artist stuck inside. Her motif in a seductive new series of ink drawings is upbeat, it's true, but let's not get carried away: these are only partial rainbows, and feature only some of their usual colours.

Guy Allott

:

Dark Green

, 2007

This intimately-scaled oil has a paradoxically monumental presence and is rich with suggestion. A rocket form with hints of cactus, phallus and portrait head plays the sphinx role in a landscape of pyramids. Is it, perhaps, a retro-styled vision from the future beaming back a message of hope to our troubled times?




Jost Munster

:

2020 #3

, 2020

This is from a series of small oils on canvas in which the languages of geometric abstraction and colour combination nod to Japanese greats On Kawara and Tatsuo Miyajima. The idea of a painting standing in for the electronic sequencing of a digital clock or calendar is inherently absurd, but by freezing time so literally, '2020 #3' will come to act as a memorial to the corona year.




Gaspard Dughet: Italian Landscape, 1638-40 – before corruption by Gordon Cheung



355: Dallas Art Fair from the Sofa
The Dallas Art Fair has taken a hybrid position in response to the coronavirus: it has stuck to its original dates of April 14-23, but only online, postponing the physical fair to October 1-4. Here's a choice of six works you can see and buy in advance at dallasartfair.com/online should you happen to have the requisite amounts to hand…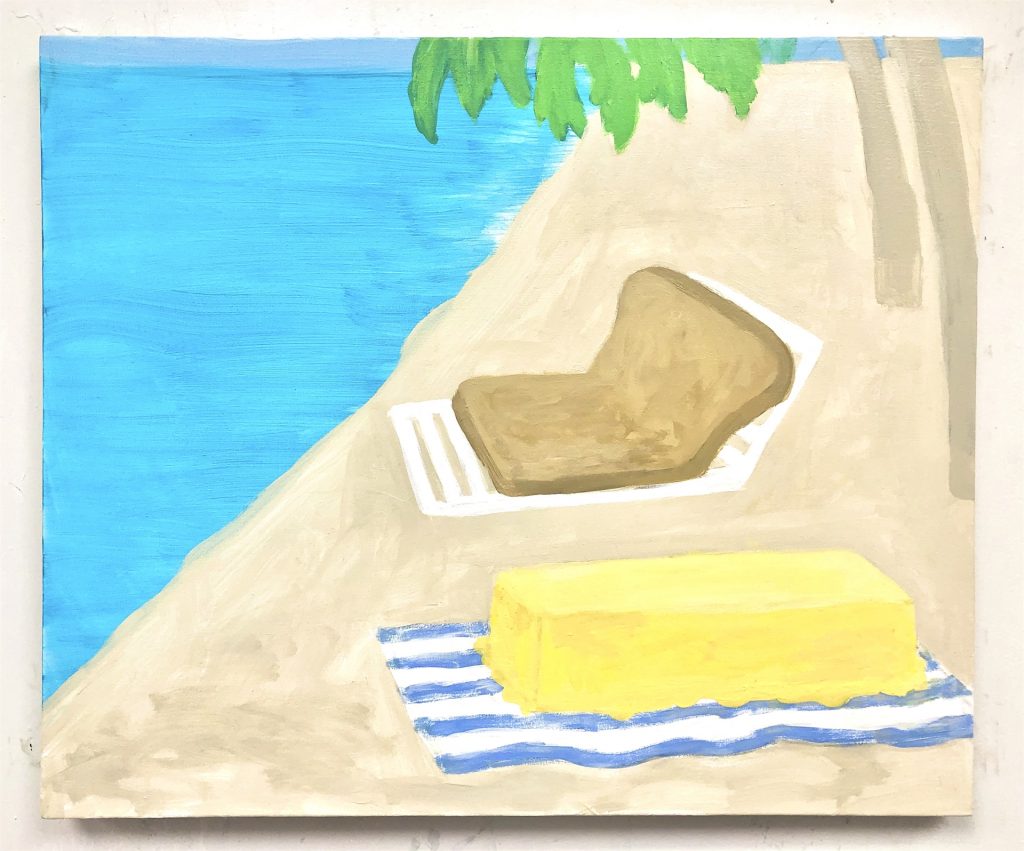 Scott Reeder
:
Bread & Butter (Tropical Beach)
, 2020, at Canada Gallery, New York – $12,000
Canada says of Michigan artist Scott Reeder that 'the drive to cover uncomfortable terrain is the bread and butter of his work—in some cases literally' – this being the case here, one of a series of deadpan paintings inviting us to anthropomorphise the basic food pairing in scenarios ranging from a disco to an intimate meal to a therapy session.
Mathew Tom
:
Looking for Love,
2019, at Christine Park Gallery, New York – $5,500
Christine Park, who moved her gallery from London to New York in 2017, shows an artist who has a Chinese father and American mother and has trained in Florida, Chicago, London and Korea. Mathew Tom combines elements from Asian and European traditions to create his own version of a utopia in which human and animal, real and symbolic take equal roles in a universal vision of harmony. I guess it shouldn't be too hard, then, to find love there….
Beat Zoderer
:
Crystalline Interlacing
, 2020, at Taubert Contemporary, Berlin (also at top) – $45,000
Beat Zoderer is a Swiss artist whose background includes architecture, often apparent in how he brings order to the potential chaos of found materials which he combines with a blend of chance and control. The key to this resin on plywood wall sculpture is the contrast between back and front colours viewable from the side as one moves around its complex intersections of geometry.
Fred Tomaselli
:
March 14, 2020
, 2020, at James Cohan, New York – $25,000
Since 2005, Fred Tomaselli has been altering the front page of The New York Times, highlighting the day's catastrophes and nightmares with layered collages and detailed paintings. So I guess it was easy enough for him to decide how to react to being quarantined: in his words "I think that maybe the Times collages are quietly political, in that I can riff on anything I want, while the horrors of the world become the background buzz. Maybe I'm saying that the world may be going to hell, but I still keep painting."
Betty Parsons
:
The Moth
, 1969, at Berry Campbell, New York – price on application
Although known primarily as a gallerist who championed Abstract Expressionism, Betty Parsons (1900-1982) has recently been gaining increased recognition for her own art, including a solo show at Alison Jacques in London. This is certainly a radical way of tackling figure / ground issues, and one which we can now see presents an unimpeachable degree of social distancing.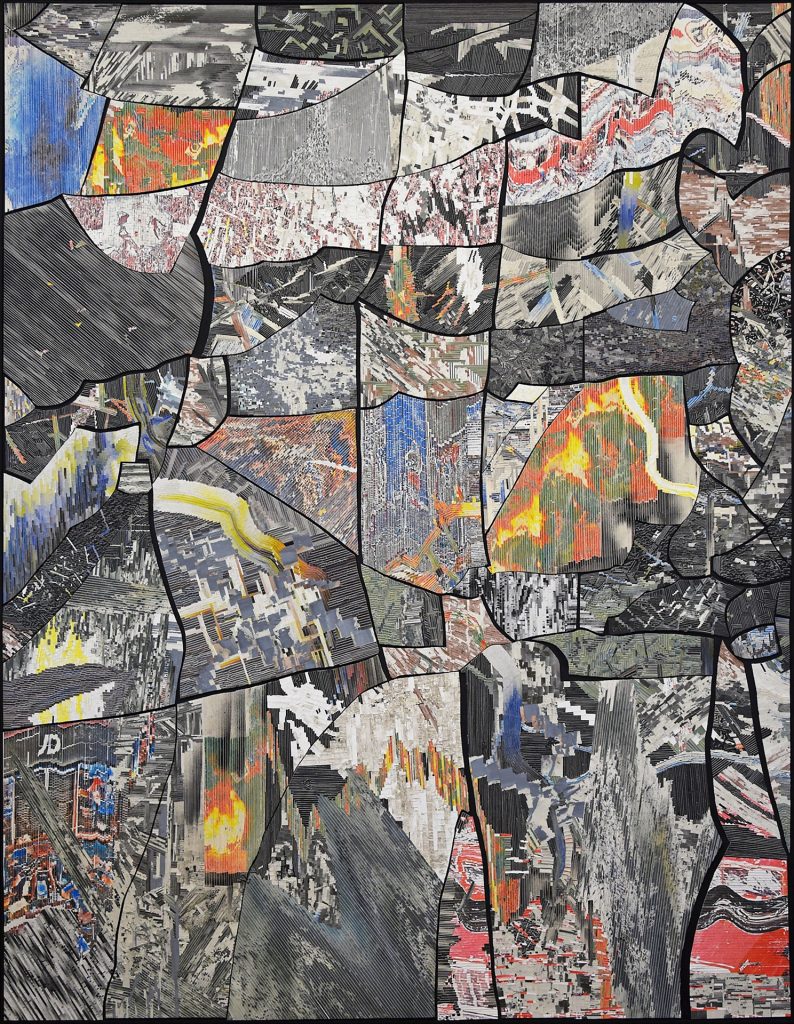 Marcin Dudek
:
The Open Crowd
, 2019, (detail below) at Harlan Levey, Brussels – $30,000
Brussels-based Pole Marcin Dudek's title refers to Elias Canetti's pre-distancing theory of the natural crowd as an open one with no limits to its growth, and it shows broken windows with strip-collaged images of riots and animated crowd behaviour from video games. The connection is Philip Zimbardo's 1969 social experiment, which showed that – even in the richest neighbourhoods – a broken window can trigger a wave of vandalism.


354: At least it isn't 1666
Want some consolation during the lockdown? Covid-19 is far from being as lethal as the bubonic plague which, for example, killed a quarter of London's population in 1665-6. The plague's main vector was the flea, which transferred it to carrier rats. Yet when the business of hunting for fleas made it into 17th century art, it tended to be for Eros, rather than Thanatos. Here are two examples, both by tenebrist followers of Caravaggio who are best-known for their skill in depicting candle-lit scenes: Gerard van Honthorst (Dutch, 1592 –1656) and Georges de La Tour (French, 1593-1652). Both allude to the long-standing use of the flea as a symbol for intimacy, in the context of the prevalent view that sex led to a mingling of bloods. That provided plenty of scope for nudge-nudge, as when John Donne wrote in the 1590's: 'It sucked me first, and now sucks thee, / And in this flea our two bloods mingled be'.

In Honthorst's 'The Flea Hunt', 1621 (top) the well-lit breasts, assumed procuress, apparent enjoyment of the hunt, and presence of two potential customers as voyeurs make the parallels pretty clear.

De La Tour's 'Woman Catching a Flea', 1630's, is more sober and ambiguous. The burned-down candle, serious expression, less sexualised breasts and swollen belly might indicate the consequences of illicit sex. Moreover, the woman seems about to crush the flea between her thumbs, perhaps standing in for some other revenge she'd like to take.






353: Touching from a Distance
My heading comes from Joy Division's 'Transmission', and given that the band also recorded 'Isolation', they must be the go-to musical precursors of our current 'social distancing'. What about visual artists?
Well, Sam Jackson's 'Touching from a Distance', 2019, incorporates Ian Curtis' words along with Joy Division song titles. It's typical of Jackson's way of conjoining public and private – suggesting internal thoughts through fragmented quotations, and possible appearances through corruptions of received images – so that, as Christine Coulson has put it, you 'see souls and hear voices'.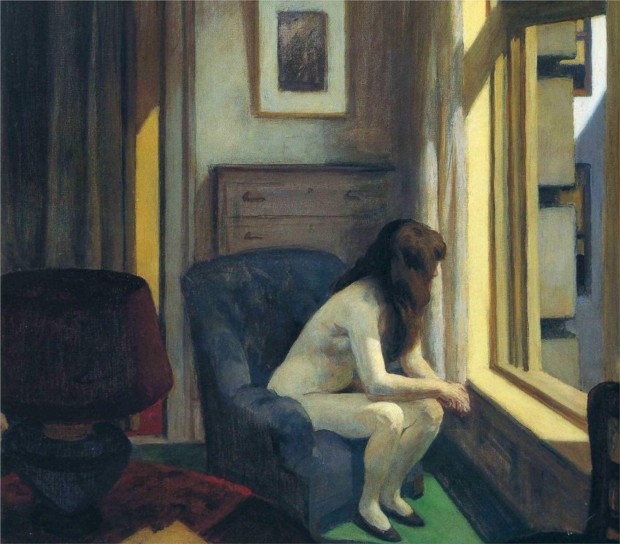 Edward Hopper's paintings are often interpreted as depicting loneliness. 'Eleven a.m.' 1926 might be seen as going a little further than that, restricting of female sexuality by locking a nude into her domestic interior. These days, of course, everyone's probably staring out the window, still naked, in the middle of the self-isolating morning.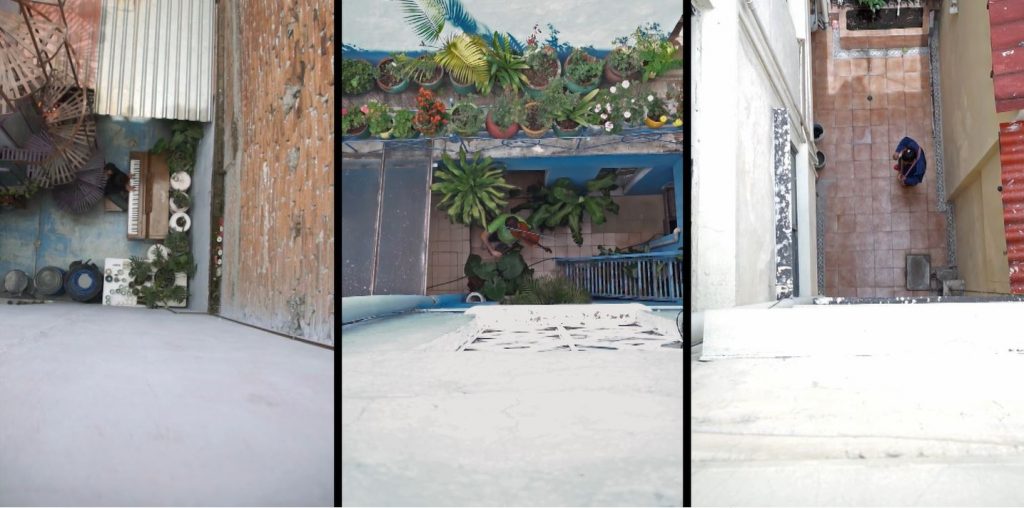 Japanese artist Tsubasa Kato's short film 'Listen to the Same Wall', 2015, sees three musicians play on adjacent patios, separated by 10-foot walls which prevent the usual use of visual cues when making chamber music.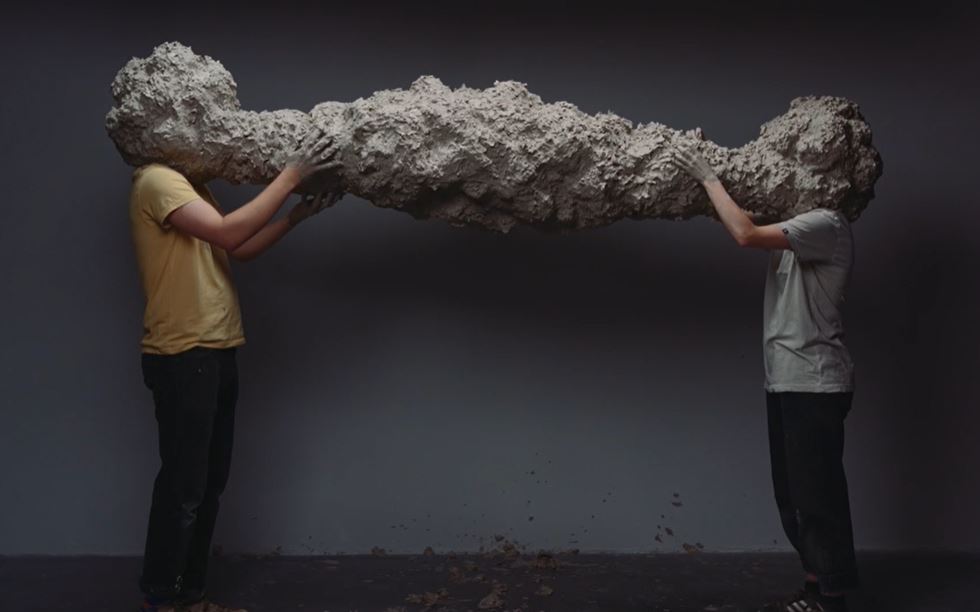 And William Cobbing's seven minute performance / film 'Long Distance', 2018, demonstrates one way to ensure you keep an appropriate gap in place… It's a development from his well-known 'The Kiss', 2004, in which the clay-heads are allowed to get a little closer.
352:
Online World
Will the enforced move from physical to virtual exhibitions and fairs during the corona restrictions accelerate a permanent shift in the balance? It's hard to say, but there is certainly plenty of online content available. Here are four things which came to my attention in the first few 'stay at home' days.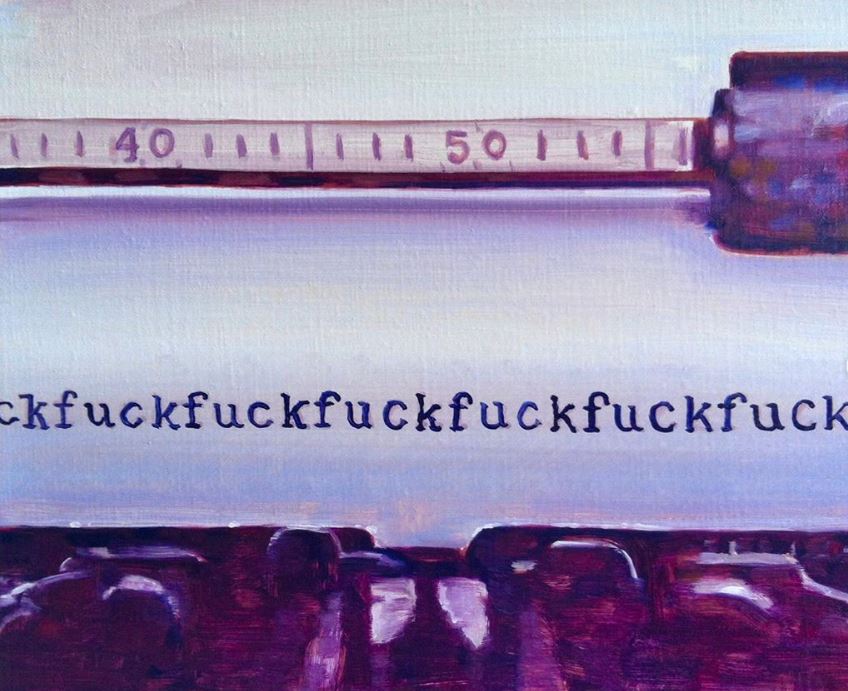 Sussex-based artist
Matthew Burrows
launched the 'Artist Support Pledge' last week, an Instagram-hosted scheme whereby artists offer work for £200 or less and agree to spend part of any earnings on work by other artists.
#artistsupportpledge
now has over 11,000 posts, and close on £10m of sales have been generated!
Greg Rook
, for example, is offering prints of 'fuckfuckfuck', 2011. What now seems all too pertinent to current times originated, he says, in how 'over the years I've lost many paintings to frustration and over painting'.
Nicola Tyson: 'Dancing Figure II', 2016 is a work I came across on the excellent Petzel gallery site (she also shows with the just-as-good-online Sadie Coles). I've never seen her wood sculptures for real, and the New York based Briton has shown them mainly in America. They are made by piecing together dried, chopped up firewood. 'The act of building', says the gallery,'can be seen to be parallel to her drawing; the artist intuitively finds and creates the figure through the process of making it'.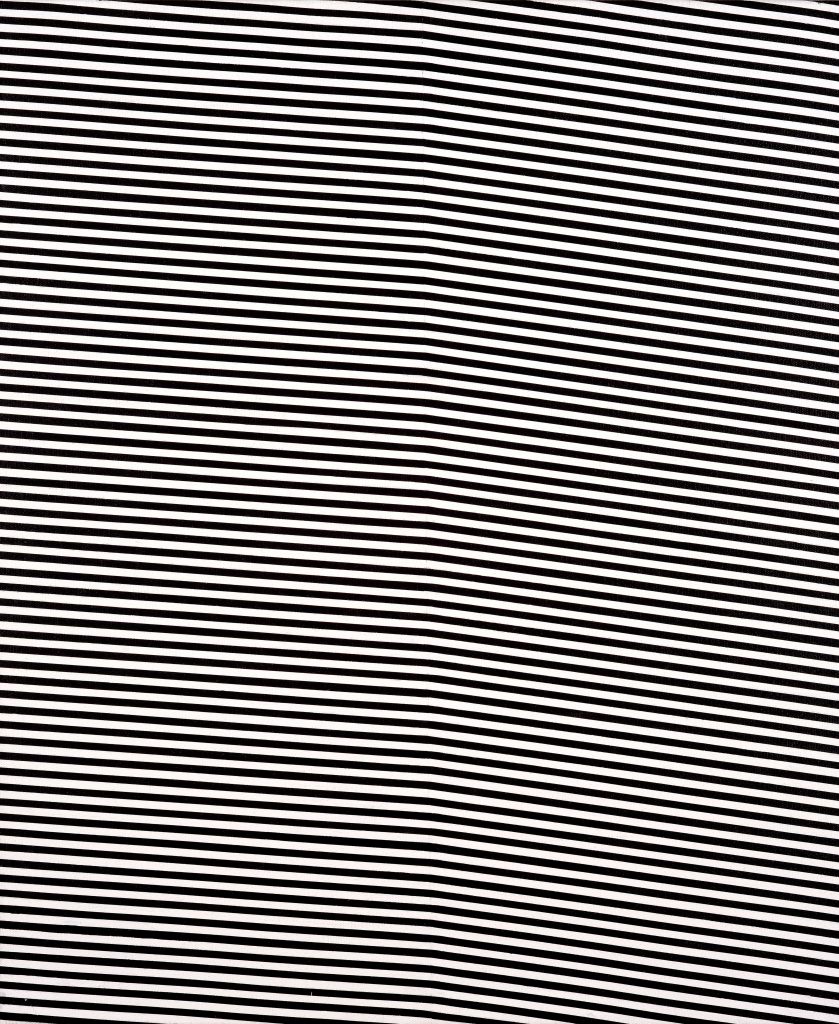 Mohammad Ali Talpur: 'Untitled – 9', 2017 is one of the Grosvenor Gallery's offerings in the online-only Art Dubai fair. Lahore-based Mohammad Ali Talpur says he has 'developed a kind of colour phobia. For example, red has a history and so does green, and putting these colours on a surface would lead to a plethora of meanings. But a plain, black mark on white surface is more essential and closer to the primary idea'. That has led him away from an early pop style to a practice based on the line, originally from drawing one to follow the flight of a bird, which arrives at something akin to early Bridget Riley by a quite different route.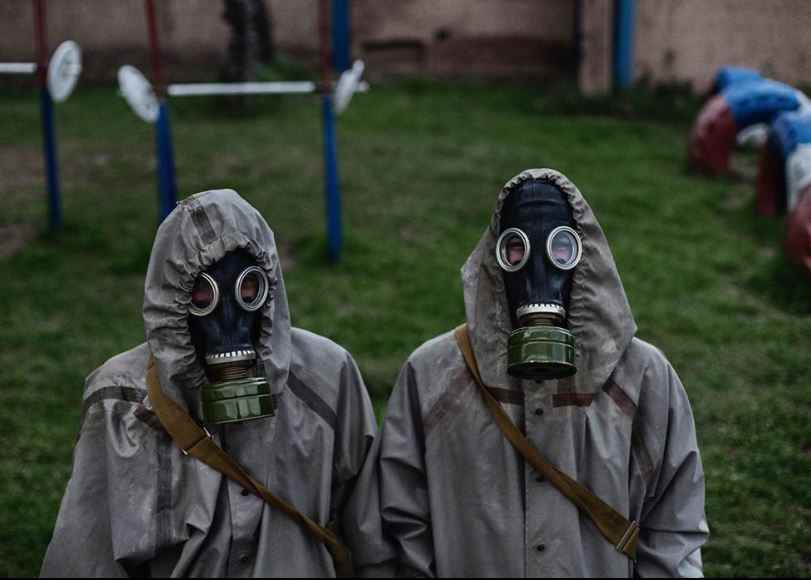 Diego Ibarra Sánchez, a Spanish photographer based in Lebanon, has a powerful practice documenting politically troubled areas and an online exhibition arranged by the Cervantes Institute in Beirut. This isn't an extreme corona response, but an image of cadets in training at a military college in Nagorno-Karabakh, an enclave of 150,000 Armenians within a mountainous region of Azerbaijan (see map below). The Republic of Artsakh has been a de facto, though internationally unrecognised, independent state since a war over it ended in a ceasefire of sorts in 1994.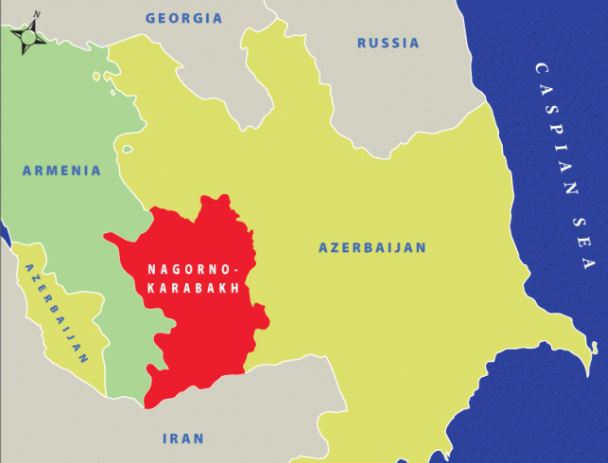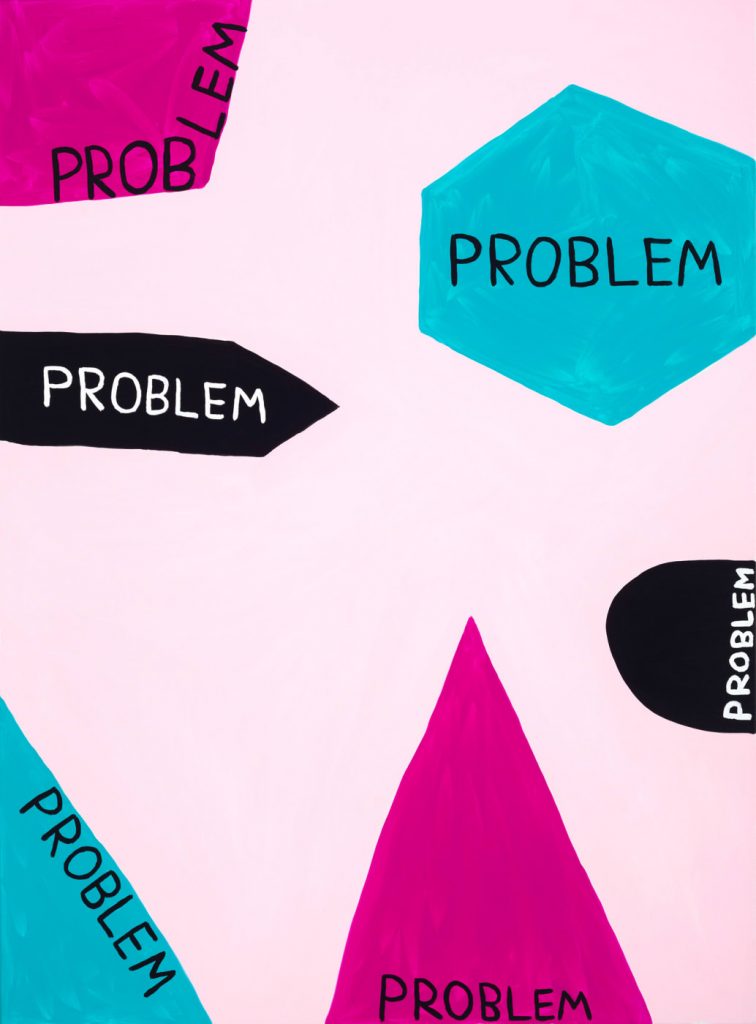 Art Basel Hong Kong's online experience (available 18-25 March following the cancellation and return of 75% of fees) shows no particular platform innovations in allowing galleries to showcase what would have been at the fair. Not all took part, and the back-up information varies between galleries from notional to helpful. There's an option to indicate prices or just ranges of price for each work, and enough opted for the former to make that a potential focus less readily available at the physical fair. I couldn't help seeing some works – anachronistically, of course – as indicative of the state of the world which has caused the fair to go virtual. Above is
David Shrigley
's 'Untitled' 2015 at
Stephen Friedman Galler
y, which seems very cheerful about the problems piling up. Here are some other examples: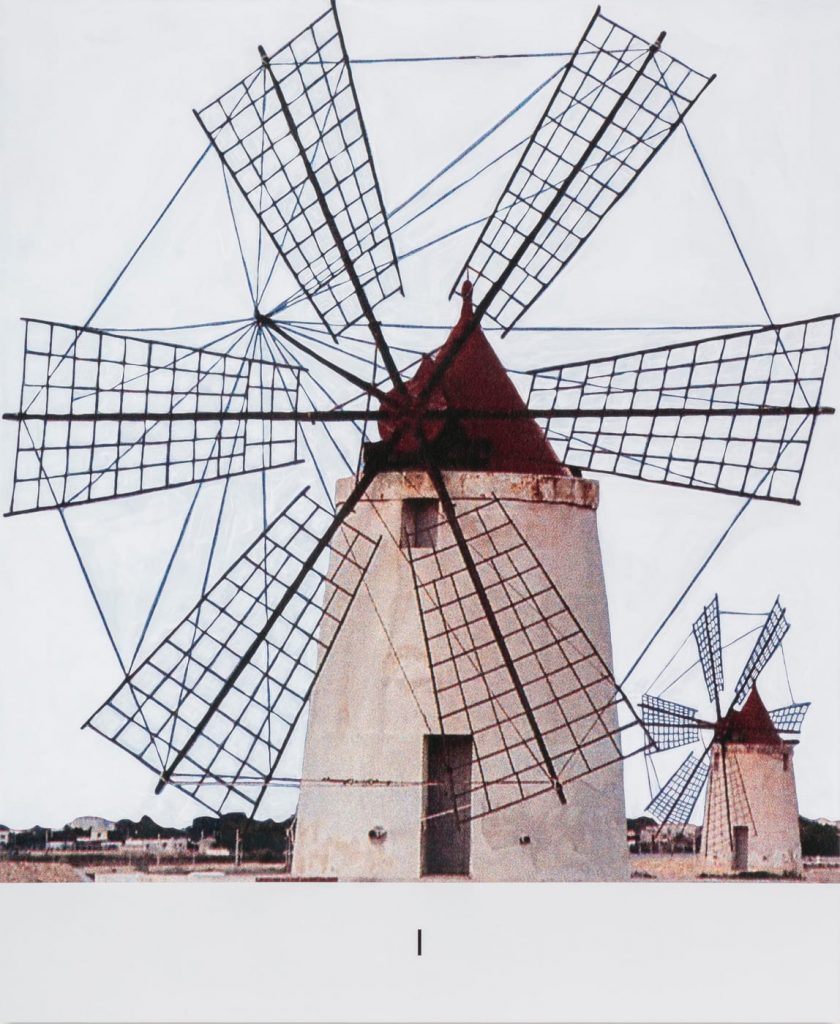 John Baldessari
: 'I', 2017 at
Mai 36 Gallery
. Baldessari (1931 – 2020) died at 88, just before he could be classified as vulnerable to Corvid 19. This over-painted and varnished windmill image is apparently titled to suggest a self-portrait of the artist sadly depleted of sailcloth, or else implying that he tilts at windmills. In fact, it's from a series for which he 'chose' all the titles by sticking a pin into a copy of Cervantes' 'Don Quixote' and using the word or phrase so stabbed. But, in Baldessari, random connections between image and word are the norm, and carry their own meaning. $400,000.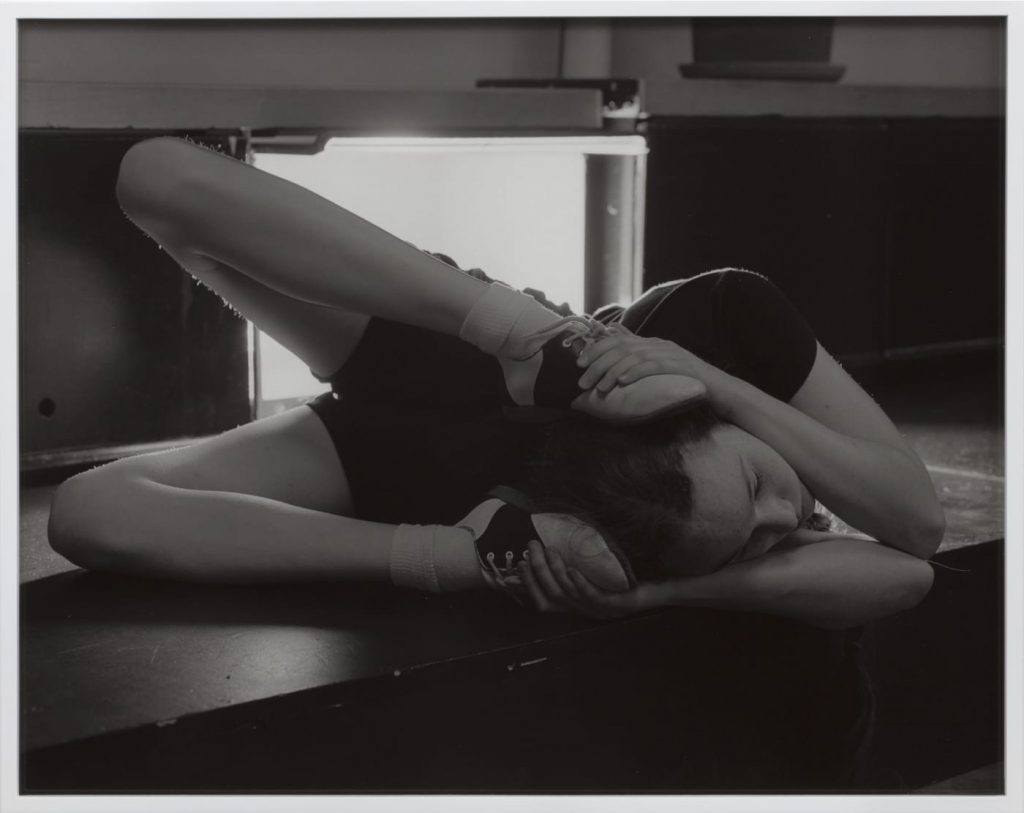 Do try this at home – for this is the time to keep yourself fit and flexible without going out to the gym. That said, the gallery has little idea what to say about Rødland's photographs, falling back on citing 'their visual qualities, and the differing ways that physical textures respond to light' which 'lends the work a painterly, abstract quality that connects it to the development of photography as a bona fide art form in the Modernist period'. Edition of 3, $16,000.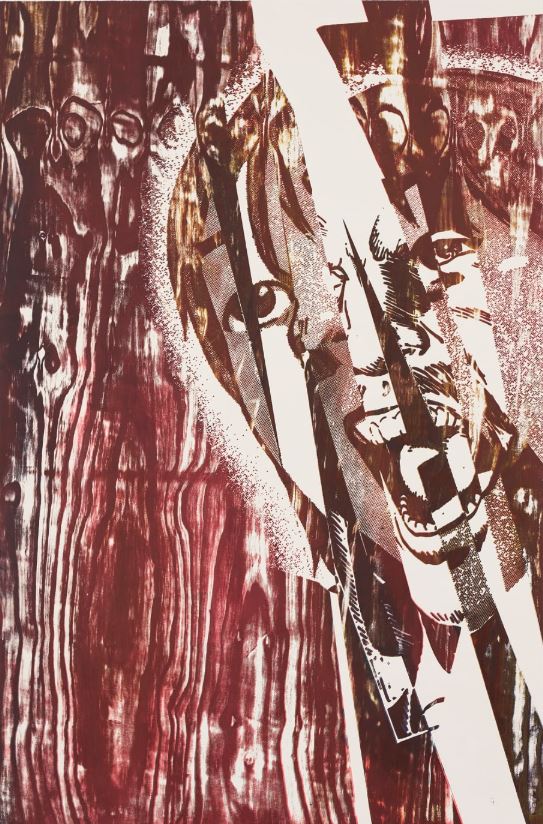 This combination of collage, digital technology and traditional printmaking techniques sees Marclay, with Munch evidently at the front of his mind, cut out fragments of screaming mouths from Manga books and other comics to collage them into new, composite faces. Marclay often pictures sound in some way, her to express an existential trauma that is seen but not heard. $80,000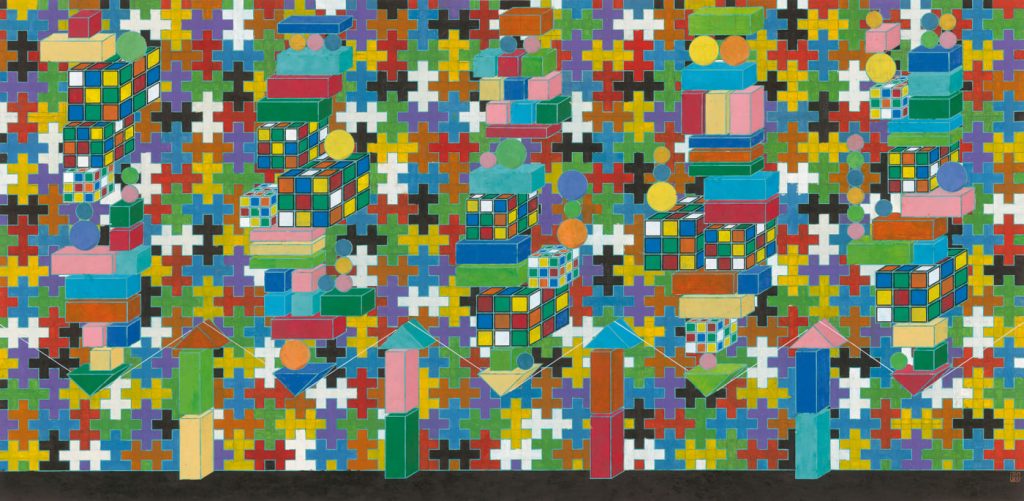 Peng Jian's uses traditional jiehua, or ruled-line ink painting with a specially-designed Chinese brush and ruler, to represent objects on the border of abstraction. Relevantly, if you're wondering how to pass the time while stuck at home, these include Rubik's cubes, building blocks and books, juxtaposed against each other in a mathematical grid-like composition. In $25 – $50,000 range.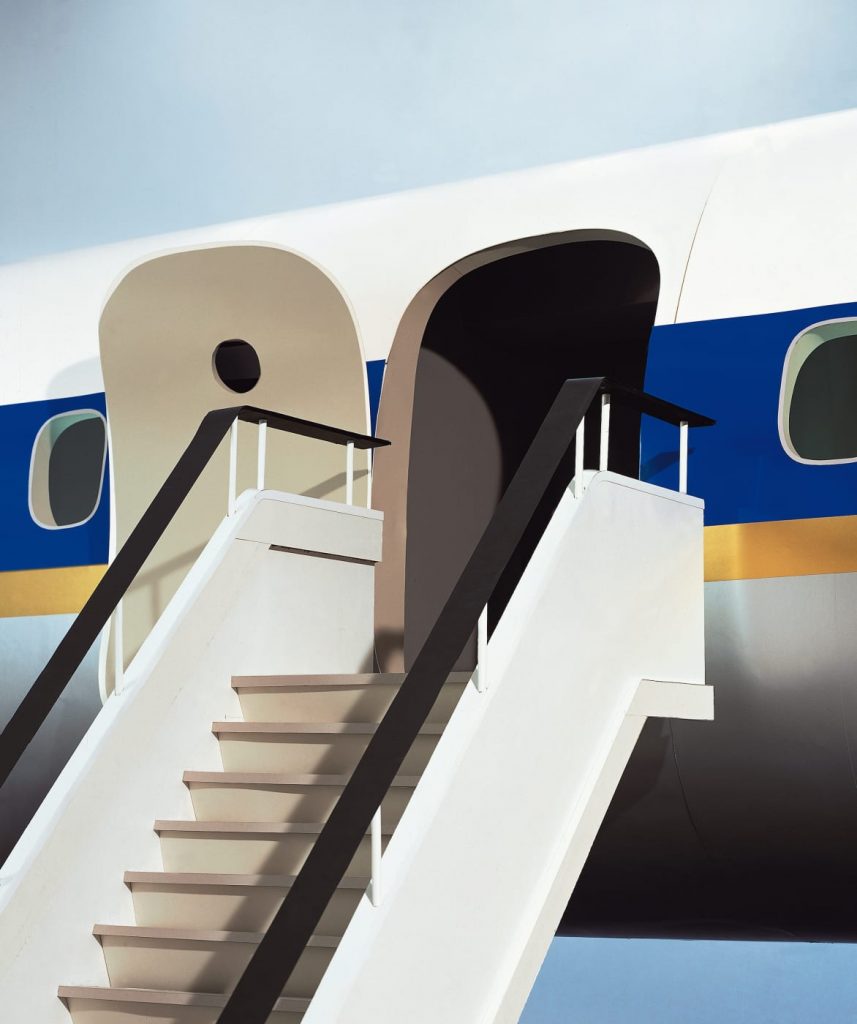 No surprise, I suppose, that no-one is getting off this plane. Not only might the flight have been cancelled, but it is of course an image of a replica scene made out of paper and cardboard, introducing a slippage into the déjà vu. The source image for this photograph was from a more optimistic time: the first visit of Pope John Paul II to Berlin in 1996. Edition of 6, $100,000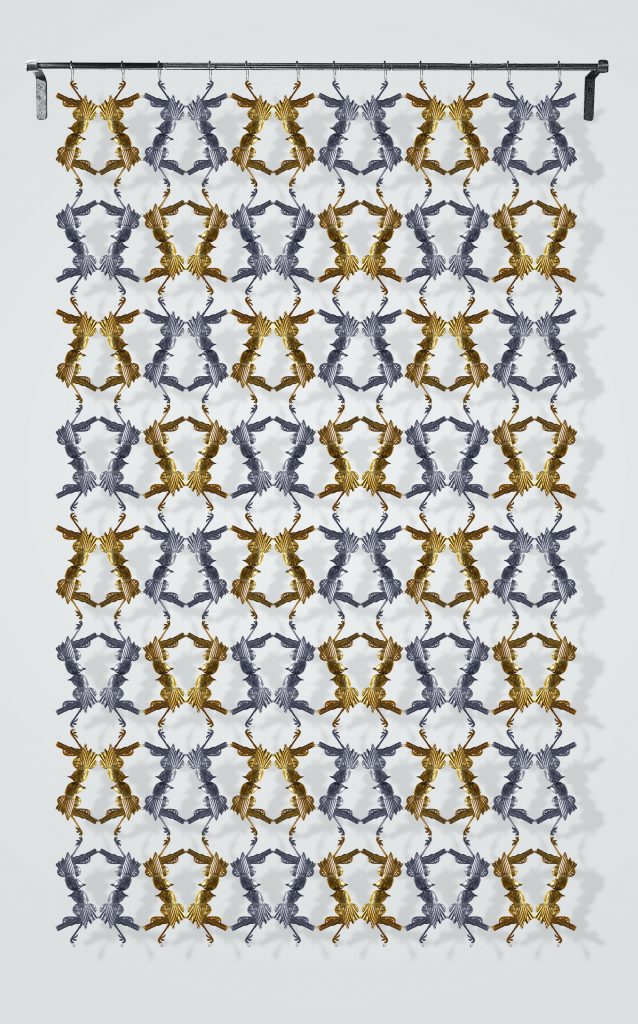 Adeela Suleman
: 'After All It's Always Somebody Else Who Dies', 2018 at
Sullivan+Strumpf
. True, everyone's life contains only one exception to Suleman's rule, but it's arguably the exception that matters. Anyway, Suleman 'juxtaposes her intricate, initially pastoralized scenes as rendered in the filigree tradition of Islamic art against the hard, formidable qualities of the stainless-steel medium' to speak of 'the precarious nature of the human condition inherent in the flux of societies'. Just so, we are lured into death here, as the initially abstract patterns of this ornate steel screen with gold plating turn out up close to be is made out of birds strung-up. $16,750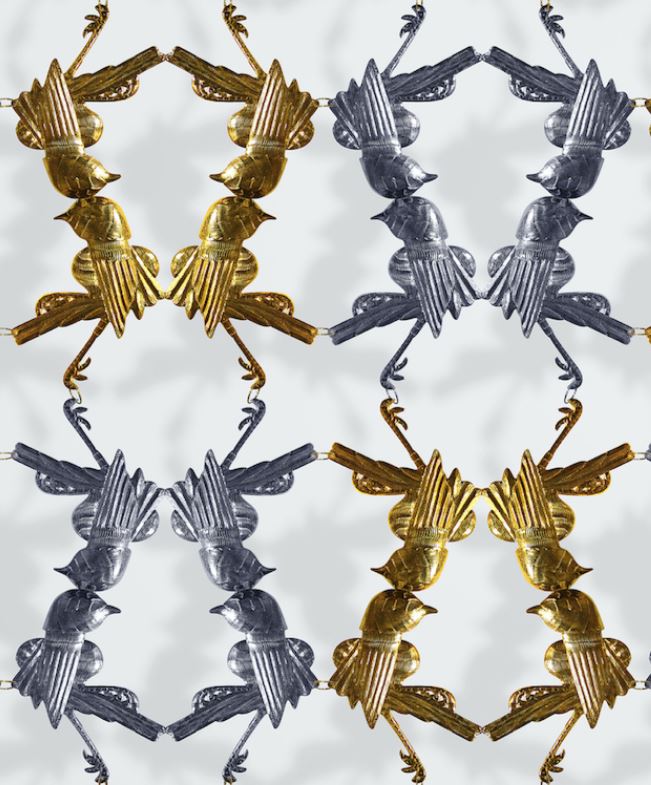 Art writer and curator Paul Carey-Kent sees a lot of shows: we asked him to jot down whatever came into his head